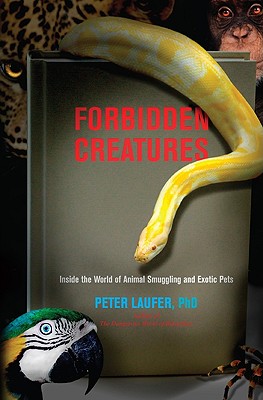 Forbidden Creatures: Inside the World of Animal Smuggling and Exotic Pets (Paperback)
Inside the World of Animal Smuggling and Exotic Pets
Lyons Press, 9781599219264, 272pp.
Publication Date: May 4, 2010
* Individual store prices may vary.
or
Not Currently Available for Direct Purchase
Description
What is being smuggled, from where and how—and why
do so many people keep illicit, dangerous pets? 
***
On the heels of his acclaimed The Dangerous World of Butterflies, investigative journalist Peter Laufer is back to chronicle his worldwide quest to penetrate the underworld of international animal smuggling. In Forbidden Creatures, Laufer exposes the network of hunters, traders, breeders, and customers who constitute this nefarious business—which, estimated at $10 to $20 billion annually, competes with illegal drug and weapons trafficking in the money it earns criminals.
            Laufer asks: What is being smuggled, from where and why? What is being done to stop the illegal trading and irresponsible breeding? Taking readers to exotic and often lawless locales, Laufer introduces brazen and dangerous traders and wealthy customers whose greed and mindless self-interest perpetuate what is now a crisis of survival for a growing number of wild species.
            Woven throughout with riveting stories from law enforcement officials and federal prosecutors, Forbidden Creatures is a compelling, first-person narrative written in Laufer's hallmark conversational, entertaining style.
About the Author
Peter Laufer, PhD, is the author of more than a dozen books, including his widely praised "The Dangerous World of Butterflies" (Lyons Press) and "Wetback Nation: The Case for Opening the Mexican-American Border." He is the James Wallace Chair in Journalism at the University of Oregon School of Journalism and Communication. More about his work, which has received the George Polk, Edward R. Murrow, and other awards, at peterlaufer.com.
Praise For Forbidden Creatures: Inside the World of Animal Smuggling and Exotic Pets…
"Forbidden Creatures addresses an important issue with major environmental and ethical consequences—the alarming spread of animal smuggling. Let's hope it helps stem the tide." –Allison Chin, president, Sierra Club "This book is a wild romp through backyards and bedrooms full of exotic—sometimes dangerous—creatures. And it is an exploration of the human psyche: What drives some people to become outlaws just to satisfy their desire to subjugate nature's other beasts? Laufer has hit another home run."
—Mark Bauman, National Geographic Society
In praise of The Dangerous World of Butterflies:
 "[A] compelling, all-angles examination. . . . Laufer delivers an absorbing science lesson for fans of the colorful bugs." --
Publishers Weekly
 "Recommended for scientists and lay readers who enjoyed Susan Orlean's
The Orchid Thief
." —
Library Journal
 "Like
The Orchid Thief
,
The Dangerous World of Butterflies
takes us deep into the dark heart of obsessed collectors and the passionate activism of people working to repopulate species like the Palos Verdes blue. Worlds within worlds: Laufer, a veteran reporter on cultural and political borders, understands how these worlds cross and collide. His book is a Venn diagram of the beautiful and bizarre." --
Los Angeles Times
 "[Laufer's] book is charming and his attention to detail, combined with a real gift for describing these fascinating characters -- like calling entomologist Arthur Shapiro "an endless litany of intriguing butterfly stories" -- made me want to read everything else he has written." --Andrew Ervin,
Washington Post
 "...Laufer's
The Dangerous World of Butterflies
packs real entertainment wallop in a book filled with informed tidbits custom-designed for cocktail hour." --P. Joseph Potocki,
The Bohemian
 "A charming . . . meditation on butterflies and the people who love them." --
Kirkus
"The Dangerous World of Butterflies: the Startling Subculture of Criminals, Collectors, and Conservationists
by Peter Laufer is an eye-opening peek into the world of butterfly collecting. From true crime to heated debates between butterfly conservationists and butterfly farmers, this book reads like a novel." --
Pittsburgh Post-Gazette
Coverage from NPR
Advertisement