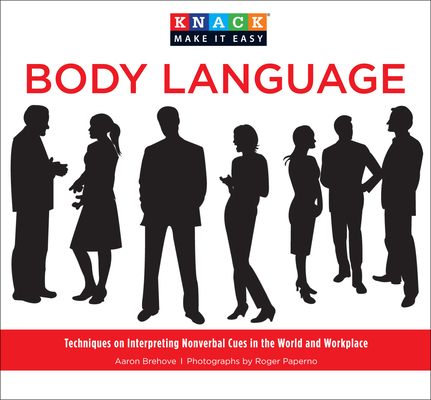 Knack Body Language: Techniques on Interpreting Nonverbal Cues in the World and Workplace (Paperback)
Techniques on Interpreting Nonverbal Cues in the World and Workplace
Knack, 9781599219493, 227pp.
Publication Date: April 1, 2011
* Individual store prices may vary.
or
Not Currently Available for Direct Purchase
Description
Get a fresh new perspective on this eternally fascinating subject and learn all about it from head to toe, with lots of examples and illustrations – including interviewing tips, dos and don'ts, what your body says about you and how to read the body language of others.
Sections of the book cover: Specific body language (broken down into head, torso, lower body), interview techniques, where to sit in the board room, interpreting body lanugage while dating, and more.
About the Author
Aaron Brehove is a fraud investigator for one of the Big Four accounting firms his investigations having included multibillion dollar Ponzi schemes, tax evasions, and whistleblower allegations. He is also a senior instructor at the Body Language Institute in Alexandria, Virginia, and he has been featured on CNN analyzing body language during major trials. Visit him at AaronBrehove.com.Roger Paperno is a professional photographer who has shot for numerous leading companies, including Apple Computer, Norwegian Cruise Line, The Gap, and Toyota. Visit him at rogerpaperno.com."
Praise For Knack Body Language: Techniques on Interpreting Nonverbal Cues in the World and Workplace…
"Having spent many years leading recruiting functions internally at global organizations as well as a Partner of an executive recruiting firm, I can confidently state that Body Language is a must read for the active job seeker as well as the individual trying to navigate the waters of a multi tiered organization. Both the boardroom and interview sections provide logical insight into what is really behind people's actions in those settings."
—Sean Cronley, Partner at Charles Gabriel Partners Executive Search "Brehove does a brilliant job sharing his picture-packed solutions on how to detangle non-verbal bad habits from your life. This is a must-read for people hungry for practical approaches to using body language to build more confidence, increase likability, and remove anxieties about your future."
—Janine Driver, author, New York Times bestseller, You Say More Than You Think: A 7-Day Plan on Using the New Body Language to Get What You Want!
Advertisement