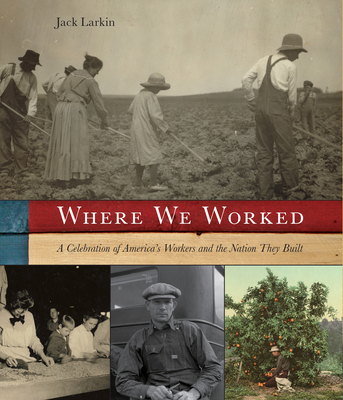 Where We Worked (Hardcover)
A Celebration of America's Workers and the Nation They Built
Lyons Press, 9781599219608, 374pp.
Publication Date: November 23, 2010
* Individual store prices may vary.
Description
A lavishly illustrated tribute to the American worker
"Where We Worked "presents a richly illustrated and beautifully evocative panorama of the experience of work and the workplace in America during the golden age of labor--from the Industrial Revolution to the monumental task of building an economic and military superpower that was able to defeat fascism and spread democracy throughout the world.Replete with 400 photos, this highly readable""book comprises powerful images of workers in their workplaces, first-person accounts of men and women at work, and an engaging historical narrative. Chapters include "Working the Land," which takes us from farming in the North to the long hard death of slavery in the South; "Workshop and Household," which covers the mechanic's world, shoemaking and printing, and the transition from shops to factories; "Wrestling with Nature," an homage to those who have toiled to draw the wealth of America's natural resources in the areas of lumber, coal, and oil; and "Power and Production," which looks at the textile, railroad, steel, and car industries, as well as office work.
About the Author
Jack Larkin is the former museum scholar and chief historian at Old Sturbridge Village inSturbridge, Massachussetts, affiliate professor of history at Clark University, and a frequent consultant and lecturer for museums and historical organizations. A Chicago native and graduate of Harvard College and Brandeis University, Larkin is author of Where We Worked, published with the National Trust for Historic Preservation, and The Reshaping of Everyday Life 1790-1840, which was a Distinguished Finalist for the PEN/Martha Albrand Award for Nonfiction in 1989.
Praise For Where We Worked: A Celebration of America's Workers and the Nation They Built…
a rich collection of photographs, drawings, lithographs, newspaper cartoons, and advertisements, mostly from the Library of Congress, but also from labor unions, public libraries, and a few from (the author's) own family album, to create a picture of the hardest-working people in the history of the worldThis lively and down-to-earth book journeys from the dawn of the nineteenth century through the 1930s. It will especially appeal to the young adult reader who has never seen a dial telephone, much less a telegraph, textile mill, or blacksmith shop. It's fascinating reading."
- Jack Shakely, ForeWord Reviews
"In this masterpiece of visual and textual history, Jack Larkin records the nittty-gritty of hard labor from the 1830s to the 1930s.   Ingeniously combining words and pictures, he spreads before us the world ordinary people lived in most of the timethe world of work."
 - Richard L. Bushman, Professor of History, Columbia University (previous winner of the Bancroft Prize for American History.)
"'Where We Worked is a superb tribute to the working people whose sweat and labor, intelligence and determination, faith and patriotism built American wealth and power during the great age of industrial revolution from the 1830s to the eve of the Second World War. In words and images informed by a keen grasp of social history from the bottom up," Jack Larkin evokes the lost worlds of ordinary people men and women, native and immigrant, black and white in fields, forests, and factories, shops and stores, on steamboats, fishing vessels, and railroads and pays these unacknowledged heroes of everyday life the just dues so often denied by their bosses and by later celebrants of American capitalism. In our electronic age, when technology is virtual," machines operate through invisible circuits, and the actual labor of extracting raw materials and assembling them into commodities is outsourced beyond our shores, it is instructive to review Larkin's compelling pages and be reminded that the goods and services that make our lives easier are always the product of industrious, often ill-paid people investing hands, hearts, and minds in the work.
            Robert A. Gross, James L. And Shirley A. Draper Professor of Early American History, University of Connecticut
"Every library needs this book, which would also make a fine gift! It is our storyordinary Americans transforming our country into the envy of the world. All readers will marvel at how hard our forebears worked and will gain a deeper understanding of the nation we have inherited. Highly recommended. -
Library Journal
 "...certainly a book that opens eyes."
- Bookideas.com
or
Not Currently Available for Direct Purchase