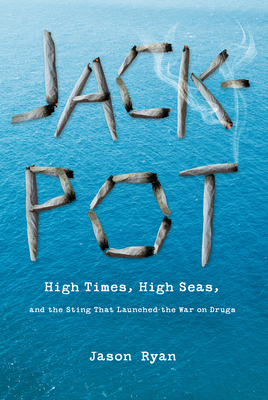 Jackpot (Hardcover)
High Times, High Seas, and the Sting That Launched the War on Drugs
Lyons Press, 9781599219769, 309pp.
Publication Date: April 20, 2011
Other Editions of This Title:
Paperback (8/7/2012)
Compact Disc (2/26/2019)
Compact Disc (2/26/2019)
MP3 CD (2/26/2019)
* Individual store prices may vary.
Description
In a cat-and-mouse game played out in exotic locations across the globe, the smugglers sailed through hurricanes, broke out of jail and survived encounters with armed militants in Colombia, Grenada and Lebanon. Based on years of research and interviews wi.
About the Author
Jason Ryan is a South Carolina journalist and former staff reporter for the State newspaper.
Praise For Jackpot: High Times, High Seas, and the Sting That Launched the War on Drugs…
"Endorsement of The Day: A Great Book About the Early Years of the War on Weed…. Before Juarez was a war zone, before coke-rich Colombia was the hostage capital of the world, and before an ex-B-movie actor with a good haircut declared War on Drugs, a group of wayward Southern gentlemen yachted the globe with unseen amounts of marijuana and hashish, and did it with style. The adventures, the long-gone economy, and the sting that ultimately brought them down and changed US drug policy are meticulously documented and lucidly spun by reporter Jason Ryan in Jackpot…. Part New Yorker feature-part Jimmy Buffet song. . . . The result is adventuresome, lavish, informative fun. Try it. You'll like it." —GQ
"Over the course of Jackpot's rollicking story, Ryan manages to pack in one amusing tale after another: the day after a shipment, the crew stumbles upon a bale of marijuana accidentally left on the side of the road; they pilot a pot-filled sailboat that is taking on water all the way back from Jamaica; … they help U.S. forces during the invasion of Grenada, earning one trafficker, Bob 'The Boss' Byers, the nickname rocket launcher.... Jackpot is a rip-roaring good read." —Charleston City Paper
"High times on the high seas: Investigative reporter Ryan recounts the glory days of dope smuggling and their terrible denouement.... The protagonists are, in the main, decent and hardworking guys who just happen to be engaged in something very illegal—a trade that, as Ryan notes, is an ancient one along the South Carolina coast, where contraband smuggling is a big intergenerational business, whether of cigarettes, booze or pot. The principals of the story long enjoyed a place at the top of the smuggling pyramid, landing, in one year, more than 30,000 pounds of marijuana in three moves alone.... A well-told tale of true crime that provides a few good arguments for why it should not be a crime at all." —Kirkus Reviews 
"[A] thoroughly researched account of Operation Jackpot, the drug investigation that ended the reign of South Carolina's 'gentlemen smugglers,' marijuana kingpins who kick-started Reagan's war on drugs.... Ryan recreates the era with a vivid, sun-drenched intensity." —Publishers Weekly "Mr. Ryan has hit the jackpot with this tale of drug smuggling on the high seas. . . . [Jackpot] reads like an international thriller. . . . chock-a-block with hilarious and hair-raising anecdotes of fast times." —Sam Millar, New York Journal of Books
or
Not Currently Available for Direct Purchase