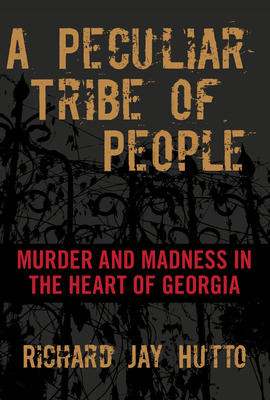 Peculiar Tribe of People (Hardcover)
Murder and Madness in the Heart of Georgia
Lyons Press, 9781599219974, 264pp.
Publication Date: October 19, 2010
* Individual store prices may vary.
Description
On May 12, 1960, as John F. Kennedy campaigned for the presidency, Chester Burge slumlord, liquor runner, and the black sheep of the proud (and wealthy) Dunlap family of Macon, Georgia lay in a hospital bed, recovering from surgery. He listened to the radio as the news reported that his wife had just been murdered. Police soon ruled out robbery as a motive, and suspicion centered upon the Ku Klux Klan, which two weeks earlier had descended upon his house to protest his renting of homes in white neighborhoods to black families. Then, on June 1, Chester was charged with the murder, and when the trial finally began, the sweet Southern town of Macon witnessed a story of epic proportions a tale of white-columned mansions, an insane asylum, real people as Southern grotesque as the characters of Flannery O Connor, and a volatile mix of taboo interracial relationships and homosexuality. This was a story as fantastical as a Greek tragedy, complete with a stunning conclusion. It is told in riveting detail in Richard Jay Hutto's A Peculiar Tribe of People. Chester Burge was a walking streak of deception and sex. After weaseling his way to be the caretaker of the last Dunlap sister and forcing his way into her will, Burge and his family inherited a fortune as well as one of the family mansions. Then came his numerous assignations with men including his black chauffeur and, either single-handedly or with help from a lover, the murder of his wife. The trial would spawn the first testimony in Georgia history of a black man disclosing that he had been a white man's sexual partner. Burge would be acquitted of murder, but convicted of sodomy. And yet, this Southern grotesque tale would take even more twists and turns before coming to an explosive conclusion.
About the Author
Richard Jay Hutto, one of the foremost historians of the Gilded Age, compiled and edited Accepted Fables, the autobiography of Jordan Massee, and wrote Entitled: American Women, Titled Husbands, and the Pursuit of Excess (with a preface by HI&RH The Grand Duchess of Tuscany), as well as Crowning Glory: American Wives of Princes and Dukes (with a preface by HRH Prince Michael of Greece and Denmark), and Their Gilded Cage: The Jekyll Island Club Members (with a preface by Stillman Rockefeller). A former attorney, he served as White House Appointments Secretary to the Carter Family and was Chairman of the Georgia Council for the Arts. A frequent international lecturer, Hutto travels widely to speak to conferences and groups about his areas of expertise. He is an elected member of the City Council of Macon, Georgia, as well as a Knight of Malta and a Knight of the Holy Sepulchre.
Praise For Peculiar Tribe of People: Murder and Madness in the Heart of Georgia…
A Peculiar Tribe of People is the sort of true crime that has wings This is one of those stories that, in many ways, truly is stranger than fiction. I simply could not put it down."January magazine, naming A Peculiar Tribe one of the twelve best non-fiction books of 2010 
A southern grotesque that comes complete with stately mansions, murder most vile, forbidden sex, a pot-boiling trial and a denouement worthy of a Greek tragedy But wait, there's more! After being acquitted of murder, but convicted of sodomy and somehow finding another wife (18 years his senior), Burge stumbled into an ending that even Sophocles wouldn't wish on his worst enemy."
Bo Emerson, Atlanta Journal-Constitution
Rick Hutto's booka fascinating tale of murder and deceptionprovides a sobering glimpse into the prejudices and corruption of pre-civil rights Georgia."President Jimmy Carter Hutto's book is a remarkable chronicle of Deep South scumbaggery... presented with all the insanity and loopy legality one expects from a mid-20th-century court drama in the Deep South... Hutto does a fine job of unearthing this story despite overwhelming resistance and the chasm of time."
Flagpole
magazine 
A stunning glimpse into a world lost to the pages of history. With characters so deceptive, it takes a sleuth to identify pure evil. Hutto's book is a race to the finish!"
Nancy Grace
A rich, insightful narrative with people straight out of a Flannery O'Connor novel, Richard Jay Hutto's
A Peculiar Tribe of People
is both compelling and brilliantly executed. A true-crime page-turner with as much grace, pizzazz and class as any Macon, Georgia, sunset."M. William Phelps, award-winning author of fifteen books, including
The Devil's Rooming House
 The 1960 murder of the wife of a Macon, Georgia, slumlord eager to climb the social ladder propels Hutto's real-life Southern gothic tale. . . . Hutto . . . goes into great detail describing [Chester] Burge's twisted family historyparticularly how it intersected with prominent Macon families, many of whom the author interviewedand the explosive court battle over Mary's murder. . . .[T]he story and its eccentric cast make this solid book worth the read."
Publishers Weekly
  This story, with its nexus of lust, race, and class set among the columned mansions of cotton-town segregation, oozes all that fertilizes Southern Gothicka Hutto dishes up the squalor in a writing style that gleams with the polish accorded heirloom silver."11th Hour 
[A]n absorbing tale of greed, lust and assorted sordid outcomes that reads like the best fiction, yet is completely true... Every page in this terrific book reveals a new and interesting cast member. His rogues' gallery of characters, both male and female, should give a Hollywood talent agency's character actors fodder for award winning acting opportunities.... Hutto has produced a well-researched and absorbing book that never stoops to the cheap shot. Indeed, it is his classy writing and tone that keeps the story from meandering toward the tawdry side of the literary neighborhood, and guarantees that the reader will keep asking for more as pages are turned." Rome (GA) News Tribune
or
Not Currently Available for Direct Purchase