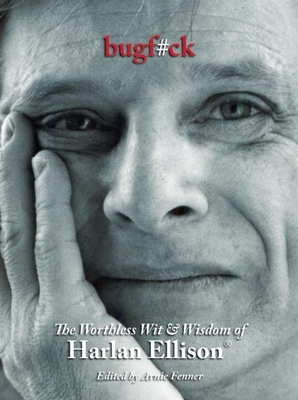 Bugf#ck (Hardcover)
The Worthless Wit & Wisdom of Harlan Ellison
Underwood Books, 9781599290614, 128pp.
Publication Date: November 15, 2011
* Individual store prices may vary.
Description
Harlan Ellison(R) has a lot to say; as one of America's most honored entertainers, he has been writing fiction and commentary, and speaking on college campuses and television talk shows, and challenging his audiences to think outside the box for sixty years.
With 90 books bearing his by-line and thousands of stories and essays and anecdotes and speeches and interviews to his credit, Harlan Ellison(R) has written countless memorable lines in the course of his career.
BUGF#CK (a word that Ellison coined in the 1960s and a favorite of Stephen King's) wonderfully and unforgettably gathers some of Harlan's best bon mots. "The two most common elements in the universe are Hydrogen and stupidity." "K is for "Kenghis Khan"; He was a very nice person. History has no record of him. There is a moral in that, somewhere." "The problem with being a pain in the ass is that you never quite know who's trying to get you." "Why do people keep insisting that I join the 21st Century? I *LIVE* in the 21st Century I just don't want to be bothered by the shitheads on the internet " "I have no mouth. And I must scream." "I think love and sex are separate and only vaguely similar.
or
Not Currently Available for Direct Purchase