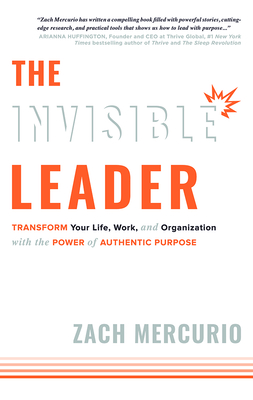 The Invisible Leader
Transform Your Life, Work, and Organization with the Power of Authentic Purpose
Hardcover

* Individual store prices may vary.
Description
The Best Leaders Aren't People Instead, innovative and emerging research shows that a compelling and other-centered authentic purpose--The Invisible Leader--may be the most powerful influencer of our behaviors, attitudes, and motivation in organizations, work, school, and life. Yet despite the increasing evidence of purpose's power, many of the organizations, systems, and institutions which dominate human life aren't built to elicit and leverage the fundamental human search for purpose and meaning. In this must-read book for anyone who considers themselves a leader, international speaker, trainer, and organizational performance scholar Zach Mercurio shows business leaders, educators, students, athletes, and parents how to AWAKEN, CLARIFY, and DELIVER their reason for existence--their authentic purpose. Personal, researched, and even mind-shifting, the tools in the The Invisible Leader will help you lead with authentic purpose and build a life and organization that matters. "Zach Mercurio has written a compelling book filled with powerful stories, cutting-edge research, and practical tools that shows us how to lead with purpose..." - Arianna Huffington, Founder and CEO at Thrive Global, #1 New York Times Bestselling Author of Thrive and The Sleep Revolution. "If you are seeking both practical guidance and powerful inspiration to unlock the power of purpose in your life or organization, The Invisible Leader is for you. Through vivid storytelling and compelling research, Zach Mercurio proves yet again that the pursuit and achievement of a world-bettering purpose is the most powerful driving force in life and work." - Aaron Hurst, National Bestselling Author of The Purpose Economy, CEO at Imperative "At KPMG, our purpose-driven culture inspires us to make a tangible difference for our clients, our people, and society. In The Invisible Leader, Zach Mercurio explains why bringing purpose into the workplace is a business imperative and shares valuable insights on how to unleash its power within yourself and your organization." - Lynne Doughtie, U.S. Chairman & CEO, KPMG "Nothing inspires or motivates people more than purpose - to know that our lives and our work can make a difference. The Invisible Leader is a profoundly practical guide to empowering people with purpose so that your organization can make the greatest possible impact." - Andrew Ripley, Co-Founder & CEO, PurposeMatch.com "A compelling, research-based case for elevating a shared "why" to its rightful place: as the invisible leader that pulls us all forward. Zach is a clear leader in the #lovework Revolution; get this book and join him in the movement " - Josh Allan Dykstra, CEO at Strengthscope U.S. & Author of Igniting the Invisible Tribe: Designing An Organization That Doesn't Suck.
Advantage Media Group, 9781599328515, 224pp.
Publication Date: October 24, 2017