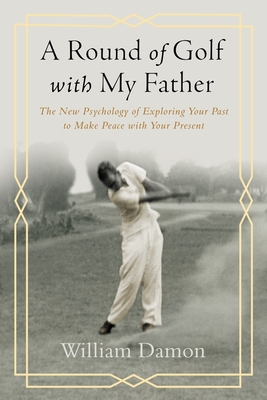 A Round of Golf with My Father
The New Psychology of Exploring Your Past to Make Peace with Your Present
Hardcover

* Individual store prices may vary.
Other Editions of This Title:
Paperback (5/16/2022)
Description
Viewing our past through the eyes of maturity can reveal insights that our younger selves could not see. Lessons that eluded us become apparent. Encounters that once felt like misfortunes now become understood as valued parts of who we are. We realize what we've learned and what we have to teach. And we're encouraged to chart a future that is rich with purpose. 

In A Round of Golf with My Father, William Damon introduces us to the "life review." This is a process of looking with clarity and curiosity at the paths we've traveled, examining our pasts in a frank yet positive manner, and using what we've learned to write purposeful next chapters for our lives.

For Damon, that process began by uncovering the mysterious life of his father, whom he never met and never gave much thought to. What he discovered surprised him so greatly that he was moved to reassess the events of his own life, including the choices he made, the relationships he forged, and the career he pursued.

Early in his life, Damon was led to believe that his father had been killed in World War II. But the man survived and went on to live a second life abroad. He married a French ballerina, started a new family, and forged a significant Foreign Service career. He also was an excellent golfer, a bittersweet revelation for Damon, who wishes that his father had been around to teach him the game. 

We follow Damon as he struggles to make sense of his father's contradictions and how his father, even though living a world apart, influenced Damon's own development in crucial ways. In his life review, Damon uses what he learned about his father to enhance his own newly emerging self-knowledge. 

Readers of this book may come away inspired to conduct informal life reviews for themselves. By uncovering and assembling the often overlooked puzzle pieces of their pasts, readers can seek present-day contentment and look with growing optimism to the years ahead.
Praise For A Round of Golf with My Father: The New Psychology of Exploring Your Past to Make Peace with Your Present…
"[O]riginal, candid, and poignant, full of irony and humor. This splendid, rich volume tells the story of coming to terms with one's past to face the present, and demonstrates the redemptive, reinvigorating power of looking back on one's life." —Vartan Gregorian, president of Carnegie Corporation of New York (1997–2021)

"Part detective-story, part thriller, and part psychological masterclass, Bill Damon's A Round of Golf with My Father is a must-read….This inspiring and remarkable book could not arrive at a better time." —Henry Timms, coauthor of the bestseller New Power, cofounder of #GivingTuesday, and president of Lincoln Center
  "[A] gripping detective story, a deeply touching personal memoir, a critique of developmental psychology, a compendium of life-giving maxims, and a celebration of disciplined life review.  Once I started reading it, I had a hard time putting it down." —Michael Murphy, cofounder of the Esalen Institute and author of Golf in the Kingdom and The Future of the Body

"A blueprint for a more fulfilling, grateful, and joyous life, A Round of Golf with My Father is both a page-turner and life-changer." —Marc Freedman, CEO, Encore.org, and author of How to Live Forever: The Enduring Power of Connecting the Generations

"In this beautiful book, Bill Damon simultaneously reviews his life and that of the father he never met. Two lives in review, two stories, two journeys that hold lessons for all of us about how to forgive ourselves and others, how to appreciate ourselves and others, and by making peace with the past find our way forward." —Angela Duckworth, PhD, founder and CEO of Character Lab and author of Grit: The Power of Passion and Perseverance

"This extraordinary memoir depicts the powerful insights that can emerge from reflecting on one's personal history and life work." —Howard Gardner, PhD, Hobbs Research Professor of Cognition and Education, Harvard Graduate School of Education, and author of A Synthesizing Mind

"If, as Aristotle wrote, living life well is like playing a musical instrument with skill and beauty, William Damon proves to be a virtuoso." —Dan P. McAdams, the Henry Wade Rogers Professor of Psychology, Northwestern University

"Damon's work is a unique guide for all readers to review and embrace their own life journey." —Richard M. Lerner, Bergstrom Chair in Applied Developmental Science, and director, Institute for Applied Research in Youth Development, Tufts University
Templeton Press, 9781599475639, 224pp.
Publication Date: June 7, 2021
About the Author
William Damon is a professor at Stanford University. He is one of the world's leading researchers on the development of purpose in life and the author of the influential book, The Path to Purpose.