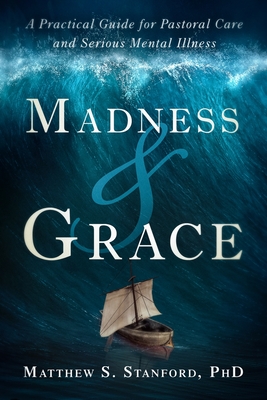 Madness and Grace
A Practical Guide for Pastoral Care and Serious Mental Illness (Spirituality and Mental Health)
Paperback

* Individual store prices may vary.
Description
Research tells us that when most people suffer from a mental health crisis, the first person they turn to for help is not a physician, a psychiatrist, or a social worker, but a pastor, a priest, or a minister. In other words, a leader in their church. Unfortunately, many church leaders are not trained to recognize mental illness and don't know when to refer someone to a mental health professional. The consequence—unintended yet tragic—is continued and unnecessary suffering.

Madness and Grace is a comprehensive guide for church ministry to alleviate this situation. Written by Dr. Matthew Stanford, the book is carefully constructed to help build competency in detecting a wide spectrum of mental disorders, such as knowing when a person is contemplating suicide based on telltale patterns of speech. It also explodes common discriminatory myths that stigmatize people with mental illness, such as the myth that they are more prone to violence than others.

Dr. Stanford has treated clients throughout his career who were afflicted with all manner of mental disorders. In Madness and Grace, he takes the full extent of his experience and makes it accessible and actionable for the lay reader. He begins by explaining what constitutes a mental illness and how these disorders are classified according to science. He next teaches how to notice the presence of a mental illness by listening carefully to phraseology, observing behavior, and asking discerning questions. He goes on to discuss methods of treatment, common religious concerns about mental health, and ways church communities can support people on the road to recovery.

As a Christian, Dr. Stanford wants his fellow believers to know that acknowledging and seeking help for a mental illness is not a sign of weak faith. That's why, in addition to sharing his medical expertise with church leaders, he commends pertinent biblical passages that underscore God's concern for our mental wellbeing. These passages provide strength and comfort as complements to clinically-derived treatment and are essential to Dr. Stanford's approach. "When working with those in severe psychological distress," he writes, "compassion and grace are always the first line of pastoral care."
Praise For Madness and Grace: A Practical Guide for Pastoral Care and Serious Mental Illness (Spirituality and Mental Health)…
"This book is recommended for all who are involved in providing pastoral care. Those already familiar with issues of behavioral health will still find information to glean. Those without previous exposure or education in behavioral health will gain a treasure-trove of knowledge. Finally, all readers will further appreciate their role in being part of the care network for those suffering at any point in the mental health spectrum."—Sharing the Practice

"Practical and balanced, Madness & Grace is one that should be of considerable value to anyone involved in ministry or pastoral care who's looking for some guidance on how to respond to the issue of mental health."—Sight Magazine

"In Madness and Grace, Dr. Stanford brings together the richness of his academic career and his commitment to the Christian faith to give us a thorough presentation of the mental health issues encountered by women and men in church ministries. With clarity and compassion, he guides us in how to respond to those who suffer with mental illness, as well as their families. This book should be a 'must read' for women and men preparing for ministry." —Nancy C. Kehoe, RSCJ, PhD, author of Wrestling with Our Inner Angels: Faith, Mental Illness and the Journey to Wholeness
"Upon finishing Dr. Stanford's outstanding work, Madness and Grace, one of the first words that came to mind was 'FINALLY!'  For years, like many of my clergy friends, I have sought a comprehensive and thorough resource to deal with those who walk in my door seeking help, release, and support for various forms of behavioral, emotional, and mental illness. Dr. Stanford's book provides the end to that search. He shows faith leaders how they can, in fact, be the open arms of God, by revealing how faith communities can work with trained professionals in a way that puts flesh on the welcoming words, 'Come to me, all you who are weary and burdened, and I will give you rest.' Within these pages, the reader will gain the knowledge and know-how to provide a framework of care and treatment for the one in five who suffer with some form of mental illness." —The Reverend Dr. Russell Jones Levenson, Jr., MStJ., Rector, Saint Martin's Episcopal Church, and Sub-Prelate, the Priory of the USA of the Order of St. John of Jerusalem
"Mental illness continues to escalate in North America at alarming rates. For pastors and other Christ-followers who want to help mentally ill family, friends, and neighbors—and 'to do no harm'— allow me to commend this book by my friend Dr. Matthew S. Stanford. Madness and Grace is a rich resource for clergy and congregations who wish to serve the mentally ill looking to the Church for help and hope. One's training for ministry to the mentally ill may not end here, but I do not know of a better place to begin. I am grateful for and have benefited from this timely work and firmly believe that it will do much good for many." —Todd D. Still, PhD, The Charles J. and Eleanor McLerran DeLancey Dean & The William M. Hinson Professor of Christian Scriptures, George W. Truett Theological Seminary of Baylor University
"When it comes to mental illness in America, too many people fail to get the help they need too much of the time. In Madness and Grace, Dr. Matthew Stanford notes how this is a divine opportunity for the church. There's a problem, however, in that clergy lack the training to help with mental illness. When do I refer someone? How can I tell if this person is mentally ill? What should I do if someone seems suicidal? These are the kinds of questions pastors and others in local churches ask. In this fine book, Dr. Stanford addresses these issues and teaches church leadership how to work with professionals to care for those with mental health issues. With biblical content, real-life examples, and accessible resources, Dr. Stanford offers the church a vital contribution. We can do more; Madness and Grace shows a way forward."
—Ed Stetzer, professor and dean, Wheaton College
"As mental health finally gains in people's awareness as a serious area of concern, here is a book that every Christian leader across the country ought to have close at hand. With a combination of clinical expertise, Christian mercy, and clear prose, Dr. Matthew Stanford walks us through the various ways that mental illness can afflict the people in our spiritual care. Not only does he present the nature of the most common disorders, we also learn to notice the red flag behaviors and indicative speech patterns that tell us when to refer to a mental health professional. Madness and Grace is a wise and compassionate resource that can help bring healing to countless numbers of people within the church. I highly recommend it to you!" —Dr. Tim Clinton, president of the American Association of Christian Counselors
Templeton Press, 9781599475790, 216pp.
Publication Date: June 1, 2021
About the Author
Matthew S. Stanford, PhD, is CEO of the Hope and Healing Center & Institute (HHCI) in Houston, TX and adjunct professor of psychiatry at Baylor College of Medicine and Houston Methodist Hospital Institute for Academic Medicine. Dr. Stanford's research on the interplay between psychology and issues of faith has been featured in the New York Times, USA Today, Christianity Today, and U.S. News & World Report.
or
Not Currently Available for Direct Purchase