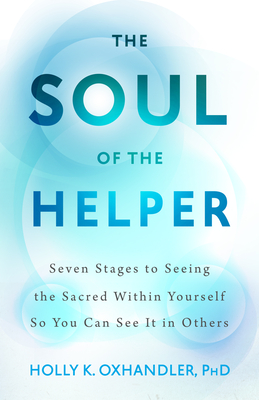 The Soul of the Helper
Seven Stages to Seeing the Sacred Within Yourself So You Can See It in Others (Spirituality and Mental Health)
Hardcover

* Individual store prices may vary.
Description
Caretakers come in many forms—from parents to teachers; nurses to doctors; social workers to first responders; faith leaders to family members. What they all have in common, in addition to admirably high levels of empathy, is a tendency to work for the wellbeing of others to the point of burnout.

When this happens, heavy feelings creep in of shame, fear, anger, and resentment. These are surefire signs of mental, emotional, and spiritual exhaustion. Yet caretakers usually have no recourse, and they feel that if they were to take a step back, they would be failing in their duty.

In The Soul of the Helper, Dr. Holly Oxhandler invites these individuals to lay down their burdens temporarily and realize that if they let their personal resources run dry, they cannot possibly care for others as fully as they wish. In fact, their attempts might even be counterproductive.

Coming from a background in faith-based mental health, Dr. Oxhandler teaches helpers a seven-step process to slow down and reconnect with the stillness within themselves. That stillness—what Oxhandler calls the "sacred spark"— is the seat of the soul. By allowing themselves to exist in that stillness for a time, caregivers will come to understand that they, too, are worthy of care. What's more, they will be able to see freshly the sacred spark that dwells inside everyone else, including the person or persons for whom they're caring.

As a social worker, researcher, and person of faith, Dr. Oxhandler wrote The Soul of the Helper as a research-based invitation to reflect upon how spiritual and religious beliefs influence the lives of professional (and nonprofessional) caregivers. At the same time, she writes in a wonderfully accessible style, shares many relatable stories, and widens her scope to include believers of all faiths and spiritual traditions.

This is a book for caregivers everywhere, in every role, who sense the sacred spark within them saying, in effect: "Come to me, all you who are weary and burdened, and I will give you rest."
Templeton Press, 9781599475912, 224pp.
Publication Date: January 4, 2022
About the Author
Holly K. Oxhandler, PhD, LMSW, is an associate professor and the associate dean for research and faculty development at Baylor University's Diana R. Garland School of Social Work. Dr. Oxhandler has developed various instruments to measure the integration of clients' religion/spirituality in mental health treatment, the integration of the helping professionals' faith in their work, as well as clients' views toward discussing their spirituality in treatment.

Her work is published among many of the top professional journals, and she is a leading expert in social work and related mental health disciplines on religion, spirituality, and mental health. Dr. Oxhandler hosts the weekly podcast, CXMH: Christianity and Mental Health, and her research has been featured in the Washington Post, Consumer Affairs, Religion News Service, and more.