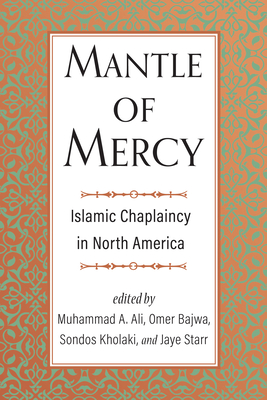 Mantle of Mercy
Islamic Chaplaincy in North America (Spirituality and Mental Health #1)
Hardcover

* Individual store prices may vary.
Description
This engaging collection presents thirty essays by Muslim chaplains reflecting on their experiences as spiritual caregivers. Through their first-hand accounts, they impart how they skillfully apply the mercy and compassion of the Prophet Muhammad to the people in their care. They also share how their faith informs their service, how they navigate the obstacles of a predominantly Christian profession, and how they administer to the spiritual needs of people of different faiths or of no faith at all.

Working in a variety of settings—including hospitals, prisons, universities, and the armed forces—Muslim chaplains encounter unique challenges on a daily basis, requiring them to call upon the resources of their Islamic faith with wisdom and tenderness.  The contributors to this volume explore these circumstances vividly and honestly. Their personal stories are instructive of how Islamic principles can be employed with spiritual insight to bring strength and comfort to the sick and suffering.  
Praise For Mantle of Mercy: Islamic Chaplaincy in North America (Spirituality and Mental Health #1)…
"Applause for Mantle of Mercy. This extraordinary compilation of personal essays provides insight into Muslim chaplains' experiences and contributions to the field of chaplaincy in the United States. Readers gain a glimpse of the foundational Islamic principles and values that undergird the writers' ministry and leadership within the diverse institutions they serve. Mantle of Mercy is a must-have resource for theological schools, Clinical Pastoral Education (CPE) Centers, and students pursuing a career in chaplaincy." —­­­­­­­­­­­­­­­­­­­Chaplain Tahara Akmal, MA, BCC, ACPE Certified Educator

"Mantle of Mercy fills an important void within the emerging body of research and writing about the field of chaplaincy. While chaplaincy may be unfamiliar to many Muslims, the writers in this volume generously engage with both the educational formation processes and spiritual practices of chaplaincy while thoroughly and authentically integrating them with the Islamic faith. Careful, scholarly attention is paid throughout the text to the core principles of Islam, demonstrating through story and reflection how a chaplaincy is an ideal form of practice for the faithful Muslim leader. The result is a beautiful witness to the many ways that Islamic chaplaincy embodies the kind of compassion that is at the heart of professional spiritual care. This text is an incredible resource to chaplaincy educators, professional chaplains, and those Muslims seeking to serve as professional spiritual care providers." —Trace Haythorn, PhD, executive director & CEO, Association for Clinical Pastoral Education (ACPE)

"Islamic chaplaincy, a relatively new field of inquiry and practice, has been skillfully outlined in this first volume of its kind, Mantle of Mercy. The editors have done a wonderful job in assembling a chorus of diverse voices of practitioners from the field. Critical perspectives from chaplains serving in universities, the healthcare sector, the military, and underrepresented communities provide fascinating insight into the world of fostering human souls. In a world where cynicism, distrust, and division have impaired our collective ability to engage with one another, this volume offers a reprieve, and perhaps even a way forward to reacquaint ourselves with our inherent humanity." —Shaykh Dr. Walead Mosaad, Chair and Resident Scholar, Sabeel Community

"In this superbly curated collection of essays, trailblazing Muslim chaplains provide intimate portraits of their professional lives and how they arrived at their vocational calling; how they create healing spaces through the Prophetic example; and how they provide pastoral care by drawing upon Islamic theology.  As readers amble into this garden of stories, they will surely feel the hearts of these chaplains speaking to their own. And by taking in the vista, they will come to recognize the value Islamic chaplaincy adds within hospitals, prisons, college campuses, the armed forces, and, indeed, even within mosques and third spaces." —Aasim I. Padela, MD, MSc, chairperson and director of the Initiative on Islam & Medicine, and professor of emergency medicine, Bioethics, and the Medical Humanities at the Medical College of Wisconsin

"I really loved this book. Muslim chaplains do amazing work for religious identity, pastoral care, and civic pluralism. This volume captures the complexity and range of such work remarkably well." —Eboo Patel, author of Acts of Faith and president of Interfaith Youth Core
 
"In the last few decades, Muslim chaplains have emerged as a profoundly important model of spiritual accompaniment.  Mantle of Mercy brings together most of the leading Muslim chaplains in North America who bring a tradition-centered approach to healing in their various settings. The chapters are as spiritually rich as they are accessible.  It is lovely to see how they advance the concept of healing and care beyond the Western obsession with 'self'-care to the heart-community-Divine level.  Particularly poignant and bittersweet are the chapter and the farewell from the departed and much beloved Imam Sohaib N. Sultan.  I commend Ali, Bajwa, Kholaki, and Starr for this urgently needed volume and enthusiastically recommend this book to all who work with the Muslim community and in pastoral care in the context of universities, hospitals, and beyond." —Omid Safi, PhD, professor of Islamic Studies at Duke and director of Illuminated Courses and Tours

"Ali, Bajwa, Kholaki, and Starr have created a watershed moment with the publication of Mantle of Mercy. By assembling North America's leading lights in Islamic chaplaincy, the editorial team has provided an essential resource not just for Muslim chaplains but for all spiritual care providers who are rightly attentive to contemporary spiritual and religious diversity. Students, educators, and chaplains in the field will benefit from Mantle of Mercy. This essential addition to the literature makes it definitely clear that North American spiritual care cannot develop further without taking Islamic chaplaincy into much greater account." —Michael Skaggs, PhD, director of programs, Chaplaincy Innovation Lab
 
"This is an important and much-needed scholarly contribution to the literature on chaplaincy in general and, more specifically, Islamic chaplaincy. It gives insight into how far the field has come and how Islam is establishing itself into the fabric of North American life in such a beautiful way. The contributors and the topics they write beautifully demonstrate how diverse the Islamic tradition is and how interesting and wonderful such diversity can be. This compilation is a moving and inspiring book and a must-have for anyone interested in chaplaincy, pastoral care, the healing arts, Islam, Islam in North America, and many other related fields." —Carrie M. York, PhD, president, The Alkaram Institute 
"Mantle of Mercy provides a unique discussion on how Muslim Americans face life's challenges, how they have much to offer many Americans, and how their religion can fit into American society. The writers' enthusiasm and security in their faith will inspire many readers to consider a vocation in chaplaincy. For those already in chaplaincy, it provides essential information on the complexities and challenges that are unique to Islam." ­­­­­­­­­­­­­­­­­­­­­­­­­­­­­­­­­­­­­-Journal of Pastoral Care and Counseling 

"This collection of personal stories, theological reflections, and case studies conveys the joys and challenges Muslim chaplains face in the various settings in which they serve….An excellent reference for many interested in pastoral care and related fields, this volume will be especially useful to those who are considering chaplaincy as a career, graduate students of chaplaincy about to begin Field Education, or Clinical Pastoral Education (CPE) students and supervisors."–Journal of Interreligious Studies
Templeton Press, 9781599475936, 320pp.
Publication Date: February 28, 2022
About the Author
Muhammad A. Ali graduated from Bayan Islamic Graduate School with an MDiv in Islamic Chaplaincy and an MA in Islamic Education. He chaplains in university and prison settings and previously served as vice president of corrections chaplains for the Association of Muslim Chaplains.

Omer Bajwa holds a GC in Islamic Chaplaincy from Hartford Seminary and an MA in Near Eastern Studies with Islamic Studies concentration from Cornell University. He serves as a chaplain at Yale University and was a founding board member of the Association of Muslim Chaplains. 

Sondos Kholaki completed her MDiv in Islamic Chaplaincy at Bayan Islamic Graduate School and serves as a board certified healthcare and community chaplain and is vice president of healthcare chaplains for the Association of Muslim Chaplains.

Jaye Starr is a graduate of Hartford Seminary's Islamic Chaplaincy Program, an aspiring healthcare chaplain, and membership chair of the Association of Muslim Chaplains.