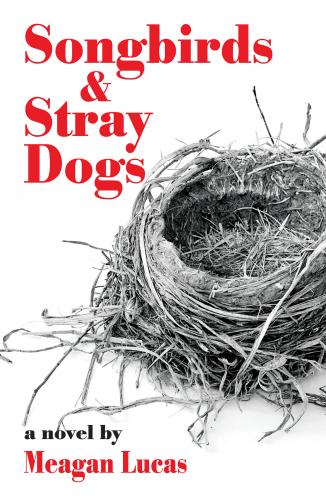 Songbirds and Stray Dogs (Paperback)
Main Street Rag Press, 9781599487526, 215pp.
Publication Date: August 1, 2019
* Individual store prices may vary.
Description
In Songbirds and Stray Dogs, Jolene has been abandoned by her addict mother on the steps of her spinster aunt's door at eight years old. She's spent the last thirteen years living in the shadow of the pain her mother caused and trying to prove herself worthy of her aunt's stingy love. Unintentionally she becomes pregnant. When the father refuses her and her aunt kicks her out, Jolene tries to outrun her shame by heading to the mountains. Homeless, penniless, alone, and chased by demons from her past, she makes friends who help and hinder. She is forced to confront exactly who she is, what she wants, and what she is willing to do to get it.

Geography and a sense of place are central to Songbirds and Stray Dogs. It is a Southern story, born of sweet tea and the Bible Belt, chow-chow and cornbread, shot guns and porch rocking. But it is also a universal story of escaping the burden of your past and finding yourself at home in a strange land.
About the Author
Meagan Lucas is Pushcart nominated writer. Her short work has appeared recently in: The New Southern Fugitives, Still: The Journal, and The Blue Mountain Review. She won the 2017 Scythe Prize for fiction. Meagan is an Adjunct Instructor at A-B Tech, and the Fiction Editor for Barren Magazine. She lives with her husband and children in the mountains of Western North Carolina. She tweets: @mgnlcs
Praise For Songbirds and Stray Dogs…
Meagan Lucas is a brave new voice in Southern fiction. Songbirds and Stray Dogs packs a double shot of grit and heart, with a story stretching from the beaches of the Carolina Lowcountry to the Land of the Sky and a heroine who doesn't know the word quit. An unflinching portrait of motherhood, trauma, and the family we make along the way.
~Taylor Brown, author of Gods of Howl Mountain, The River of Kings and Fallen Land.

Meagan Lucas has woven a lush and heartwarming story of well-meaning people trying to find their way in a world that can seem fractured beyond repair. Thrust into difficult circumstances beyond their control, Jolene, Chuck, and Cash wrestle with how to escape the past and forge a path forward. From devastating setbacks to the uplifting conclusion, every moment of their memorable journey brings us closer to these characters' true selves.
~Heather Bell Adams, author of Maranatha Road

A wonderful story of the strength of the human spirit. As a reader, I repeatedly asked myself, "Could I ever muster the courage Jolene displayed time and time again? Would I just give up?" Ms. Lucas's book will touch your heart and soul. It will inspire you to look at every day's life challenges a little bit differently.
~Rodney Page, author of Macon – The Novel, The Indomitable Ms. Smythe, The Fourth Partner, Murcheson County, and Powers Not Delegated

"Vivid" may be the best single word to sum up this book which is rich with language and description, where every paragraph offers one delicious turn of phrase after another. Poignant observations transform every day into intriguing as the author exhibits an ability to dissect human behavior down to its barest motives. Unable to escape emotional yearning for multiple characters embroiled in tragedy, I found myself both cheering and crying as either misery or triumph unfolded.
~Evan Williams, author of Ripples
or
Not Currently Available for Direct Purchase