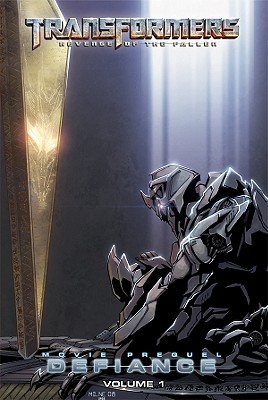 Transformers: Revenge of the Fallen: Defiance, Volume 1 (Library Binding)
Revenge of the Fallen: Defiance, Volume 1
Spotlight (MN), 9781599617213, 24pp.
Publication Date: January 1, 2010
* Individual store prices may vary.
or
Not Currently Available for Direct Purchase
Description
The second official prequel to the summer's "TRANSFORMERS: REVENGE OF THE FALLEN" movie begins here "DEFIANCE" tells a tale that delves back to the very origins of CYBERTRON and the beginnings of the war between AUTOBOTS and DECEPTICONS. Vol. 1 informs readers that somewhere in space exists the planet CYBERTRON. Populated by amazing creatures with the ability to alter their appearances, they exist peacefully. They live to protect an ancient artifact of great power; the ALLSPARK. Their species has worked with one another to maintain a society built upon learning about their history, while protecting their future. Their fragile civilization is about to be torn apart and their world thrown into chaos as terrible evil arrives on CYBERTRON, threatening the very lives of those we know as the TRANSFORMERS. Spotlight editions are printed on high-quality paper and with reinforced library bindings specifically printed for the library market. Grades 2-6.
Advertisement