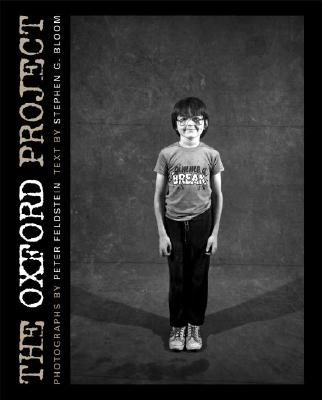 The Oxford Project (Hardcover)
Welcome Books, 9781599620480, 264pp.
Publication Date: September 16, 2008
* Individual store prices may vary.
or
Not Currently Available for Direct Purchase
Description
In 1984, photographer Peter Feldstein set out to photograph every single resident of his town, Oxford, Iowa (pop. 676). He converted an abandoned storefront on Main Street into a makeshift studio and posted fliers inviting people to stop by. At first they trickled in slowly, but in the end, nearly all of Oxford stood before Feldstein's lens. Twenty years later, Feldstein decided to do it again. Only this time he invited writer Stephen G. Bloom to join him, and together they went in search of the same Oxford residents Feldstein had originally shot two decades earlier. Some had moved. Most had stayed. Others had passed away. All were marked by the passage of time.

In a place like Oxford, not only does everyone know everyone else, but also everyone else's brothers, sisters, parents, grandparents, lovers, secrets, failures, dreams, and favorite pot luck recipes. This intricate web of human connections between neighbors friends, and family, is the mainstay of small town American life, a disappearing culture that is unforgettably captured in Feldstein's candid black-and-white portraiture and Bloom's astonishing rural storytelling.

Meet the town auctioneer who fell in love with his wife in high school while ice-skating together on local ponds; his wife who recalls the dress she wore as his prom date over fifty years ago; a retired buck skinner who started a gospel church and awaits the rapture in 2028; the donut baker at the Depot who went from having to be weighed on a livestock scale to losing over 150 pounds with the support of all of Oxford; a twenty-one-year-old man photographed in 1984 as an infant in his father's arms, who has now survived both of his parents due to tragedy and illness.

Considered side-by-side, the portraits reveal the inevitable transformations of aging: wider waistlines, wrinkled skin, eyeglasses, and bowed backs. Babies and children have instantly sprouted into young nurses, truck drivers, teachers, and rodeo riders, become Buddhists, racists, democrats, and drug addicts. The courses of lives have been irrevocably altered by deaths, births, marriages, and divorces. Some have lost God--others have found Him. But there are also those for whom it appears time has almost stood still. Kevin Somerville looks eerily identical in his 1984 and 2004 portraits, right down to his worn overalls, shaggy mane, and pale sunglasses. Only the graying of his lumberjack beard gives away the years that have passed.

Face after face, story after story, what quietly emerges is a living composite of a quintessential Midwestern community, told through the words and images of its residents--then and now. In a town where newcomers are recognized by the sound of an
unfamiliar engine idle, The Oxford Project invites you to discover the unexpected details, the heartbreak, and the reality of lives lived on the fringe of our urban culture.
About the Author
Peter Feldstein is an artist working at the intersection of photography, drawing, printmaking, and digital imaging. He has shown at Just Above Midtown Gallery, Vibeke Levy Gallery, and Exposure Gallery (NYC), Roy Boyd Gallery (Chicago), Sherry Leedy Contemporary Art (Kansas City), and Olson-Larson Galleries (Des Moines). Feldstein's work has been included in group exhibits at the Center for Creative Photography, Walker Art Center, and the Rhode Island School of Design. He has received an NEA Individual Artist's Grant and two Polaroid Collection Grants. For more than three decades, Feldstein taught photography and digital imaging at the University of Iowa School of Art & Art History.

Stephen G. Bloom is the author of "Postville: A Clash of Cultures in Heartland America "(Harcourt, 2000). He also is the author of a collection of nonfiction stories, "Inside the Writer's Mind "(2002). Bloom has worked as a staff writer for "The Los Angeles Times," "Dallas Morning News," "Sacramento Bee," and "San Jose Mercury News. "His book, "Tears of Mermaids: A Secret History," will be published by St. Martin's Press in September 2009. Since 1993, Bloom has taught at the University of Iowa, where he specializes in narrative writing.
Praise For The Oxford Project…
"For my Creative Writing students the portraits in The Oxford Project really are worth a thousand words. When used as writing prompts, the transformative nature of the portraits help my students practice crafting characters.  The portraits have also inspired my students to bring in portraits of themselves as children which they use to spark pieces of writing that explore connections between the yesterday of their childhood and the today of their teen years.  This year students will use the Oxford Project as a template to create their own Oxford Project that focuses on the childhood portrait of a relative or neighbor they know who is from an older generation."
--Junius Wright, Academic Magnet High School     

"I opened the book for a quick browse and read it from cover to cover before I realized it was nearly three in the morning on a school night, but a more temperate reader would likely enjoy flipping through a section or even opening it to a random page. Photo majors, and anyone else interested in the human condition, should not miss The Oxford Project."
--DCAD Delaware College of Art & Design
http://dcadlibrary.wordpress.com

"What we have in this spellbinding and ambitious and eccentric volume is 'Our Town' and 'Spoon River Anthology' updated and revivified. We also have journalism, in words and in images, at its heart-stopping best and its most poignant...by the final page you feel as if you have both read a novel and seen a movie simultaneously."
--Nieman Reports

"Then-and-now portraits, shown side-by-side, tell one powerful story; in accompanying texts, their beautiful testimonials to time and life and people tell another."
--NPR.org, Best Gift Books 2008

"Each picture is worth a thousand words, and each pair of portraits is a fair trade for an entire novel."
--NPR, Morning Edition

"The product is a hard-to-put-down coffee-table book, with big, striking then-and-now portraits, that pulls you deep into small-town America, with its almost excessive joys. The danger of such a project is that it can make caricatures out of real people - but this book stays true to its life-worn subjects and to the complexities of what would seem to be the most simple of places."
--The Atlantic

"People don't get much more real than this, and there's a heartbreaking, forensic pleasure in paging through the book to stare at the pictures for minutes at a time, looking at the thousands of ways in which the years change each of us."
--The Washington Post

"The book is at once strikingly intimate and expansive...[The Oxford Project has] the sweeping scope and power of Our Town or Spoon River Anthology. It's both personal and historical, which makes Feldstein's achievement doubly absorbing and doubly affecting."
--The Austin Chronicle

"The Oxford Project is an homage to Americana, a photographic record of small-town America and the story of intertwined lives. It is about history, personal and collective, and that ubiquitous force: change. This book, like the facets of human features, is so intriguing, it is nearly impossible to put down."

--The San Antonio Current

"There's something truly remarkable about this book. Art and historical artifact, The Oxford Project provides a glimpse into a real America - not the one dreamed up, and exploited, by pandering politicians (at every point on the political spectrum). This is the real thing, riveting and revelatory.

...The Oxford Project is like a still-life documentary, a narrative about change. This huge, handsome book, with its gatefold photographs, its maps and memories, offers a fascinating piece of contemporary history, a treasure of social and cultural commentary."
--The Philadelphia Inquirer

"Honest, gripping, and incredibly moving...The book design is brilliantly conceived and beautifully produced."
--Black and White magazine

"Fascinating...a time capsule that offers the reader a unique glimpse of the changing face of life in small town America...a fine addition to your personal library."
--Shutterbug magazine

"What a marvelous way to get at 'who we are' as people. This powerful, confessional book draws its strength from the truth that so-called ordinary people, not those with bold-faced names, are actually the heroes of our American drama."
--Ken Burns, Emmy award-winning director of The Civil War

"Cleverly designed and artfully illustrated. Of significance to humanities scholars and socials scientists, as well as general readers, this work provides a good glimpse of small town America."
--Library Journal

"[The] images are a fascinating look at how people age and develop, a kind of real life 'before' and 'after' experiment...an intriguing look at small town America."
--Bookpage

"These photographs and stories are American documentary work at its finest."
--Dale Maharidge, Pulitzer Prize-winning author

"The Oxford Project is an extraordinary undertaking and a fascinating book. These magnificent photos and oral histories make for a can't-put-it-down-read, and prove that the stories we find all around us are the most interesting and important of all. You'll be awed by the poetry in the words, dreams, and faces of Oxford, Iowa.
--Dave Isay, founder of StoryCorps

"A coffee table book that will lead to many discussions. The Oxford Project is also a book to read cover to cover. It is a record of humanity during the last years of the 20th century. Everyone will find something of themselves in the people of Oxford."
--Nancy Quinn, Marketing Director, Harry W. Schwartz Bookshops, Milwaukee

"The arresting lenticular photograph on the cover of this book is a boy, Hunter Tandy in 1984, and as a man in 2005. The diversity of human experiences is engrossing and the photos are captivating. This is an American small town's story but also the story of American lives. Humane, poignant, but also a work of art, The Oxford Project deserves to be in every library and home to remind us of who our neighbors are."
--Catherine Wallberg. Buyer, Harry W. Scwhartz Bookshops, Milwaukee

"To stumble upon a small town like Oxford is one thing - to be able to consider its whole population face by face, at your own leisure, is something else entirely."
--from the Preface, by Gerald Stern

"This book was amazing. Amazing. Many things about people are immutable - often residents would stand the same way for their portraits 20 years apart without noticing it. So much of who we are is shaped by how others see us, but clearly at our core we are all our own person."
--SomewhatBookish.blogspot.com

"The whole endeavor in question is both simple and simply amazing...taken slowly and allowed to unfold (much like the project itself), The Oxford Project had much to reveal and does so beautifully."
--CorridorBuzz.com
Advertisement