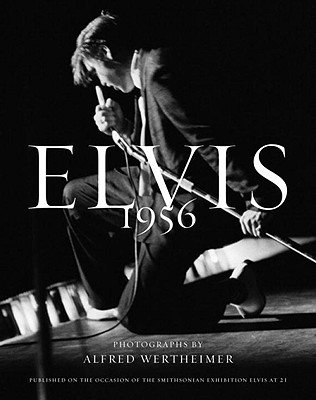 Elvis 1956
Hardcover

* Individual store prices may vary.
Description
1956 was the year Elvis released his first record, made his first television appearance, and started his movie career. It was the year he became a star. Alfred Wertheimer, then a young freelance photojournalist, was there to document the extraordinary transition. Elvis 1956 features images that are a national treasure, including photographs of Elvis never before published: a unique visual record of one of the most exciting performers of his time, one of the most influential of all time, the first true icon of rock 'n' roll. Here is the first and last unguarded look at Elvis, featuring images of him in every aspect of his life - from performance and with the fans, to the recording studio and at home with his family.

Elvis 1956 serves as the catalogue for a nationally traveling exhibition exhibition developed collaboratively by the Smithsonian Institution Traveling Exhibition Service, the Smithsonian's National Portrait Gallery, and the Govinda Gallery to celebrate the 75th anniversary of the legendary rock star's birthday. Lavishly illustrated with 72 tri-tone photographs and with an introduction by curator Chris Murray, essays by E. Warren Perry, Jr. and National Portrait Gallery historian Amy Henderson, Elvis 1956 is a remarkable window into a defining time for rock 'n' roll's most enduring presence.
Praise For Elvis 1956…
"Elvis 1956 offers black and white photos by Alfred Wertheimer taken during the year Elvis turned 21, and offer a fine visual record of a defining time for rock and roll. It was the year Elvis released his first record, made his first TV appearance, and more - and it offers a definitive visual portrait unavailable elsewhere.  Any music library strong in rock and roll history needs this, which pairs Alfred Wertheimer's photo with essays by E. Warren Perry, Jr. and Amy Henderson."
California Bookwatch

"This book features a beautiful collection of 72 tri-tone shots that expertly capture Presley's dramatic and electrifying journey to stardom."
Foreword Magazine

"Elvis 1956 vividly captures the year Elvis meteorically rose from obscurity to superstardom featuring Alfred Wertheimer's iconic photographs of Elvis - some never-before published or rarely seen - and his recollections...For a new generation of Elvis fans, the book provides an inexpensive edition of Wertheimer's memorable photos with spectacular tritone printing of the king's sensational impact in 1956 on the emerging popularity of rock and roll."
Elvis.com

"...In many way the most exciting and intimate portrait of the legendary entertainer...You don't have to be an Elvis fanatic to recognize the importance of this book.  It sheds significant light on the early days of one of the true legends of show business."
- Cinema Metro

"Remarkable...The times, they were a-changing, and changing quickly. Elvis and his music were both part of and a cause of that change. Collectively, Wetheimer's photos capture that time as if the photographer and his subject knuew that the moment would not last. Elvis 1956 will appeal to a broad segment of reader, including those who still carry a torch for Elvis, those interested in photography, and those with an interest in 1950s America."
-John Michael Senger, Foreword Reviews

"Wertheimer's photographs show Elvis in every aspect of his life — in performance, with his fans, in the recording studio, and at home with his family. The book is lavishly illustrated with 72 tri-tone photographs, and features an introduction by curator Chris Murray, along with essays by E. Warren Perry, Jr. and National Portrait Gallery historian Amy Henderson."
-THE Magazine

"Elvis 1956 is truly The King before he was The King, and the images are both insightful and stunning. Recollections by Wertheimer regarding time, place, and circumstances of each photograph offer further revelation into the daily events that paved the way for this true American idol."
Her Nashville Magazine.
Welcome Books, 9781599620732, 128pp.
Publication Date: November 10, 2009
About the Author
ALFRED WERTHEIMER began his career in 1951, publishing his work in such magazines as Life and Paris Match. When RCA Victor asked him to photograph Elvis in 1956, Wertheimer turned the assignment into a unique ooportunity. No photographer ever again was allowed the same intimate access. Apart from Elvis' own recordings from this period, these images are the most compelling vintage documents of Elvis in 1956.

Sixty-five of Wertheimer's photographs were featured in a one-person exhibition at the Foundation Cartier for Contemporary Art in Paris and in 2006 a major monograph, Elvis at 21: New York to Memphis, was published.

CHRIS MURRAY is founder and director of Govinda Gallery, Washington D.C. He has organized more than 200 exhibitions celebrating many leading artists, including Andy Warhol and Annie Leibovitz. Murray has been the author or editor of over a dozen books and catalogs including Soul Rebel: A Intimate Portrait of Bob Marley (2009), John and Yoko: A New York Love Story (2008), and Elvis at 21.

AMY HENDERSON has been a cultural historian at the Smithsonian National Portrait Gallery since 1975, specializing in 20th and 21st century music, movie, and theater history, and in the history of American celebrity culture. Her books and exhibitions include On the Air: Pioneers of American Broadcasting (1988), and Red, Hot, & Blue: A Smithsonian Salute to the American Musical (1996: the SITES traveling version of this exhibition went to 28 venues); Exhibiting Dilemmas: Issues of Representation at the Smithsonian (1997); the six-part PBS American Masters series Broadway; "The Changing Face of Celebrity Culture" (2005); KATE: A Centennial Celebration (2007-08); and Elvis at 21 (SITES exhibition, 2009-).

E. WARREN PERRY, JR., a native of Memphis, Tennessee, is a writer and researcher for the Smithsonian National Portrait Gallery. He holds graduate degrees in medieval literature and creative writing from the University of Memphis and in drama from the Catholic University of America. Warren's most recently published work is his play The Sitters which can be found in the anthology The Best of the Strawberry One Acts, Volume IV (2007).