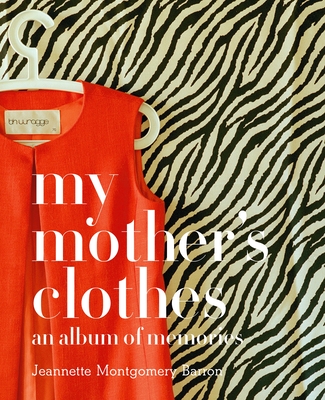 My Mother's Clothes: An Album of Memories (Hardcover)
An Album of Memories
Welcome Books, 9781599620770, 112pp.
Publication Date: March 16, 2010
* Individual store prices may vary.
or
Not Currently Available for Direct Purchase
Description
This is a book about the depth of a daughter's love, and the breadth of a mother's life; it is about letting go, but never forgetting...A photographer's love letter to her late mother, whose five year struggle with Alzheimer's and devout passion for couture clothing inspired this poignant and moving photo essay which sparkles with the memories of her mother's glamorous and fashionable life.
In "My Mother's Clothes," photographer Jeannette Montgomery Barron creates a poignant and enduring portrait of her late mother through still life images of her cherished clothing, shoes, and personal possessions. As her mother's struggle with Alzheimer's progressed, robbing her of any remembered past, Montgomery Barron began this unique visual album as a way of both sparking her mother's memories, and coping with her own sense of loss. Poetic, riveting, elegant, "My Mother's Clothes" is part fashion diary, part personal memoir, part loving memorial, and part life celebration.
An inspiring and intimate true story told in picture and word that will be cherished by mothers and daughters, by fashion lovers and photography fans, by those grieving the loss of a loved one or anyone suffering from or affected by Alzheimer's.
About the Author
JEANNETTE MONTGOMERY BARRON studied at the International Center of Photography, and became known for her portraits of the New York art world in the 1980s, which were later published in her monograph, "Jeannette Montgomery Barron." This was followed by "Photographs and Poems" in 1998, with text by the Pulitzer Prize-winning poet Jorie Graham (Scalo), "Mirrors," a collaboration with renowned author Edmund White (Holzwarth Editions, 2004), and "Session with Keith Haring" in 2006 (Holzwarth). Her work has appeared in publications around the world, including "Vogue," "The New Yorker," and "Vanity Fair," and her prints are held in numerous museum collections, such as The Houston Museum of Fine Arts, The High Museum of Art in Atlanta, and The Andy Warhol Museum. Jeannette Montgomery Barron lives and works in Rome, Italy and Connecticut with her husband and their two children.

PATRICK KINMONTH is a diverse artist and writer. He has been Arts Editor at British Vogue and written texts for many photography and art books, notably collaborating with Mario Testino, Snowdon, and Tessa Traeger. He has worked as a painter, a curator and exhibition designer, set and costume designer, opera director and architect all over the world. His most recent design project, a new building for Missoni, has just been unveiled on LA's Rodeo Drive.

JAMES D. BARRON is an art dealer and author living in Italy with his wife Jeannette Montgomery Barron and their two children. Before becoming a private art dealer, he worked in New York at the Knoedler Gallery and the Jan Krugier Gallery. His article, "Picasso's Women," was published in "The Paris Review" in 1987 and in 1998 he had his first New York Times bestseller: "She's Having a Baby - And I'm Having a Breakdown" (William Morrow, l998); this was followed by "She's Had a Baby - And I'm Having a Meltdown" (William Morrow, l999), and "She Wants a Ring - And I don't Wanna Change a Thing" (William Morrow, 2001). His books have been translated into more than ten languages including German, Spanish, Japanese, Chinese and Hebrew.
Praise For My Mother's Clothes: An Album of Memories…
"There is a desire on the part of many photographers to examine their lives through the cataloguing and documenting of familial objects. Jeannette Montgomery Barron has a body of work, My Mother's Clothes, that has resonated with the photography and the fashion worlds, and with the offspring of women with a strong sense of style. My Mother's Clothes...represents a universal approach to understanding a parent through the choices they made about their wardrobes, and the evocative details and sensory traces that are left behind."
-Aline Smithson, Lenscratch

"[My Mother's Clothes] is a heartwarming, daughter-to-mother love letter that belongs on every fashionista's bookshelf...thoughtful and chic."
—Rachel Zoe, The Zoe Report

"Sumptuously shot and rich in color and texture...each of the photographs is accompanied by a short statement – anecdotes, memories, and family history – that Barron shares about her mother, weaving together the story of a strong, refined Southern dame."
Eliza Honey, The New Yorker

"Between the photos, shot against unexpected backgrounds (a Persian rug, a sunlit window, a field of grass), and Ms. Barron's straightforward, unsentimental prose, the book brings the clothes and the woman who wore them back to vivid life...a transporting read."
Ralph Gardner, Jr., The Wall Street Journal

"...Montgomery Barron has provided a portrait, not just of the arc of a life, but a place, a time. It could not be a more evocative book."
-Caroline Reynolds Milbank, 1stDibs.com

"...dives deeper into the memories that are attached to clothes. Barron photographed garments chosen from her mother's closet. Each dress, blazer, slip or swimsuit became a still life. Sometimes the garments were shot against a backdrop of plain fabric; sometimes they were laid out in the snow; sometimes they just seemed to float. She searches for personality,character, perhaps even a little bit of life spirit."
-Robin Givhan, The Washington Post
 
"Clothes become shorthand for experiences, and powerful triggers of memories. In Jeannette Montgomery Barron's series of photographs and written recollections, it becomes that much harder to claim that fashion is mere triviality. In some cases, it is life itself."
-Alexandra Marshall, T, The New York Times Style Magazine

"An extraordinary biography, created through 100 color photographs of clothing, shoes and handbags, plus all the portraits of Eleanor, the mother of Jeannette Montgomery Barron, author of My Mother's Clothes."
-Vanity Fair Italia

"Montgomery Barron has created a small gem of a book, which is both an homage to her mother and a reminder to take the time to savor what's special about those we love."
Marigny Dupuy, The New Orleans Times-Picayune

"Barron captures [the clothes] in a way that gives them character, charm, personality. Juxtaposing texture and pattern, and alternating between casual composition and formal portraiture, she showcases the clothes, shoes and handbags in a manner as quirky as the collection...Through this charming little book of images and succinct commentary, she has found a way to honor her mother that suits them both."
--Michelle Jones, Dallas Morning News

"Anyone who has a relative with Alzheimer's can relate to photographer/author Jeannette Montgomery Barron's new book,My Mother's Clothes."
-Christina Mitchell, Courier-Post

"[My Mother's Clothes] is a must read for every daughter and people who are confronted directly or not with Alzheimer's...full of energy and hope."
Delphine Hervieu, Swide Magazine 

"A charming and fashion-packed 'album of memories.' Eleanor Morgan Montgomery Atuk was obviously an incredible and beloved woman, who most certainly had exquisite taste in clothes. I absolutely adored it."
-Lisa Smilor, Associate Executive Director, Council of Fashion Designers of America (CFDA)

"Clothes are ultimately ephemeral. Good books aren't. Jeannette Montgomery Barron has engineered a small bit of alchemy - her mother...lives on in these pages."
-Jesse Kornbluth, HeadButler.com

"A poignant journey through time and memory uncovers the roots of a beautiful mother-daughter relationship." Cesare Cunaccia, Vogue Italia.
-Cesare Cunaccia, Vogue Italia

"This book is a tenderhearted tribute to her mother, an interesting look back at fashion of the mid-twentieth century, and an intriguing way for readers to think about memory."
-Foreword magazine

"Barron creates an inspiring and true story about the connection between fashion and memory."
-Ablemarle Magazine

"My Mother's Clothes has a beautiful light touch, ultimately life-affirming in the face of a terrible disease. It almost feels like a travel memoir where one is transported to another time and a charmed place - where good deeds, gracious manners, and impeccable taste prevails."
-Ralph Gardner Jr, contributor to the New York Times, Daily Beast and Huffington Post

"My Mother's Clothes: An Album of Memories comes from a photographer who creates a fine portrait and memoir of her late mother through her clothing and personal possessions.  Her visual album was intended to spark her mother's memories as her Alzheimer's progressed - and became both a memorial and art work celebrating her mother's love for exquisite clothes.  Recommended for art and general library holdings alike!"
-California Bookwatch
Advertisement