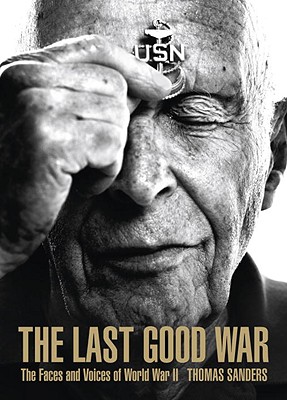 The Last Good War
The Faces and Voices of World War II
Hardcover

* Individual store prices may vary.
Description
World War II remains one of the most galvanizing and defining events in the history of America. Seemingly overnight, the entire nation unified behind a singular cause. By 1945, the size of the U.S. armed forces had grown from two to twelve million men and women of every color, religion, and creed. Young people from every walk of life were inducted and volunteered. America had quickly and fiercely established itself as a global superpower, and an entire generation's identity was forged, in part, by what many still refer to as the "last good war."
Sixty years later, a young photographer named Thomas Sanders began traveling the country photographing hundreds of World War II veterans. The more he shot, the more he listened, and the more captivated he became by their memories of the war. Veronica Kavass, a writer and interviewer with StoryCorps, joined the project and spent countless hours with these men and women, recording their vivid accounts as Tom recorded their storied faces. "They are a living record of an incredibly historic time," Sanders says. "We have so much to learn from their experiences." He became determined to see that the two million living veterans were celebrated and remembered.
"The Last Good War: The Faces and Voices of World War II" is a chronicle of courage and hardship, sacrifice and determination. The harsh reality of combat is tempered by tender, poignant moments. The overwhelming anguish of lost brothers-in-arms sits alongside stories of enduring friendships. The war brought Americans in touch with people from all over the world some they fought and some they fought next to, from the beaches of Normandy to the frozen plains of Russia, the North African deserts and the mountains of Japan. They came, these volunteers and draftees, from everywhere and for every reason: from the young woman pulled from her college and covertly trained to break German submarine codes, to the soldier who stormed Hitler's castle home, these pilots, soldiers, marines, and sailors each provide a unique window into American history.
There are two million veterans still alive today, but with each passing day there are fewer and fewer. The images and memories of these men and woman, collected in these pages, preserve a profound piece of America's history. Their past offers us a lasting and powerful perspective on today's world, and defines the true price of freedom.
This is the story of World War II through the veterans who lived it.
Praise For The Last Good War: The Faces and Voices of World War II…
A selection of The History Book Club and The Military Book Club.
Winner, 2010 Foreword Reviews' Book of the Year Award - Editor's Choice Nonfiction

"[A] richly produced book of contemporary portraits of WWII veterans and their stories that range from harrowing to humorous...A first-person narrative of the veterans' WWII experiences gleaned from interviews and written by Veronica Kavass accompanies the meticulously rendered and brilliantly lit portraits by Thomas Sanders...This is not a sentimental retelling of America's role in World War II.  These are personal, gripping stories, told first hand.  There is grit and blood, fear and heroism."
- Chicago Tribune

"Photographer Thomas Sanders and oral historian Veronica Kavass set out to honor these hardy survivors before their stories pass from memory to history. The wrinkles on their faces testify to their pride and perseverance. Their eyes, dimmed with age but still full of vitality, have seen things that should not be forgotten."
- American History Magazine

"With heartfelt, perceptive variety, the remarkable portraits that distinguish this book reflect the range of their subjects' experience. The concise text recounting each veteran's reminiscences amplifies the impact. The combo hits home like a one-two punch."
- World War II Magazine

"A brilliant collaboration of historic stories told from a variety of American soldiers, sailors, marines, and airmen who fought long and hard for the safety of their country."
- The Photo Review

"Tom Sanders has...created a book that stands as one of our last great visual links to the storied faces of World War II."
- Rangefinder Magazine

 "This book contains a collection of 200 images that highlight the stories from pilots, soldiers, marines, and sailors to provide the reader with a clear understanding of a war that forever changed the world."
- Shutterbug Magazine

"The Last Good War: The Faces and Voices of World War II pairs striking black and white photos by Thomas Sanders with a collection of the untold stories of World War II vets, creating a rich personal chronicle of war experience."
- California Bookwatch

"A fantastic collection of faces and voices from the generation of men and women who served in the United States, Europe and the Pacific during the last global conflagration...Each story deserves exceptional recognition, because each is special, intimate, poignant, captivating - worthy of capture in this volume."
- North County Times

Starred Review. Just the cover of this book can break your heart: an aged man in closeup, every wrinkle and blemish visible, holding a U.S. Navy emblem to his forehead, and he appears above the title: The Last Good War. The veterans of that war, WWII, are captured in Sanders's debut--in their 80s and 90s, male and female, black and white. Some wear parts of their original uniforms; others hold artifacts of the time, like battalion photos, newspapers, or canteens. One sailor, dressed in white shirt and tie, still wears his cap at a jaunty angle. Oral historian Kavass has collected brief reminiscences from the veterans that don't underplay the horrors of war, from the Bataan march to the deaths of friends. But most memorable are the faces: solemn, proud, occasionally smiling, some looking directly into the camera, others looking off to the distance as if remembering the events of long ago. Anyone who is close to a member of the "greatest generation" will treasure these wizened faces captured before the entire generation is gone.
- Publishers Weekly
Welcome Books, 9781599620855, 223pp.
Publication Date: October 12, 2010
About the Author
Thomas Sanders began photographing WWII veterans while studying at Cal Poly San Luis Obispo. After receiving his BFA in photography, he continued his studies in the Los Angeles studios of noted photographers while working on his veterans sereis, which has been featured in the 2007 PDN Photo Annual and wide variety of publications. Sanders has worked with a number of corporate, advertising, and editorial clients, including Saatchi and Saatchi, BBDO, Tide, and numerous others. He resides in Redondo Beach, CA.

Veronica Kavass was raised in Nashville, TN, holds a Masters in Curation and Criticism from Chelsea College of Art in London, and has trained as an oral historian through her wook with StoryCorps.

A native of Memphis, Hampton Sides is editor-at-large for "Outside" magazine and the author of the international best-seller, "Ghost Soldiers" (Doubleday), which was the basis for the 2005 Miramax film, "The Great Raid." "Ghost Soldiers" won the 2002 PEN USA award for non-fiction and the 2002 Discover Award from Barnes & Noble. Hampton is also the author of "Blood and Thunder: An Epic of the American West," and "Hellhound on His Trail: The Stalking of Martin Luther King, Jr. and the International Hunt for His Assassin" (Doubleday). A graduate of Yale with a B.A. in history, he lives in New Mexico with his wife, Anne, and their three sons.
or
Not Currently Available for Direct Purchase