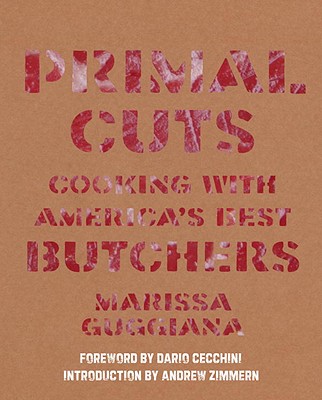 Primal Cuts: Cooking with America's Best Butchers (Hardcover)
Cooking with America's Best Butchers
Welcome Books, 9781599620886, 288pp.
Publication Date: October 12, 2010
* Individual store prices may vary.
or
Not Currently Available for Direct Purchase
Description
Butchery was nearly a dead art, until a recent renaissance turned progressive meat cutters into culinary cult idols. Inspired by a locally driven, nose-to-tail approach to butchery, this new wave of meat mavens is redefining the way we buy and cook our beef, pork, fowl, and game. The momentum of this revived butcher-love has created a carnivorous frenzy, pulling a new generation of home cooks straight into the kitchen—Primal Cuts: Cooking with America's Best Butchers is their modern meat bible.

Marissa Guggiana, food activist, writer, and fourth generation meat purveyor, traveled the country to discover 50 of our most gifted butchers and share their favorite dishes, personal stories, and cooking techniques. From the Michelin star chef to the small farmer who raises free-range animals—butchers are the guide for this unique visual cookbook, packed with tons of their most prized recipes and good old-fashioned know-how. Readers will learn how to cook conventional and unconventional meat cuts, how to talk to their local butcher, and even how to source and buy their own whole animals for their home freezer. Much more than just a cookbook, Primal Cuts is a revealing look into the lives, philosophy, and work of true food artisans, all bound by a common respect for the food they produce and an absolute love for what they do.

• 50 Profiles and Portraits of America's Best Butchers
• 100 Meat Recipes for the Home Cook
• Practical Advice on Techniques and Tools
• Hundreds of Diagrams, Illustrations, and Photos
• Home Butchering How-To
• Tons of Trade Secrets
About the Author
Marissa Guggiana is the president of Sonoma Direct, a purveyor of sustainably raised meats, the co-founder of Secret Eating Society and a leader in Slow Food, for which she was the charcuterie curator at the inaugural Slow Food Nation event in San Francisco. A contributor to Saveur.com, since 2008 Marissa has been the co-editor of "Meatpaper," a quarterly magazine exploring the art, ideas, and culture of everything meat-related.
Praise For Primal Cuts: Cooking with America's Best Butchers…
"Primal Cuts is a celebration of the art of the butcher…While the book covers many common cuts and options, it also explores — and gives recipes for — some lesser-known cuts and under-used animals. You'll learn the primal cuts for lamb, goat and venison in addition to understanding the different "personalities" of steaks (what distinguishes a filet from a strip steak, a rib-eye from flank). The recipes are both informative, and fun."
-Los Angeles Times

"This oversize paean to the many joys of dismembering whole beasts features nose-to-tail recipes from many of the country's new butcher-block rock stars."
- Time Out New York

"Marissa Guggiana's Primal Cuts is proof that our obsession with butchery and whole-beast cooking hasn't yet reached a saturation point. Filled with interviews from butchers and chefs, recipes, and charts (on topics like sharing a cow)—Guggiana's book is a modern meat manual that celebrates the craft of old-world butchery and sustainably-raised meat without resorting to overwrought praise and glorification."
- 7x7 Magazine

"Primal Cuts is a book that celebrates butchers...full of straightforward, meat-focused dishes, each accompanied by a story about a member of the new, unexpected generation of American butchers — young, focused on quality and unwilling to compromise."
- Richmond Magazine

"Marissa's ode to pork, lamb, beef, goat, duck and chicken is a can't-look-away book filled with well-worn recipes, illustrations and unfliching images of raw meat and white-coated butchers. A primal look at the food that fuels us, and a story of where that food comes from in all its carnivorous glory."
- BiteClubEats.com

"[Marissa Guggiana] has delivered the definitive guide to the country's carvers... At 287 pages and roughly as weighty as a rack of lamb, housed in a butcher-paper jacket, the book is full of butcher profiles, recipes, tips, philosophies and information along with hundreds of incredible photos."
- North Bay Bohemian

"Primal Cuts: Cooking with America's Best Butchers offers a focus on locally sourced meats with a survey of techniques and recipes from butchers across America, in effect creating a modern 'bible' packed with the latest meat insights.  Each step is illustrated in a visual cookbook that describes 100 recipes and covers everything from hot dogs to roasted goose and braised rabbit. The butchers themselves receive high profile in this unique presentation, highly recommended for any culinary collection."
- California Bookwatch

"A great book for people who want to know where their meat comes from."
- Temple Grandin, author of Animals Make Us Human

"Anyone who laments the disappearance of the craft of butchery as a casualty of the industrial meat system will take heart in the very hopeful message of this book--that a new generation of butchers are restoring time-honored traditions in all corners of the country".
- Paul Bertolli, chef, author of Cooking by Hand
Advertisement