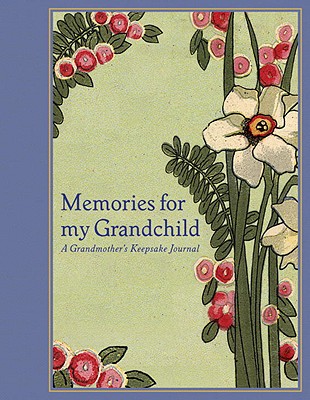 Memories for My Grandchild: A Grandmother's Keepsake Journal (Hardcover)
A Grandmother's Keepsake Journal
Welcome Books, 9781599620961, 79pp.
Publication Date: March 29, 2011
* Individual store prices may vary.
or
Not Currently Available for Direct Purchase
Description
What child has not been captivated by stories of how her grandparents first met? Has not begged to hear the tales of his mother or father growing up and of himself as a baby that only grandmother knows?
Designed to be an heirloom, gold-stamped, with beautiful blue cloth binding and tipped on plate, "Memories for My Grandchild: A Grandmother's Keepsake Journal" is a guided memory-keeper for grandmothers to pass on to their grandchildren. Organized to make capturing and displaying grandmother's stories easy and enjoyable, this charmingly illustrated keepsake journal has space for a family tree, anecdotes about the grandchild's parents and grandmother's own childhood, great family traditions and recipes, special moments between grandmother and grandchild, and much more. With places for photographs, memorabilia and many fill-in-the-blanks, so the writer is never at a loss for what to include. "Memories for My Grandchild" is a personalized heirloom that preserves important family history in general, and grandmother's legacy in particular.
Decorated throughout with lovely vintage art and ephemera, this special book contains all the precious memories that only a grandmother can share, and it is sure to be treasured by a family for generations to come. A perfect Mother's Day gift, moms will buy this for their mothers, grandmothers will buy it for themselves, and grandchildren will be astonished when they receive it for graduations, 18th birthdays, and wedding days.
About the Author
NATASHA TABORI FRIED is the managing editor of Welcome Books. She has conceived, edited, and produced numerous titles, including The Christmas Almanac, The Little Big Book of Love, and The Little Big Book of Comfort Food. She lives in New York with her husband and son. LENA TABORI is publisher of Welcome Books. She has conceived and edited numerous titles, including The Little Big Book for Moms, The Little Big Book for Grandmothers, and Love: A Celebration in Art and Literature(STC). She recently welcomed her first grandchild into the world.
Praise For Memories for My Grandchild: A Grandmother's Keepsake Journal…
"The beauty of this journal is its only drawback. A grandmother might hesitate to begin the recording process for fear of making a mistake. A blank journal is no journal at all, though, so grandmothers should take the plunge, knowing that something imperfect created by a grandmother is more precious than something perfect that is untouched by a loving hand."
-About.com, Susan Adcox
Advertisement