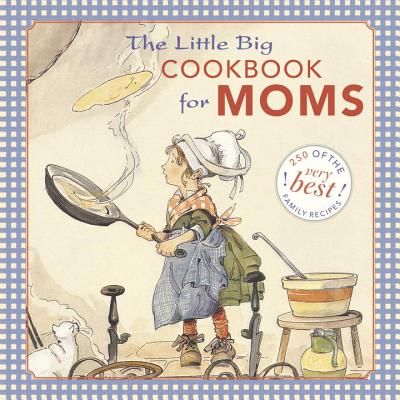 The Little Big Cookbook for Moms
Hardcover

* Individual store prices may vary.
Description
The Little Big Cookbook for Moms contains 150 of the best recipes for families with children of all ages. From first meals for little ones and favorites for picky palates, to more interesting fare to introduce to children, the recipes are selected with all the things moms need to consider in mind. While most meals can be simple, get-it-done affairs, moms need to think about what's healthy and doable, as well as continue to educate young and developing tastes.
The Little Big Cookbook for Moms contains lists of what always to keep in the freezer, pantry, and refrigerator. A selection of recipes will use these on-hand ingredients so Mom can whip up dinner on those nights when no thinking is required. These are the standards every mom will turn to with a minimum of fuss. Home-made chicken nuggets or turkey meatloaf, a jarred pasta sauce with freshly pureed vegetables, or a quick bean salad these are but a few staples to rely on. For those days when Mom wants to do just a little more, there are a selection of great slow-cooker and easy-to-jazz-up recipes. And for the weekends when Mom wants try introducing new things, there are favorites from around the world: a rice noodle soup with favorite toppings, tacos with all the fixings, or even a non-spicy chicken tikka masala.
Weekends are also the time for moms to get a head start on the busy week ahead. The book includes recipes to make and freeze over the weekend, from chicken pot pies to salmon patties. There are also menus in the back of the book for four different weeks worth of dinners, complete with a link to the shopping lists available online.
Truly the ultimate cookbook for families, The Little Big Cookbook for Moms has the best of everything for every type of chef a mom has to be It offers the favorites and classics, the easy and convenient, the interesting and fun, and is the cookbook moms will use for many years as their little ones grow.
The Little Big Cookbook for Moms is divided into Breakfast, Lunch & Snacks, Dinner, Vegetables & Sides, and Desserts. Within these categories you will find a range of recipe types, including: First Foods; Toddler Favorites; Finger Foods; Tried-and-Trues; The Essentials; For the Freezer; From the Pantry; Slow-Cooking; One-Pot Meals; Jazz it Up; and Around the World. There is also a section for families with food sensitivities, which includes lists of gluten- and dairy- free recipes in the book, as well as resources and tips.
Welcome Books, 9781599621098, 352pp.
Publication Date: March 27, 2012
About the Author
NATASHA TABORI FRIED is the managing editor of Welcome Books. She has conceived, edited, and produced numerous titles, including The Christmas Almanac, The Little Big Book of Love, and The Little Big Book of Comfort Food. She lives in New York with her husband and son. ALICE WONG co-created, with Lena Tabori, the best-selling Little Big Book series, which has sold over 1.7 million copies. She co-edited many of the titles in this charming and popular series, including The Little Big Book for Moms and The Little Big Book for Grandmothers. She is author of The Big Book of Me: My Baby Book, and co-edited The Goodnight Book for Moms and Little Ones. Alice has also produced exquisite photography and art books which include Canyon Wilderness of the Southwest, India: In Word and Image, and China: 3,000 Years in Art and Literature (Welcome Books). Alice currently resides in Brooklyn with her husband Clark and their three children, Chi Chi, Sylvia, and Phoebe."
or
Not Currently Available for Direct Purchase