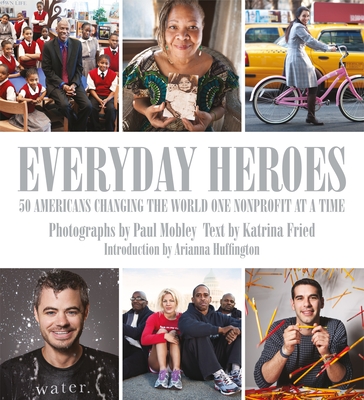 Everyday Heroes: 50 Americans Changing the World One Nonprofit at a Time (Hardcover)
50 Americans Changing the World One Nonprofit at a Time
Welcome Books, 9781599621128, 223pp.
Publication Date: October 23, 2012
* Individual store prices may vary.
or
Not Currently Available for Direct Purchase
Description
IPPY 2012 Outstanding Book of the Year, Most Likely to Save the Planet (Independent Publisher Book Awards)
Nautilus 2012 Gold Grand Winner, General Adult
Foreword Reviews 2012 Book of the Year Finalist, Social Sciences
Two years ago, photographer Paul Mobley and author and editor Katrina Fried set out to find fifty Americans who had made it their business to improve the lives of others. The result is this groundbreaking book profiling some of America's leading social entrepreneurs whose energy and nonprofit organizations have changed the lives of millions around the world, very often one at a time.
From activists who have rallied the support of hundreds of volunteers to bring such necessities as clean drinking water, economic support, and urgent medical care to developing nations, to educational leaders who are using their gifts to elevate the opportunities of the poor and disadvantaged, to crusaders of equal rights and women's advocacy, these are remarkable everyday citizens. Fried interviewed this eclectic and passionate group of people and has written their startling stories, sharing a unique view of their personalities, journeys, and causes.
You will meet heroes such as infectious disease specialist, Gary Slutkin, who returned from Africa (where he reversed the Aids epidemic in Uganda) to reduce street violence in Chicago with stunning success through his organization CeaseFire; Geoffrey Canada, the founder and CEO of the Harlem Children's Zone, whose pioneering efforts to reform education in one of New York's most impoverished neighborhoods has touched thousands of students and families; Susan Burton who after fifteen years in and out of the justice system, rehabilitated herself and started A New Way of Life, which provides housing and support services to formerly incarcerated women in South Central Los Angeles; and Roy Prosterman, a man who has devoted an entire lifetime to securing land rights for the poor throughout the Third World.
Their narratives are accompanied by powerful portraits from award-winning photographer Paul Mobley who brings a grace and epic quality to his images of these remarkable people. Traveling the country to capture his subjects where they live and work, Mobley has created a body of images that harnesses the spirit and energy of giving.
A complete directory of the organizations founded by the heroes is included. Each American celebrated in these pages is making a profound contribution to bettering our world. Their stories serve as an inspiration and as a reminder of an empowering truth: every human being can and should make a difference.
About the Author
Katrina Fried has previously written American Farmer, and as Senior Editor and Associate Publisher of Welcome Books has written, edited or produced numerous award-winning and bestselling titles including: The Oxford Project, Gay in America, The Last Good War, Slow: Life in a Tuscan Town, Cooking with Italian Grandmothers, Primal Cuts, On The Street, and Red Carpet. Creating unique visual narratives that push the boundaries and traditional limitations of illustrated books is her greatest passion. She lives and works in New York City and Northern California. Paul Mobley's early training as a photographer began at Detroit's Center for Creative Studies, and continued in the New York studios of such leading photographers as Annie Leibovitz and David Langley, where he apprenticed for many years before embarking on his own career. His first book, American Farmer: Portraits from the Heartland, was a multiple-award-winning collection of portraits that captured the soul of our nation's farm communities. Mobley has successfully worked with a broad range of corporate, advertising, and editorial clients, including American Express, Sony, Citigroup, Ford, Compaq, Gourmet, Max Factor, Microsoft, and many others.
Praise For Everyday Heroes: 50 Americans Changing the World One Nonprofit at a Time…
IPPY 2012 Outstanding Book of the Year, Most Likely to Save the Planet (Independent Publisher Book Awards)
Nautilus 2012 Gold Grand Winner, General Adult
Foreword Reviews 2012 Book of the Year Finalist, Social Sciences

"Passion and persistence (and success) are the watchwords that writer Katrina Fried and photographer Paul Mobley (American Farmer: Portraits from the Heartland) capture on every page as they celebrate these dedicated agents of change. Everyday Heroes will serve to inspire readers to have faith, hope and new kinds of charity."
—JOHN McFARLAND, Shelf Awareness, November 16, 2012

"The social entrepreneurs profiled in Everyday Heroes demonstrate extraordinary passion and purpose in their pursuit of social change. Each story of courage, resilience and progress serves as a clinical shot of optimism for all those who dare to dream of a brighter future for all." – Rahm Kanani, The Common Good, Forbes

"When the bottom fell out of the economy in 2008, Katrina Fried sought an antidote to the anxiety that spread across America. She wanted to feel inspired. As an editor at Welcome Books, Ms. Fried produces lavish coffee-table books on subjects like fashion, cooking, and small-town living. She decided to use her expertise to create that inspiration, and make it beautiful to behold. The result is Everyday Heroes: 50 Americans Changing the World One Nonprofit at a Time, a glossy salute to 50 founders of charities throughout the nation, and one that its creators hope will bring more attention and support to worthy causes."
— CAROLINE BERMUDEZ, The Chronicle of Philanthropy

"There is no shortage of problems in the world. The good news is that each problem represents a potential opportunity for an enterprising individual with a good idea and the drive to rally others in a quest for solutions.  This book is filed with solutions to more problems than you can shake a stick at.  It will not only leave you with deep respect for the individuals profiled but will give you path toward getting more involved with your own community, and perhaps spark new solutions to issues you care about." –  Nick Aster, Founder & Publisher, TriplePundit.com

"The handout has been replaced by the handshake," says Katrina Fried, writer of Everyday Heroes. "Today's nonprofit reformers are interested in creating meaningful equal partnerships to empower communities and individuals to raise themselves out of poverty." The 50 social entrepreneurs interviewed in this book are using their passions, backgrounds, and skills to change other peoples' lives by encouraging them and giving them the opportunity to change them themselves. Susan Burton rehabilitated herself from drugs after her release from prison and started A New Way of Life to provide support services and housing for other formerly incarcerated women; Dean Kamen founded FIRST robotics to encourage teens to develop a love for and to hone their skills in the maths and sciences, as well as in teamwork, cooperation, and innovation; and Enid Borden, president of Meals on Wheels, has committed her organization to ending senior hunger by the year 2020. With beautiful photographs and inspiring narratives, Everyday Heroes offers philanthropists—as well as the regular people hoping to become one—an abundance of novel ideas from people who are on the cutting-edge of social entrepreneurship. – Kimber Bilby, Staff Pick, ForeWord This Week/Foreword Reviews, 9/20/12.

This thoughtful and visually compelling coffee table book belongs not only in homes, but also in nonprofit lobbies and school libraries. Readers will be encouraged to enter into or expand their own involvement in nonprofit endeavors and, more than a few will be inspired to turn their dreams into reality by founding a nonprofit.
—GREG KINCAID, SoWhatFaith.com, November 15, 2012

I'm a huge fan of Charity: Water so I picked up this book just to have a quick look at how Scott Harrison started a non-profit that has provided clean drinking water for over 2.7 million people in developing countries. His story is completely fascinating to me so I decided to get this book out and read the whole thing. The people in this book are completely amazing. The subtitle pretty much tells you what this book is about but it's incredible to read about how everyday people can make a difference. A big difference. Everyday Heroes features stories of people selflessly working to improve the lives of others their stories are a necessary reminder that everyone can and should contribute to bettering the world. We can't do everything, but we can do something.
—Laura, Auckland Libraries Blog, November 28, 2012

I have rarely seen the chronicling of nonprofit leaders in such harmony between informative journalism, heart felt story-telling and beautiful imagery. This book truly tells the whole story of the wonderful lives, endeavors and struggles of extraordinary human beings.
-BRAHM AHMADI - Oakland, CA
Founder of People's Grocery
and currently CEO of People's Community Market

Everyday Heroes is a beautiful collection of stories that will lift you up, inspire you and remind you that with passion and purpose, anything is possible.  
- LINDSAY AVNER - Chicago, IL
Founder of Bright Pink

The profiles in Everyday Heroes will inspire readers to action.  I know the profiles inspired me!
-CHARLES BEST - New York, NY
Founder / CEO of DonorsChoose.org

When the wonderful folks at Welcome Books called to interview me for this book, I was incredulous and honored. Through it I have come to realize that there really are at least 49 heroes changing the world one nonprofit at a time. I would love to sit down with each and every one of them and pick their brains about how I can raise my nonprofit to the high standards they have met and then do what all of us in the nonprofit world need to do: share the word that we are all in this together, and we have a shared responsibility to make a difference in a small piece of the world.
-ENID BORDEN - Alexandria, VA
Former President / CEO of Meals on Wheels Association of America
Current President and CEO,  The National Foundation to End Senior Hunger.

Everyday Heroes is the type of book that inspires me. It demonstrates that there are people of all backgrounds, in countless cities around the world, working every single day to improve the lives of others.
-ADAM BRAUN - New York, NY
Founder / Executive Director of Pencils of Promise
 
Elated to be included in "Everyday Heroes." The book documents and highlights in graphic photographs and descriptive text the importance of intergenerational leadership in advancing a wide range of social movements. It also shines a spotlight on groundbreaking work happening under the national media radar.
-DR. ROBERT D. BULLARD - Houston, TX
Dean, Barbara Jordan-Mickey Leland School of Public Affairs, TSU

The Everyday Heroes book I received is so inspiring. When I read the stories I realized the how many people are making such gallant efforts to create a better world. The wonderful fact is everyday day people are actually succeeding in so many ways. Bravo to Everyday Heroes!
-SUSAN BURTON - Los Angeles, CA
Founder / Executive Director of A New Way of Life Reentry Project

I fear that we live in a world where people are more in love with the idea of changing the world instead of actually changing the world. Ideas don't change the world but rather, people living out their ideas are changing the world. Everyday Heroes is a beautiful book about everyday people doing their small part to change to world - and in all case - being changed themselves.
-EUGENE CHO - Seattle, WA
Founder / President of One Day's Wages

"Everyday Heroes" embodies all that our country needs right now....hope, courage, inspiration, and voices of change. It's an honor to be a part of it at any capacity and I flip through the pages anytime I need to be reminded of all that is good in our country and world.
-TARYN DAVIS - Austin, TX
Founder / Executive Director of American Widow Project

It is a beautiful book that captures in words and pictures the humanism and love that is present in the world. In these difficult and uncertain times, I feel hope when I see in these pages the wonderful work being done to create a better future. I am grateful Everyday Heroes has been published because I believe it could inspire thousands more to become agents of positive change. 
-MICHAEL DIMOCK - San Francisco, CA
President of Roots of Change

What an honor to be included in this important project - alongside so many of my own personal heroes. Thank you, Welcome Books, for bringing our stories to life so that they might inspire generations of heroes to come.
-ABIGAIL FALIK - Oakland, CA
Founder / CEO Global Citizen Year

This book tells the very moving personal stories of 50 "everyday heroes". I am deeply honored to be included among them. These reflections on the power within each "hero" symbolize the love, warmth, sensitivity and human concern that is potentially at the core of every human being.
-HAROLD P. FREEMAN, M.D. - New York, NY
Founder of The Harold P. Freeman Patient Navigation Institute

This is a great tribute to the men and women who are in the community bringing change and making a difference in other people lives. This book as gotting to the core of people who are in the trenches doing the work that helps change the way we see the world.   
- RAYMOND GANT - Philadelphia, PA
Co-Founder / President of The Ray of Hope Project

When I was first asked to be part of Everyday Heroes I was totally surprised in that I don't think of myself as a hero, rather just someone who recognized a huge social problem and thought that he had a solution.  I knew that I had to be a trouble maker to get anything accomplished in order to change the status quo and that is what I have been for eight years to reduce the recidivism rate for 16-24 years olds from over 60% to under 17%. I am impressed with all of the outcomes of my fellow participants in the book.
-MARK GOLDSMITH - New York, NY
President / CEO of Getting Out and Staying Out

When I received the book, it felt like a treasure.  I could not put it down because the faces and voices of each person is so alive and compelling.  It felt like the impromptu, quick and though provoking conversation that you have with a stranger who becomes a part of your reality...for forever.
-KATHRYN HALL-TRUJILLO - Albuquerque, NM
Founder / Director of Birthing Project USA

The great thing about this captivating book is that it humanizes the extraordinary accomplishments of people that most likely view themselves as quite ordinary. This is so important because it allows other everyday people out there who are reading it to realize their own unique ability to change the world.
-DOC HENDLEY - Boone, NC
Founder / President of Wine to Water

It is my hope that Everyday Heroes will serve as an inspiration for igniting the passions that lie within each and every one of us. Through optimistic determination, together we can encourage a national shift towards a society that bravely produces innovative, collaborative solutions for even the world's most difficult challenges. Here are 50 illuminating stories that exemplify how the shift has already begun.
-SARAH ELIZABETH IPPEL - Chicago, IL
Founder / Executive Director of Academy for Global Citizenship

Everyday Heroes is a beautiful and inspiring collection of stories -- I feel honored to be a part of it!
-JESSICA JACKLEY - Los Angeles, CA
Founder of Kiva.org
 
This book will make you cry.  It will remind you that there are so many people doing good things out there - we simply have to step up to the plate for one another.  Government and business can't possibly solve these problems alone. As individuals, we do have the power to make enormous change.  Focusing on 50 non-profits reminds me that this is the tip of the iceberg and that although we live in this time of great polarization and ugly politics - people are still fundamentally good and we are not, in fact, going to hell in a handbasket…
…I'm in awe of the Americans in this book - I'm reminded of how people are put together, how we do in fact care for our neighbors, our community, the next generation.  This book provides enormous hope for the future.  I think we're going to be ok...  As I read the stories in this book I'm struck by how passionate and personal the stories are.  Paul's photos capture the spirit of the individuals beautifully and powerfully. Katrina's words give so much insight into the people behind the organizations - what motivated them to start, what drives them to continue.
-CAROLYN JONES - New York, NY
Founder / President of 100 People Foundation

It's such an honor to be included in this book and have Youth Villages' team of staff and volunteers recognized. I've really enjoyed reading about these folks who are doing amazing work to help others. The first-person narratives make you feel like you're actually meeting these leaders with such great stories to tell. It's inspiring to see how people are making a difference.
-PATRICK LAWLER - Bartlett, TN
CEO of Youth Villages

Everyday Heroes is a book that makes me proud to be a human being. The fact that so many people have chosen to make the world a better place is evidence in deed of that our shared humanity is alive and well. 
-JAMES LECESNE - New York, NY
Founder of The Trevor Project

I am thrilled to be included amongst such amazing individuals.  I hope this book will inspire readers to follow their passions to make this world a better place.
- ADAM LOWY - Neptune, NJ
Founder of Move For Hunger

Its amazing to be part of such a beautiful book, among people who are MY heroes! So proud. So humbled. So hopeful.
-NANCY LUBLIN - New York, NY
CEO and Chief Old Person of DoSomething.org
 
I had a blast working with Paul and Katrina!  They made this project easy and fun.
Back on My Feet is honored to be included in this collection of inspiring stories, people and causes. 
-ANNE MAHLUM - Philadelphia, PA
Founder / CEO of Back on My Feet

What an honor to be included with this host of heroes!  The book covers many people who are not in the national limelight but working in the trenches to make a difference in the lives of common folk.  I hope the book inspires another 50 plus to dig into the trenches.
-BROTHER BOB MALLOY - Detroit, MI
Director of Pastoral Care, Capuchin Soup Kitchen

There is nothing more moving to me than seeing people commit their lives to ideas and ideals that are greater than  themselves.  I am humbled and inspired to be among the passionate, good-hearted people in 'Everyday Heroes' who do precisely this.
-BEN MANGAN - San Francisco, CA
Co-Founder / President / CEO of EARN

Each of the 'everyday heroes' profiled here, whether reforming the education system or rethinking global development, demonstrates the power of implementing simple solutions to tackle our most complex social challenges and, in doing so, that systems change is actually achievable within our lifetimes. It is humbling to be included among such an extraordinary community of innovators, who inspire me – and all of us – to be yet more tenacious in our efforts.
-REBECCA ONIE - Boston, MA
Co-Founder / CEO of Health Leads
 
Everyday Heroes fills me with hope and inspiration as I read about the lasting, positive change that one, dedicated, mission-driven person can make. It inspires me to want to do more in my own life and to believe in our future as a race on this planet. Bravo!
-CATHERINE OPPENHEIMER - Santa Fe, NM
Co-Founder of National Dance Institute of New Mexico

Paul Mobley's brilliant photographs and Katrina Fried's seamlessly complementary text make for an extraordinary portrait of American social entrepreneurship. I am honored that Landesa's work has been included.
-ROY PROSTERMAN - Seattle, WA
Founder / Chairman Emeritus of Landesa
 
What an honor and inspiration to be included in this homage to everyday heroes! Yes, it's beautifully presented, but the power and potential of this book is in its multiplier effect. It reminds me of one of the first entrepreneurs—hailing from the hinterlands of Patagonia—whom we supported at Endeavor. Today, he has directly helped dozens of entrepreneurs to launch and scale companies, not only in his native Argentina, but throughout the world. So, with a book like this, I'm astonished not only of what these fifty heroes will continue to do, but of what the generations of people will do who have been inspired by them.    
-LINDA ROTTENBERG - New York, NY
Co-Founder / CEO of Endeavor

Everyday Heroes is a wonderful project highlighting the work of individuals and organizations working to make a difference in the lives of others. I am honored to be included.
-JAY SCOTT - Wynnewood, PA
Co-Executive Directors of Alex's Lemonade Stand Foundation
 
Powerful stories can change the world. I know, because one changed mine. In 1987 I read a story about two remarkable social entrepreneurs, Glen and Millie Leet, the founders of Trickle Up. I was so taken with their vision of sustainable change, that I went to work for them, and later became a social entrepreneur myself. I believe the extraordinary stories in this book can inspire a whole new generation of changemakers.
-CHUCK SLAUGHTER - San Francisco, CA
Founder / CEO of Living Goods
 
It is such an honor to be included in this book.  Reading the other stories helps me to realize that day by day and person by person, the world is becoming a better place.  Thank you, Welcome Books, for showcasing how that change is happening. 
-THE REVEREND STAN J. SLOAN - Chicago, IL
CEO of Chicago House and Social Service Agency

Katrina did a beautiful job of capturing the core of the our life stories and Paul is a photographer with a mystical and master's eye. I'm proud to be part of this impactful and beautiful book. And my mom loves it too.
-GARY SLUTKIN, M.D. - Chicago, IL
Founder and Executive Director of CeaseFire
 
Everyday Heroes brilliantly tells the stories of 50 nonprofit organizations and their creators. I am honored and humbled to be included with these entrepreneurs.
-DAVID VANDERPOOL, M.D. - Brentwood, TN
Founder / CEO of Mobile Medical Disaster Relief

Everyday Heroes is a remarkable compilation of people who just want to make their communities, their world, a better place by doing what they do. The stories and reasons are deeply moving, real and inspiring, and the photos are so vivid and amazing. I'm humbled and honored to included in such inspiring company.  
-JILL VIALET - Oakland, CA
Founder / CEO of Playworks
 
It is truly humbling to be included in this beautiful book that surely will bring joy to all who read it.  When Dr. Albert Schweitzer, a Nobel Peace Prize recipient, was asked about his decision to go to Africa, he said, "I decided to make my life my argument."  It is clear that all the Everyday Heroes are making their lives their argument.
-WYNONA WARD - Vershire, VT
Founder / Executive Director of Have Justice—Will Travel
 
Everyday Heroes let's the world know about the unsung work of 50 amazing people. Non-profit leaders don't just help the needy. They change the world. I am humbled to be included one of this astounding group. It is a lot to live up to.
-MICHAEL WEINSTEIN - Los Angeles, CA
Co-Founder and President of AIDS Healthcare Foundation

It's a tremendous honor to be included in Everyday Heroes and i am profoundly inspired by the vision and the work of all of the people included in this book.  I think we all agree though, that the real heroes are the people whose stories will never be told.  For me, they are youth from the toughest American inner-cities who overcome extreme circumstances and terrible odds to transform their communities through service.  They are the people from the (economically) poorest countries on the planet who are breaking the cycle of poverty, illiteracy and low expectations through education.  Their courage, hope and resilience is  the ultimate triumph. 
This book is a profound tribute to each and every one of them!
-JIM ZIOLKOWSKI - Stamford, CT
Founder / CEO of buildOn
 
I am amazed and inspired by the 49 other heroes in Everyday Heroes!
The photography is beautiful, and I am so proud to be a part of it all
-IRENE ZOLA - New York, NY
President / CEO of Lifeforce in Later Years (LiLY)


Advertisement