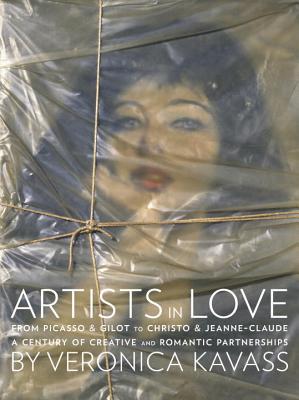 Artists in Love
From Picasso & Gilot to Christo & Jeanne-Claude, A Century of Creative and Romantic Partnerships
Hardcover

* Individual store prices may vary.
Other Editions of This Title:
Hardcover (9/13/2016)
Description
IPPY 2012 Gold Award in the Fine Arts category (Independent Publisher Book Awards)
ForeWord Reviews 2012 Book of the Year Award Finalist

For centuries, great artists have been drawn together in friendship and in love. In Artists in Love, curator and writer Veronica Kavass delves into the passionate and creative underpinnings of the art world's most provocative romances. From Picasso and Francoise Gilot to Lee Miler and Man Ray to Saul Steinberg and Hedda Sterne, Kavass' graceful and daring text provides a generous glimpse into the inspiring and sometimes tempestuous relationships between celebrated artists throughout the 20th and 21st centuries.

From poetic beginnings to shocking endings (and vice-versa), the various dimensions of the artist couple archetypes are ceaselessly explored.  Some are enduring and collaborative, yielding astonishing parallel bodies of work, as with Robert and Sonia Delaunay and Christo and Jeanne-Claude. Others are adoring and explosive, such as Frida Kahlo and Diego Rivera and Robert Rauschenberg and Jasper Johns. Essays revealing what compelled these dynamic artists to partner, how their pairing influenced their work, and why their love may have faltered, are accompanied by lush illustrations of their art and documentary photographs of the couple.

The first visual book to explore this subject in such epic scope, Artists in Love is a revelatory and riveting journey into the hearts and minds of artists in love.

Artists featured include:
Wassily Kandinsky & Gabriele Münter
Robert & Sonia Delaunay
Alfred Stieglitz & Georgia O'Keeffe
Jean Arp & Sophie Taeuber-Arp
Anni & Josef Albers
Frida Kahlo & Diego Rivera
Lee Miller & Man Ray
Jacob Lawrence and Gwendolyn Knight
Barbara Hepworth & Ben Nicholson
Elaine & Willem de Kooning
Pablo Picasso & Françoise Gilot
Jackson Pollock & Lee Krasner
Dorothea Tanning & Max Ernst
Nancy Spero & Leon Golub
Jasper Johns & Robert Rauschenberg
Robert Motherwell & Helen Frankenthaler
Christo & Jeanne-Claude
Bernd & Hilla Becher
Eva Hesse & Tom Doyle
Charles and Ray Eames
Kay Sage and Yves Tanguy
Saul Steinberg and Hedda Sterne
Robert Smithson & Nancy Holt
Niki de Saint Phalle & Jean Tinguely
Marina Abramović & Ulay
Claes Oldenburg & Coosje van Bruggen
Bruce Nauman & Susan Rothenberg
David McDermott and Peter McGough
Praise For Artists in Love: From Picasso & Gilot to Christo & Jeanne-Claude, A Century of Creative and Romantic Partnerships…
IPPY 2012 Gold Award in the Fine Arts category (Independent Publisher Book Awards)
ForeWord Reviews 2012 Book of the Year Award Finalist
--

Artists in Love was a "Hot Type" pick in the November 2012 Vanity Fair.

People Magazine pick (one of only three books chosen), Books: Holiday Gift Guide, December 17, 2012

Staff Pick by Karen Hayes at Nashville's nationally revered Parnassus bookstore.

"I love this book. Veronica Kavass beautifully untangles the twisted strands of love and work in the lives of twenty-nine fascinating couples. It's part celebration, part elegy—every illustration perfectly chosen, every page exquisitely written."
— Susan Larson, The Reading Life, WWNO (NPR), New Orleans Susan interviews Veronica on The Reading Life: Tues Feb 26 @ 1:30 p.m., Friday, Mar 1 @ 7:30 p.m, and Sun Mar 3 @ noon. Stream live and listen to the archived show at www.wwno.org

"Not surprisingly, there is often a dominant male figure and tales of infidelity and turbulence abound, but even if there weren't any tabloid-worthy details, Kavass' tone is captivating and engaging enough for any reader. She writes on Dorothea Tanning: "Reading her story is to imagine a woman wrapped in velvet, resting supine on the grass, taking drags from a long ivory cigarette holder, letting the smoke shape the words." As I read these love stories, my only disappointment was that I couldn't read more."
— Taylor Murrow, Press Street: Room 220, New Orleans, March 1, 2013

"A well-researched book (with notes, bibliography, and index) with a unique and revelatory perspective that will especially appeal to lovers of modern art."
— Marcia G. Welsh, Dartmouth College Librarian, Hanover, NH, Library Journal, February 1, 2013

"The cover image—a red-lipped femme wrapped in smothering plastic—feels a bit off-putting, but since this lovely book deals with artists under the covers, among other places, it can be forgiven. We really have here a light look at the influence of passion, romance and sensuality on the work of artists. The passion often shows dramatically, visually documented in 150 full-color illustrations that make up the palette of the book. The relationship of romance to artwork can shock—one of the book's first photographs (by William Seabrook) gives us Man Ray fondling Lee Miller's tumbling locks ... while a steel collar locks her throat. The relationships can smolder—check out the Alfred Stieglitz/Georgia O'Keefe pages. Mostly, author Kavass shows us that talent and ardor often go ... well, hand-in-hand among many anatomical combinations."
— Charles McNair, The 10 Best Books of 2012, Paste Magazine, December 12, 2012

"Here's a book, startlingly simple in its concept, that surveys the love relationships of some precious icons of modern art, from Frida Kahlo and Diego Rivera, Lee Miller and Man Ray, and Alfred Stieglitz and Georgia O'Keeffe to Jasper Johns and Robert Rauschenberg, Bruce Naiman and Susan Rothenberg, and Christo and Jeanne-Claude. Editor Veronica Kavass probes the romances of these artists for some understanding and insight into the artistic process. Whether or not you come away enlightened, the artists are sufficiently captivating and irresistibly portrayed in 140 images."
— Robert Birnbaum, Best Coffee Table Books of 2012, TheDailyBeast.com, December 9, 2012

"Mixing Love and Art makes for an insanely volatile cocktail of madness, masochism and mayhem. And once in a while they live happily ever after."
— Simon Doonan, Creative Ambassador Barneys New York.

"According to the Symbolist poet Remy de Gourmont, "art is the accomplice of love." In his essay, "Decadence," he wrote: "Take love away and there is no longer art." If only that were true! For proof that it isn't, leaf through Veronica Kavass' gorgeous new coffee-table book, Artists in Love, where you'll find scant evidence of the creative flame dying when passion cools or the loved one departs... the work of both sexes gets equally beautiful reproductions, many of them full page and in color, and expansively captioned."
— Helen A. Harrison, Sag Harbor Express, January 11, 2013

"The combustible natures of love and art twine through curator Kavass' lush, sexy look at 29 artistic partners, from the legendary — Alfred Stieglitz and Georgia O'Keeffe, Lee Krasner and Jackson Pollock, Frieda Kahlo and Diego Rivera — to the less renowned but still intriguing: Jacob Lawrence and Gwendolyn Knight, Jasper Johns and Robert Rauschenberg, Robert Smithson and Nancy Holt. Lavish, full-color reproductions illuminate the topic, and the couple portraits mesmerize. Kavass documents jealousy, rivalry and bitter divorce, but also love kindled and occasionally maintained in the kiln of artistic genius."
— Allison Carey, Holiday Gift Guide, The Cleveland Plain Dealer, November 25, 2012

"This casebook fills a need that had not seemed to be there before its publication. From Alfred Stieglitz and Georgia O'Keeffe to Robert Smithson and Nancy Holt, Robert Rauschenberg and Jasper Johns to Bernd and Hilla Becher, it tells of the intimate partnerships that supported and occasionally thwarted some of the 20th century's great creative careers."
— Kenneth Baker, Art Critic, San Francisco Chronicle, Holiday Gift Guide: Art Books, December 1, 2012

"Being in love and making art are both creative acts that require ingenuity, the ability to capitalize on failures, sense of humor and all sorts of other things. "Artists in Love" is a transfixing account of the way that artist lovers create their worlds of work and love." 
— Laurie Anderson, composer, musician, performance artist

"For a long time, the academic world looked down its nose at topics like artists' love lives, for reasons I can only imagine have to do with a fear of not being taken seriously. As a result, the rich and storied history of the interconnectedness between artists has largely been untapped. With Artists in Love, Veronica Kavass applies her deep knowledge and understanding of art to an area that is a kind of academic undiscovered country. There's a lot to learn about, and Kavass is a hell of a guide."
— Laura Hutson, Nashville Scene, 12 Gift-Worthy Art Books Available at Parnassus, December 4, 2012

"The cover alone makes it worth giving to the art lover in your life."
— M.J. Rose, Buzz, Balls & Hype, December 4, 2012

"The purpose of Artists in Love, Veronica Kavass writes, is "to revitalize these artists and their works, to present the way they, as partners, collaborated, influenced one another, or guarded their art from a lover's influences." Kavass's fascination with Lee Miller, "a seductive, ghostly beauty," drew her to the starting point of this project, the story of Miller's relationship with Man Ray. From there, Kavass went to Frida Kahlo, a woman with significant physical problems who could still laugh at her infirmities and forgive Diego Rivera for his many infidelities.
The other couples in Artists in Love—29 in all—include Wassily Kandinsky and Gabrielle Munter, Alfred Stieglitz and Georgia O'Keeffe, Jacob Lawrence and Gwendolyn Knight, Helen Frankenthaler and Robert Motherwell and Jasper Johns and Robert Rauschenberg. Lush, stunning illustrations of their art accompany Kavass's revealing essays, along with documentary photographs of the couples by Irving Penn, Robert Capa and others. Discover: A lushly illustrated book for those who love art and believe in love." 
— Valerie Ryan, Cannon Beach Book Company, Cannon Beach, Oregon for Tattered Cover Book Store Issue (Shelf Awareness), December 7, 2012

"Artists in Love is a large format, thick, heavy, well produced, compassionately well researched and well written, and peopled with pairs of love-driven (obsessed, troubled, inspired) artists, both famous...and relatively obscure. Be kind to yourself, and do not ignore this book.
— Marshall Fallwell, Jr., Nashville Arts, November 2012

"This is tops on my personal Christmas list. A fabulous collection of artists and their muses.
— Janet, Bookseller, Warwick's Books, La Jolla, CA, December 7, 2012

"In her ambitious new book, Artists in Love, Nashville writer Veronica Kavass explores the romances that helped steer the lives and work of some of the most influential artists of the twentieth century. The result is a perceptive, thought-provoking exploration of love's impact on creativity and how it has, by extension, helped to shape art history."Would we have seen Max Ernst's deserts, his full spectrum settings, without [Dorothea] Tanning by his side, enthusiastic to live and paint out in the middle of nowhere, surrounded by skulls?" Kavass asks.
From Wassily Kandinsky and Gabriele Münter to Ilya and Emilia Kabakov, the twenty-nine stories range from heartening affirmations of enduring love and artistic collaboration to outright Shakespearean-esque tragedy. But as Artists in Love demonstrates, inspired works of art were conceived no matter the arc of the love story, and many are beautifully displayed throughout the book alongside intriguing photographs of the artist-couples." 
— Melinda Baker, "Love and Other Art Forms" (Interview), Chapter 16, November 1, 2012

"Alongside the portrait photographs and art images that make up the other half of this coffee-table-ready volume, Kavass' prose walks a steady line between the scholarly research and analysis of an art historical tome and the sexy, sensational dishing one might expect from a book called Artists in Love."
— Joe Nolan, Nashville Scene, November 8, 2012

"All too often artists who come together for the not at all exclusive purposes of work, sex, and love must obscure the story of that union in their work, or leave one another before the story gets told. Veronica Kavass offers a kind and knowing tribute to those intimacies and the inspiration they still hold."
— Melissa Gira Grant, writing about sex, politics, & tech for AlterNet, TheNation.com, The New York Observer's "Betabeat," Glamour, Rhizome, Wired.com, and others

"An interesting and quite unique approach to the lives and works of well known artists, which also sheds light on some women, who too often are forgotten."
— Clemens Bomsdorf, journalist and correspondent for Die Welt and The Art Newspaper

Thank you for the 'Artists in Love' book! It is a joy and relief to see these relationships out in the open, accepted and archival. This is long overdue, and an important part of biographies whose subjects were people of flesh and blood who lived, felt, loved, fought, made art, and were very much molded by their mutual relationships and closeness."
— Rachel Rosenthal, Rachel Rosenthal Company, performance artist and friend of Jasper Johns and Robert Rauschenberg

"A truly interesting book. Our compliments".
— Anne Quarles, L & M SERVICES B.V., representatives of the Delaunay estate

"Omigod. I love this book, even though I'm not even a couple. I immediately read the Rothenburg/Nauman chapter. Soulful, unpretentious, insightful."
— Linda Goldstein, President, Original Artists
Welcome Books, 9781599621135, 256pp.
Publication Date: October 9, 2012
About the Author
VERONICA KAVASS holds a masters in curatorial practice and critical writing from Chelsea College of Art in London, and has trained as an oral historian through her work with StoryCorps.  Her first book, The Last Good War: The Faces and Voices of WWII, was a powerful chronicle of American veterans' experiences during the war, and was a recipient of Foreword Magazine's Book of the Year award. She currently lives between New York City and Nashville, Tennessee where she writes about local art for the newspaper The Nashville Scene.
or
Not Currently Available for Direct Purchase