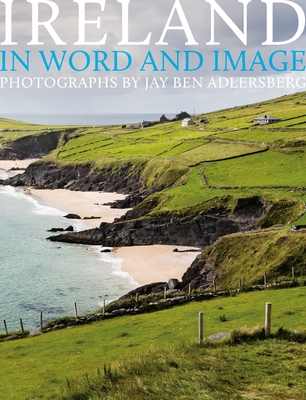 Ireland
In Word and Image: In Word and Image
Hardcover

* Individual store prices may vary.
Description
"Beyond the green land, the pubs and the auburn hair, is a rich culture dating back nine thousand years, including invasions by just about every nation in Northern Europe. The Irish have survived as a people, perhaps because of the genetics of hope, the richness of tale-telling and laughter, and the scent of peat in the air."—Jay Ben Adlersberg
   The Emerald Isle is known for its gorgeous countryside, and rightfully so. From the rugged cliffs of the Atlantic coast to the lush meadows and lakes of the interior, Ireland is rich in imagery both awe-inspiring and serene. The vibrant streets of such cities as Dublin and Belfast, where modern architecture rubs shoulders with Georgian townhouses and Norman stonework, testify to the island's 21st century resurgence as the cosmopolitan 'Celtic Tiger.' From the remains of a Bronze Age ring fort to the soaring modern Spire of Dublin to the stallions of the National Stud, Ireland is a land of surprising variety.
   The rich color images collected here weave together the portrait of a land where Paleolithic monuments, medieval castles, quiet fishing villages, and bustling cities all exist alongside each other.  From the eerie, astonishing hexagonal stones of the 'Giant's Causeway' in County Antrim to the cozy atmosphere of the town pub; from breathtaking wild landscapes to the exquisite gardens of stately homes; each page offers a new glimpse of Ireland's multifarious beauty.  The prehistoric tombs of Newgrange, the Gothic peaks of St. Patrick's Cathedral, the sublime scenery of Connemara National Park, and countless country villages, all are here.  With a keen visual sensibility, Jay Ben Adlersberg captures the tiniest details and the most magnificent vistas that are at the island's heart and that make Ireland one of the world's loveliest places to travel—or to call home.
   Here, too, is a journey through Ireland's history.  The soaring modern Spire of Dublin monument, the elegant campus of Trinity College, the ancient seat of Ireland's kings at Tara—each evokes a different moment in Ireland's many-layered past.  Written in the land itself, Ireland's history appears here in the slope of a thatched roof, in the grass-grown remains of a Bronze Age ring fort, in a field tilled for centuries. Finally, here is the soul of a land where, out of the hardships of the past, have come arts and culture alive with creativity and resilience, from traditional flute and fiddle music to a diverse literary tradition from which thirty poems and literary excerpts have been chosen to accompany Adlersberg's images, including the romantic prose of James Joyce; the humorous boyhood memories of Frank McCourt; the celebration of natural beauty in the poetry of W.B. Yeats; and the folk tales of Douglas Hyde; as well as numerous others whose writings capture the unique spirit that is Ireland.
   Samantha Bowser supplies the rich and nuanced captions for the more than two hundred photographs.

Praise For Ireland: In Word and Image: In Word and Image…
"Best Travel Book of the Year"
—Next Generation Indie Book Awards, 2014

"Best Coffee Table Book of the Year"
—National Indie Excellence Awards, 2014

"Finalist, Best Photography Book of the Year"
—Foreword Book of the Year Awards, 2014

"'Ireland is a prism between the sun and the Irish Sea.' With these telling words, photographer Jay Ben Adlersberg begins a book full... of stunning images and lyric salutes to the Emerald Isle. Think you've already seen every kind of Irish steeple and saloon? Perhaps. But Adlersberg's eye for texture and detail brings familiar subjects alive in new ways. "Ireland: In Word and Image" is as wide and long as a dinner tray, making the 160 photos even more stunning. Passages by wordsmiths such as Thackeray and Yeats also grace the pages." —Los Angeles Times, "Holiday gifts to fuel that wanderlust," December 1, 2013

"It is the best coffee table book on Ireland that has ever crossed my desk!" —Adrian Flannelly on Irish Radio

"...a beautiful tribute to Ireland...in a format that invites browsing, the photographs soothe the eyes: from the sea to pasture; historical buildings including castles, churches, and colleges to modern street scenes; and race horses to the industries of linen, wool, and whiskey….for those with a special interest in Ireland, this volume creates an illuminating and engrossing armchair journey." —Publishers Weekly, November 25, 2013

"Capturing Ireland in text and picture involves entering its soul; getting under its skin. This beautiful book somehow manages to achieve that intangible goal."
—The Very Reverend John Mann
Dean, St. Anne's Cathedral
Dean of Belfast 

"This is a beautiful publication which highlights the best of what Ireland has to offer. The stunning photographs capture all aspects of Irish life and everyone should have a copy."
—Michael Healy-Rae TD
Kilgarvan, County Kerry
Member of the Irish Parliament 

"The deep soul and spirit of this luminous country is evident on each finely wrought page of this book. A wonder to behold and to be treasured."
—Father Edward L. Beck, CNN Contributor and author 

"From the Happy Rainbow to the Flora and Fauna, the Majestic Buildings and the wonderful shots of the people the book evokes all that Ireland offers and more. A wonderful publication and an ideal gift."
—Francis Brennan
Entrepreneur, Hotelier, Broadcaster
Proprietor, Park Hotel Kenmare

"This book is a must have for every Ireland enthusiast. Whether an avid armchair traveller or an intrepid explorer, this collection of gorgeous photographs and its compendium of great Irish Authors, poets and wordsmiths, highlights what make the Island of Ireland so unique and compelling for visitors."
—Ruth Moran, Tourism Ireland 

"What a stunning tribute to this island's landscape."
—Electric Ireland 

"There is something comforting and familiar in this new book put out by Jay Ben Adlersberg. From the very moment I held the book in hand to the very last page, I was carried back to the land that sings in my soul and haunts my dreams. I would look at each image and say 'I have stood in that very spot.' This is a book that you set out on your coffee table and people will actually pick it up and become lost. If you have visited Ireland, it serves as a memory nudge and a story prompter. If you long to visit but have neither a passport nor the finances, fix yourself a cuppa, grab up this book, find a comfy chair and be transported. Jay will guide you through verdant green landscapes, hustle-bustle cityscapes, along craggy cliffs and into the halls of Manor houses, Government Buildings, Churches and ruins that stand today as a testament to History and time. Along the way, you will be immersed in the light and energy of her people, be they child, Elder, fisherman or shopkeeper, commoner or king. Along with the fabulous pictorial journey, a lot of thought went into the selection of written material. I found it to be educational and rich without being dry. I was delightfully turning pages to see which writers, modern and eternal, he had chosen: J.M Synge, Douglas Hyde, William Butler Yeats, Mary Ann Larkin; 36 authors, if my count is correct, in all. Each writer lent their unique voice to the magic of his images. It is a rarity to find someone so diverse that they can make landscapes, streetscapes, people and animals equally seem alive and 'at-your-fingertips.' Adlersberg has done this with a seeming ease and grace. I find myself going back to the fold-outs, holding my breath each time in anticipation of the view within. It isn't that the image changes each time that I open the book but in the anticipation of the beauty that I know waits within. If you treat yourself to one thing this year, let it be this amazing book."
—Catherine Lilbit Devine, thenewwildgeese.com
 
Welcome Books, 9781599621258, 272pp.
Publication Date: October 22, 2013
About the Author
Jay Ben Adlersberg is a contributing artist to Getty Images. His clients include Microsoft, Saatchi and Saatchi, Macmillan and The New York Times. He brings a journalist's eye to his images of countries and their people. He was inspired by his daughter, an editorial and portrait photographer in New York City, to pursue photography more seriously.

Jay has been voted one of the Best Doctors in New York. For the past 30 years, he has reported nightly on medical news for WABC-TV, and--together with other ABC NEWS staff--won a Peabody Award for coverage of the September 11, 2001 attacks.

He lives in New York City.
Jay Ben Adlersberg website: http://www.jaybenimages.com

EDITOR, Samantha Bowser is an avid student of history and culture pursuing a career in archival work. She has contributed to a number of Welcome titles including Exodus and Red Carpet. She claims Irish heritage through her father and was thrilled to travel in Ireland with Jay Adlersberg for the creation of this book. She lives in New York City.
or
Not Currently Available for Direct Purchase