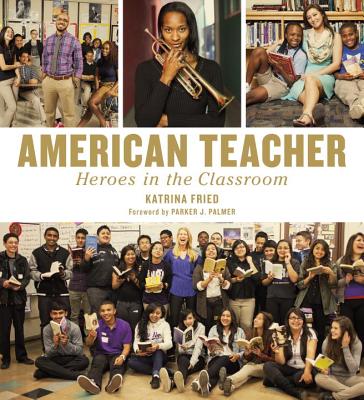 American Teacher (Hardcover)
Heroes in the Classroom
Welcome Books, 9781599621272, 223pp.
Publication Date: September 30, 2013
* Individual store prices may vary.
Description
Celebrating educators, who go far above and beyond the call of duty, American Teacher shines a spotlight on one of the most underappreciated, undercompensated, yet critically important professions in the world. Over the course of two years, Katrina Fried has interviewed and written the stories of 50 extraordinary teachers from kindergarten through 12th grade, selected from public and charter schools across the United States. The result is a collection of inspiring and informative first person-narratives accompanied by heartfelt letters from students and captivating portraits taken by celebrated photographers from around the country such as Peter Feldstein, Roman Cho, Paul Natkin and Laura Straus.
American Teacher introduces us to classroom heroes like Stephen Ritz of NYC's South Bronx, who uses sustainable agriculture as a tool to engage and inspire his neighborhood's most at-risk special-needs students; Rafe Esquith, a trail-blazing, multi-award-winning educator and author, who has spent 31years teaching 5th grade from within the same four walls at Hobart Elementary School in Los Angeles; and Iowan Sarah Brown Wessling who's unique "learner-centered" approach to teaching high school English earned her the 2010 National Teacher of the Year award.
These are our most unsung heroes, the men and women responsible for molding and preparing our children to meet the challenges of the 21st century. In the face of increasing class sizes, insufficient resources, and budget cuts, many of our teachers are dipping into their own pockets and personal time to bridge the gap for their students; they are finding innovative and engaging solutions to institutional problems and changing the outcome of countless lives in the process. Hear their stories, see their faces, and join us as we pay tribute to their passion and sacrifice.
About the Author
Katrina Fried has previously written Everyday Heroes: 50 Americans Changing The World One Nonprofit At A Time, American Farmer, and as Senior Editor and Assoc. Publisher of Welcome Books has edited or produced numerous award-winning and bestselling titles including: Artists in Love, The Oxford Project, Gay in America, The Last Good War, Slow: Life in a Tuscan Town, Cooking with Italian Grandmothers, Primal Cuts, On The Street, and Red Carpet. Creating unique visual narratives that push the boundaries and traditional limitations of illustrated books is her greatest passion. She lives and works in NYC and Northern CA.

Foreword writer Parker J. Palmer is a writer, speaker and activist who focuses on issues in education, community, leadership, spirituality and social change. He is the founder and Senior Partner of the Center for Courage & Renewal, which oversees long-term retreat programs for people in the serving professions.

Palmer holds a Ph.D. in Sociology from the University of California at Berkeley as well as eleven honorary doctorates, two Distinguished Achievement Awards from the National Educational Press Association, and an Award of Excellence from the Associated Church Press.

He is the author of nine books, which have sold more than half a million copies, including several best-selling and award-winning titles: "The Courage to Teach," "Let Your Life Speak," "Healing the Heart of Democracy," "A Hidden Wholeness," "To Know As We Are Known," "The Active Life," and "The Heart of Higher Education" (with Arthur Zajonc).

In 2011, the Utne Reader named him one of 25 visionaries on its annual list of People Who are Changing the World.

He lives in Madison, Wisconsin."
Praise For American Teacher: Heroes in the Classroom…
"I want to go back to class!" – Mika Brzezinski, about the book on Morning Joe (MSNBC) with author Katrina Fried and teacher Michael Goodwin, December 4, 2013
In American Teacher: Heroes in the Classroom, Katrina Fried's subjects inspire optimism for the future. Her homage to 50 classroom mentors is an appropriately weighty volume, featuring interviews, stories and full-page photos of educators and their students. All teach in public or charter public schools, and their classroom experience ranges from two to 52 years. Some came from privilege, others from poverty; all are committed to teaching. From the "Rappin' Mathematician" of Escondido, Calif., to the multimedia teacher in South Burlington, Vt., they can all boast of highly successful students. Most have won formal recognition, from "Teacher of the Year" in their districts or states, to a Presidential Award for Excellence and the National Medal for the Arts. You'll want to give a favorite teacher this book--and you'll wish you could enroll in one of these classrooms yourself. – Cheryl Krocker McKeon, bookseller, Book Passage, San Francisco for Shelf Awareness, November 29, 2013
"I am excited to see the work of such an inspiring group of teachers celebrated in American Teacher. Our country cannot thank teachers enough for the work that they do. And of course it is wonderful to see Suney Park from Eastside Prep featured in this book. She gives so much of herself to her students and in opening her classroom to the Khan Academy team has also taught us more than we could have ever anticipated." 
—Sal Khan, Founder & Executive Director of Khan Academy

"As with many of the best books about education, this is a wonderful cookbook. It's filled with a variety of recipes, and the reader will certainly find something exciting on the menu. Good teachers will get even better by adopting some of the ideas featured in American Teacher. How nice to have a positive light shone on public schools and some of the thousands of individuals who make a difference every day." 
—Rafe Esquith, teacher and author

"It is an absolute honor to be included with so many outstanding educators. Reading the stories of these fine individuals makes one thing abundantly clear to me: we are a nation filled with exceptional educators who are helping guide some of the world's most talented youth. This book may be about specific educators, but its message is about the work that is being done at the schools in your community." 
—Jeffrey Charbonneau, 2013 Teacher of the Year, Zillah High School, Zillah, Washington

"It is an inspirational book with beautiful photographs showing amazing teachers and the love they have for their students and their work. Every policymaker in the country should have a copy." 
—Esther Wojcicki, 2011 Charles R. O'Malley Award for Excellence in Journalism, Columbia University, Chair of Creative Commons

"American Teacher: Heroes in the Classroom adds significant weight to the argument that teaching is an art form. Great teachers are not the byproduct of effective state or federal policy, and they cannot be formed from the ribs of staff development. Great teachers, like great athletes, artists, and surgeons, possess an innate talent and a passion for their craft that cannot be replicated in the laboratories of policymaking, assessment, or reform." 
—Josh Anderson, 2007 Kansas State Teacher of the Year, Olathe Northwest High School, Olathe, Kansas

"Teachers live on islands disconnected from fresh ideas & innovation that the school across the country might be testing as impressively as her neighbor across the hall. American Teacher: Heroes in the Classroom brings her Rafe Esquith and 49 others who found a niche of healing, a gift of academia. Now we all have the potential to bridge an industry fabricated on isolation that doesn't have to be there anymore. From these 50, we can increase the communication so neither teacher nor, and most importantly, student needs to be in the same classroom tomorrow as she would have experienced yesterday. A teacher wants to teach. He wants to give the knowledge, the skills he's learned how to give. American Teacher is a Golden Gate to begin that movement. To teach each other as well as so many across this country teach their kids, their students." 
—Dave Crumbine, Teach for America Alumnus, KIPP Academy Middle School, Houston, Texas

"Far more exciting than the honor of being included in this book, is what I am learning from the other educators found on these pages. It is inspiring and humbling to read about their innovative approaches to teaching and learning, and more, about the shared commitment to serve the needs of ALL students. This book is not only a record of great work taking place across the country, it is also a tool for improving the system as a whole." 
—Michael Goodwin, Concord-Carlisle Regional High School, Concord, Massachusetts 

"The book is stunning, visually compelling and engaging to read. I was amazed at how much we all have in common. Reading through the narratives I realized, we are not in this alone! This book inspires to become a better teacher, to live up to the positive press, and to connect with these other amazing teachers!" 
—Erik Herndon, Jean Childs Young Middle School—Atlanta Public Schools, Atlanta, Georgia

"This collection of stories and snapshots from the trenches of modern education could not have come at a better time. The challenges facing educators today is unlike anything we have ever faced before. American Teacher is a collection of stories that will guide the tired and weary in the profession of education today to new found inspiration, innovation and motivation. This collection of letters from veteran teachers reminds us all why we became education professionals and why we come back every day to the students we love." 
—Keil E. Hileman, Alumni Classroom Fellow, U.S. Department of Education, Monticello Trails Middle School, Shawnee, Kansas

"Teaching is not just what we do; teaching is what we ARE. American Teacher shines a spotlight on so many passionate, creative, and determined educators that enter our classroom each morning to give our students the education, and the world, that they deserve. This is not just a book; it is an experience." 
—Alex Kajitani, 2009 California Teacher of the Year; "The Rapping Mathematician," Conway Elementary School, Escondido, California

"This is an exciting time to be an educator. I am deeply moved and inspired reading about each of my fellow teachers featured in American Teacher: Heroes in the Classroom, and have already begun to incorporate their innovative ideas in my school. This book underscores the important role educators play in shaping today's students and tomorrow's leaders. Many of the innovative techniques and best practices used by my fellow teachers can be replicated in schools throughout the country. The ripple effects of the powerful ideas in this book are profound." 
—Julia King, DC Teacher of the Year, DC Prep, Washington DC

"American Teacher: Heroes in the Classroom is a must read for any teacher who needs to be inspired or who needs to know that we're all in this together. These 50 amazing stories of hope, standing up for what you believe, and the power that a teacher has to change a life makes this one of those books you'll have a hard time putting down. Share it with your friends, your family, your legislators. It is REAL and the face of education today. Thanks to all of the teachers who spend countless hours, money, and talent to shape today's youth. You are all jewels!" 
—Janey Layman, USA Today Teacher, Southmoreland Middle School, Scottdale, Pennsylvania

"'I don't get no respect,' a line made famous by Rodney Dangerfield, was something I unfortunately felt applied to me and my fellow educators. That is until now. Kudos to Katrina and Welcome Books for putting our profession in the positive light it truly deserves. Your book is a welcome breeze of fresh air for schools, administrators, teachers, and ultimately for our students." 
—Dr. David B. Lazerson, 2008 National Teachers Hall of Fame, The Quest Center—Broward County Public Schools, Hollywood, Florida

"I believe inspiration and creativity are contagious and this book further proves my belief. After reading the powerful stories of the featured educators, I feel like I have gained many new ideas and concepts that I can add to my own teaching tool box. And that's the mark of a great teacher; one who not only inspires their own students to excel but also causes anyone who comes in contact with them, even through the pages of a book, to extend to higher heights. This certainly has occurred with my interaction with this project and will happen for anyone who reads it. Greatness is infectious. Thank you for sharing our story with not only America, but with the teachers and students of the entire world." 
—Genein Letford, Great American Teacher Award Winner, NEW Academy Canoga Park, Canoga Park, California

"American Teacher: Heroes in the Classroom is the teacher book of all teacher books! Not only is the style of teacher narratives and school spotlights unique, but purposeful and telling. Whether the story of education is being told through a teacher on the "front lines" or through a quick dash of student writing, Heroes in the Classroom invites us into modern classrooms from all over America. This book is doing the important job of celebrating teachers and allowing their passions to sing loudly to others." 
—Jennifer Rae Ramsey, The SEED School of Washington, D.C., Washington, D.C.

"In a time when my profession seems to be—rightfully or not—under attack, it's refreshing to see fellow teachers celebrated for the innovative, inspiring and immensely challenging work that they do. The story of each teacher, artfully brought to the page by author Katrina Fried, offers a glimpse into a life and classroom where creativity, passion, and dedication to craft run deep. Those who may have little faith in the American education system before they pick up the book will find themselves wishing that they were a student of one of the fifty world-class educators profiled in American Teacher: Heroes in the Classroom before they put it down." 
—Greg Schwanbeck, Apple Distinguished Educator and Member of the TED-ED Brain Trust, Westwood High School, Westwood, MA

"When I opened this book, I was immediately captivated by the teacher stories in this book. Each one is unique and reminds me why we need so many different kinds of inspired teachers: because we have so many different kinds of students. Whether you've been teaching for 3 months or 30 years, there's a story here for you!" 
—Sarah Brown Wessling, 2010 National Teacher of the Year, Johnston High School, Johnston, Iowa
or
Not Currently Available for Direct Purchase