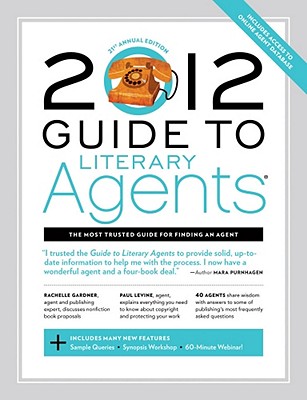 Guide to Literary Agents (Paperback)
Writers Digest Books, 9781599632292, 363pp.
Publication Date: September 1, 2011
* Individual store prices may vary.
Description
The Best Resource Available for Finding a Literary Agent
No matter what you're writing--fiction or nonfiction, books for kids or adults--you need a literary agent to secure a book deal. The "2012 Guide to Literary Agents" is your essential resource for finding that literary agent--without fear of being scammed--and getting your book published.
This new, updated edition of "GLA" includes:
Completely updated contact and submission information for literary agents who are looking for new clients
Writing and submission advice from more than 40 top literary agents
Informative articles on subjects such as writing a query letter, composing a book proposal, writing a novel synopsis, attending a writers conference, protecting your work, and more
Includes an exclusive 60-minute FREE WEBINAR with Chuck Sambuchino that will teach you "Everything You Need to Know About Agents"
"The "Guide to Literary Agents" contains a wealth of information and good advice, and was crucial in my successful search for an agent. I found a great agent and my book has now sold in 11 territories and counting."--Richard Harvell, "The Bells"
"The "Guide to Literary Agents" was very useful to me when I was getting started. I always recommend "GLA" to writers."--Michael Wiley, "The Bad Kitty Lounge" and "The Last Striptease"PLEASE NOTE: Free subscriptions are NOT included with the ebook version of this title.
About the Author
In addition to edition "Guide to Literary Agents," Chuck Sambuchino is assistant editor of "Writer's Market," a former editor with "Writer's Digest" magazine, and writer of fiction and screenplays.
or
Not Currently Available for Direct Purchase