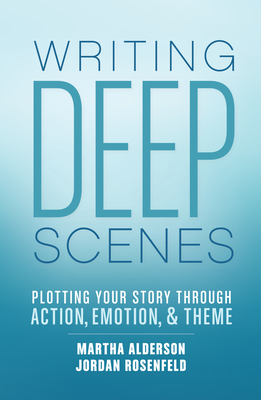 Writing Deep Scenes
Plotting Your Story Through Action, Emotion, and Theme
Paperback

* Individual store prices may vary.
Description
Take a Deep Dive into Plot and Scene and Improve Your Writing

Whether you're planning your first novel or have already written a first draft, you need to master the concepts of plot and scene to truly realize your story's potential. Writing Deep Scenes teaches you how to write strong, layered, and engaging scenes--the secret to memorable, page-turning plots. It's filled with practical tools for building layers and nuance into your scenes, employing the right scene types at the right junctures, and developing a profound understanding of how plot and scene intertwine.

Inside you'll learn:

   • How scenes are comprised of three key layers: action, emotion, and theme.
   • How to recognize each layer and weave them seamlessly into a scene.
   • How to develop an intricate relationship between the action and emotion in every scene.
   • How thematic imagery embedded in scenes increases a story's tension and contributes to the story's meaning.
Using contemporary examples from a variety of genres, Writing Deep Scenes provides an effective method for plotting at the scene level. Use these techniques and enrich your fiction and memoirs with page-turning suspense and pathos, and explore new depths in every story you write.
Writer's Digest Books, 9781599638836, 256pp.
Publication Date: October 2, 2015
About the Author
MARTHA ALDERSON is known as the Plot Whisperer for her books on plot: The Plot Whisperer, The Plot Whisperer Workbook, The Plot Whisperer Book of Writing Prompts, and the forthcoming Writing Blockbuster Plots. She also writes the award-winning blog The Plot Whisperer. She has been exploring and writing about the Universal Story for the past twenty years as part of the plot support she offers to writers. More recently, she has expanded her work to include helping writers transform their creative lives.

JORDAN ROSENFELD is the author of three novels, most recently Women in Red, and several writing guides, including A Writer's Guide to Persistence, Make a Scene, and Write Free. Her essays and articles have appeared in such publications as AlterNet, Bustle, Creative Live, Family Fun, Mom.me, The New York Times, The Rumpus, Salon, San Francisco Chronicle, The Washington Post, The Weeklings, Writer's Digest, and many more.