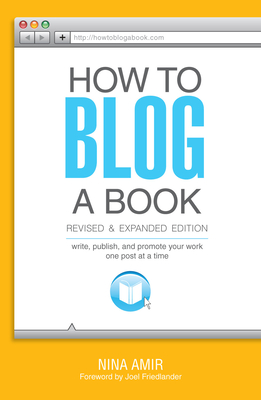 How to Blog a Book Revised and Expanded Edition
Write, Publish, and Promote Your Work One Post at a Time
Paperback

* Individual store prices may vary.
Other Editions of This Title:
Paperback (5/21/2012)
Description
Transform Your Blog into a Book!

The world of blogging changes rapidly, but it remains one of the most efficient ways to share your work with an eager audience. In fact, you can purposefully hone your blog content into a uniquely positioned book--one that agents and publishers will want to acquire or that you can self-publish successfully.

How to Blog a Book Revised and Expanded Edition is a completely updated guide to writing and publishing a saleable book based on a blog. Expert author and blogger Nina Amir guides you through the process of developing targeted blog content that increases your chances of attracting a publisher and maximizing your visibility and authority as an author.

In this revised edition you'll find:

   • The latest information on how to set up, maintain, and optimize a blog
   • Steps for writing a book easily using blog posts
   • Advice for crafting effective, compelling blog posts
   • Tips on gaining visibility and promoting your work both online and off
   • Current tools for driving traffic to your blog
   • Strategies for monetizing your existing blog content as a book or other products
   • Profiles of bloggers who received blog-to-book deals and four new "blogged-book" success stories
Whether you're a seasoned blogger or have never blogged before, How to Blog a Book Revised and Expanded Edition offers a fun, effective way to write, publish, and promote your book, one post at a time.
Praise For How to Blog a Book Revised and Expanded Edition: Write, Publish, and Promote Your Work One Post at a Time…
"Nina Amir's How to Blog a Book is now in a revised and expanded edition, with up-to-date information on tools for optimizing and driving traffic to one's blog, among other enhancements. Bloggers of all skill and experience levels will find this a unique and invaluable resource for creating a saleable book based on one's blog." --Midwest Book Review

"Read Nina's book! You, too, can become an author." --Michael Stelzner, founder of Social Media Examiner and author of Launch

"A book-writing and promotion revelation. Every writer will benefit from reading this slender, savvy volume." --Rick Frishman, best-selling author, publisher, and speaker (www.RickFrishman.com)

"How to Blog a Book is a compact yet comprehensive guide to writing, publishing, and promotion that will empower writers to do their best work, get it published online and off, and make it successful." --Michael Larsen, literary agent (www.LarsenPomada.com) and co-director of the San Francisco Writers Conference

"If you dread the thought of starting or maintaining a blog, and balancing it with the stresses of writing a book, How to Blog a Book could well be the most valuable book you've discovered this year. Nina Amir gives you a toolbox of shortcuts, tricks, and workarounds that will save you money, time, and sanity. Follow her easy-to-understand guide (even for nontechies!), and you'll create a blog your fans love and a book that they'll promote for you." --Joan Stewart, founder of The Publicity Hound (PublicityHound.com)

"Nina Amir shows you--no, actually implores you--to write your book on your blog in a painless, effortless way. Learn 'how' and 'why' you 'can' and 'should' write your book from your blog posts. How to Blog a Book Revised and Expanded Edition provides the road map to go from publishing a blog to publishing your book." --Scott Lorenz, Westwind Communications Book Marketing (Book-Marketing-Expert.com)

"If you're wondering how you are going to bend time to build your platform and write a book, wonder no more--you can do both. Nina Amir shows you how in this inspiring step-by-step book with easy-to-follow procedures, actionable tasks, tips, and technology recommendations. Even if you don't plan to blog a book, the material empowers you to author a more effective blog and streamline your writing process. Bets are you'll end up with a book after all." --Carla King, founder of Self-Pub Boot Camp (SelfPubBootCamp.com)

"Blook is a common publishing term where a writer creates a book from blog posts. Nina Amir provides the step-by-step wisdom to show any writer how to pull it off. Get this valuable resource." --W. Terry Whalin, author of Jumpstart Your Publishing Dreams and more than sixty books, and acquisitions editor at Morgan James Publishing

"I look at myself as a blogger, not a writer, but with Nina's book I now have a formula for writing that book! How to Blog a Book provides a simple process for turning your blog content into a book, and Nina does an excellent job of breaking the process into simple steps that anyone can follow." --Ian Cleary, founder of www.RazorSocial.com

"Whether you plan to consciously blog a full-length book from start to finish, repurpose existing blog content into a book, or blog multiple series and turn the posts into e-books, How to Blog a Book has all the information you'll ever need to accomplish your goal. It's a book on blogging for authors and on authorship for bloggers." --Penny C. Sansevieri, CEO of Author Marketing Experts, Inc. and adjunct professor at New York University (www.AMarketingExpert.com)

Recycling your blog posts into a book may provide the easiest way to write a book, and How to Blog a Book provides the plan for producing both the blog and a book that agents, publishers, and readers will notice." --Dan Poynter, author of The Self-Publishing Manual and How to Write Nonfiction (www.ParaPublishing.com)

"Check out How to Blog a Book. It covers all the stops along the way to your destination as a published author." --John Kremer, author of 1001 Ways to Market Your Book (www.BookMarket.com)

"The old saying 'kill two birds with one stone' is the perfect metaphor for what Nina teaches in this valuable book. Blogging with the intention of turning the accumulated material into a complete trade book is a brilliant concept." --Jeff Herman, literary agent (www.JeffHerman.com)

"Today writers have to think outside the box when it comes to getting their book ideas published. Blogging a book offers a unique way not only to attract readers but to catch the eyes of acquisitions editors--just what every aspiring author wants and needs to sell books." --Jill Lublin, co-author of Guerrilla Publicity and author of Get Noticed, Get Referrals and Networking Magic (www.JillLublin.com)

"Turning your blog posts into a book is a terrific way to write your book and build your audience at the same time. Nina Amir will guide you through every step with practical advice based on real-world experience." --Dana Lynn Smith, author of the Savvy Book Marketer series of marketing guides for authors (www.SavvyBookMarketer.com)

"I believe that blogging can change your life. I also believe that writing a book is one of the achievements you will be most proud of. Combining the two can be a brilliant way to get the project moving. Nina's book will help you organize the process so you can put all your time and energy into writing and building a community." --Joanna Penn, author and blogger at The Creative Penn, voted one of the Top 10 Blogs for Writers (www.TheCreativePenn.com)

"If you are just starting out as a blogger, or if you already have 15,000 posts online, Nina Amir's How to Blog a Book has the plan for you. You can't go wrong with this book. Written to provide you with the easiest path from screen to page, How to Blog a Book gets you there while helping you dodge pitfalls and common frustrations. Read it and learn." --Shane Birley, co-author of Blogging for Dummies (www.shanesworld.ca)
Writer's Digest Books, 9781599638904, 240pp.
Publication Date: June 17, 2015
About the Author
Nina Amir is the author of the best-selling How to Blog a Book and The Author Training Manual. She is a nonfiction developmental editor, proposal consultant, and book coach with more than thirty-five years of experience in the publishing field.