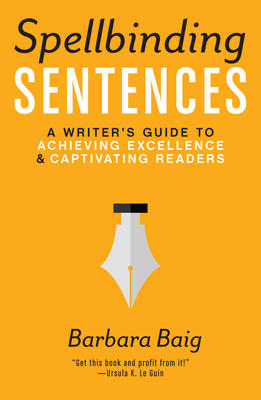 Spellbinding Sentences
A Writer's Guide to Achieving Excellence and Captivating Readers
Paperback

* Individual store prices may vary.
Description
Elevate Your Writing From So-So To Spectacular Great writing requires more than an original idea, compelling characters, or a scintillating plot. An author needs all of these to be successful, but writing--and writing well--also demands an entirely different skill set. Spellbinding Sentences arms you with the tools you need to master the power of the English language. In this book, you'll learn the different qualities of words and the many ways those words can be combined to create sentences that hook readers. You'll emulate sentences from your favorite writers, practice proven techniques, and develop your skills one step at a time. The result? Your ability to craft excellent sentences will become second nature--and those sentences will hold your readers spellbound, page after page. "Barbara Baig's Spellbinding Sentences is a tribute to the pleasure and vitality of the English language. Never prescriptive and always clear, this enlightening book is sure to help all those wishing to add grace and strength to their writing." --Jane Brox, award-winning author of Brilliant: The Evolution of Artificial Light, one of TIME magazine's top ten nonfiction books of 2010 "Spellbinding Sentences is sophisticated and down-to-earth at the same time. Barbara Baig has distilled decades of experience into this wise book." --Edward Dolnick, New York Times best-selling author of The Rescue Artist: A True Story of Art, Thieves, and the Hunt for a Missing Masterpiece
Writer's Digest Books, 9781599639154, 304pp.
Publication Date: August 7, 2015
About the Author
Barbara Baig is a writer whose passion is teaching writing. She created the position of Writing Instructor at The Divinity School at Harvard University, where she taught for two decades. She now teaches in the MFA Program in Creative Writing at Lesley University, one of the top-rated low-residency programs in the country, and for the Maine Writers and Publishers Alliance. She offers free writing lessons at www.WhereWritersLearn.com and is the author of How to Be a Writer: Building Your Creative Skills Through Practice and Play, also from Writer's Digest Books.
or
Not Currently Available for Direct Purchase