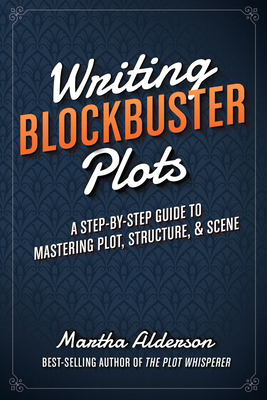 Writing Blockbuster Plots
A Step-by-Step Guide to Mastering Plot, Structure, and Scene
Paperback

* Individual store prices may vary.
Description
Plotting a story filled with memorable, engaging scenes from beginning to end can feel like an insurmountable challenge. Having the right plan - and the tools to execute it - can make all the difference. Writing Blockbuster Plots pulls back the curtain on story structure with step-by-step strategies and visuals that turn plotting and scene writing into a no-stress endeavor.

In this completely revised and updated edition, celebrated writing instructor and plot consultant Martha Alderson helps you navigate the intricacies of story with the help of her exclusive Plot Planner and Scene Tracker tools. Using Alderson's effective, accessible techniques, you'll be able to:

   • PLOT your story from beginning to end with a focus on dramatic action, the emotional development of your characters, and thematic significance.
   • ENSURE that each scene contributes meaningfully to the narrative by tracking the seven essential elements of scene.
   • LINK scenes by cause and effect to create a tight, seamless narrative.
   • INJECT tension and conflict to keep readers glued to the page.
   • TARGET weak areas in your story and learn how to fix them.
Filled with examples from both classic and contemporary novels, as well as illustrations of the Plot Planner and Scene Tracker in action, Writing Blockbuster Plots strips the confusion out of the plotting process, enabling you to write a story that deserves a standing ovation.
Praise For Writing Blockbuster Plots: A Step-by-Step Guide to Mastering Plot, Structure, and Scene…
"Writing Blockbuster Plots: A Step-by-Step Guide to Mastering Plot, Structure, and Scene by Martha Alderson is specifically designed o demystify how story writing works. It shows aspiring writers how to track the seven most important elements of a scene on a Scene Tracker, and how to use her Plot Planner to develop a multi-layered plotline for each individual project. Writing Blockbuster Plots also provides useful analysis of scenes written by classic and contemporary writers such as Twain, McCarthy, London, Fitch, Chopin, and Letts, all of which will help show writers how to: Pre-plot Link scenes through cause and effect; Determine which scenes are flat and why; Set up tension, conflict and suspense; Develop complex characters; Establish compelling action; Re-vision rewrites; Clarify themes; Deepen and expand narratives. Detailed, comprehensive, insightful, instructive, and thoroughly 'user friendly' in organization and presentation, Writing Blockbuster Plots is exceptional and very highly recommended for aspiring writers." --Midwest Book Review
Writer's Digest Books, 9781599639796, 240pp.
Publication Date: March 31, 2016
or
Not Currently Available for Direct Purchase