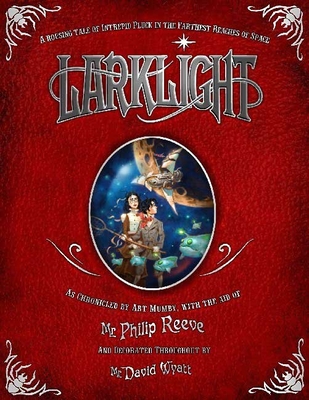 Larklight: A Rousing Tale of Dauntless Pluck in the Farthest Reaches of Space (Hardcover)
A Rousing Tale of Dauntless Pluck in the Farthest Reaches of Space
Bloomsbury Publishing PLC, 9781599900209, 399pp.
Publication Date: October 1, 2006
* Individual store prices may vary.
or
Not Currently Available for Direct Purchase
Description
Click here to download and listen to an excerpt from "Larklight"
Arthur (Art) Mumsby and his irritating sister, Myrtle live with their father in a huge and rambling house called Larklight...that just happens to be traveling through outer space.
When a visitor called Mr. Webster arrives unexpectedly, it is far from an innocent social call. Before long Art and Myrtle are off on an adventure to the farthest reaches of space, where they will do battle with evil forces in order to save each other-and the universe. A fantastically original Victorian tale set in an outer space world that might have come from the imaginations of Jules Verne or L. Frank Baum, but has a unique gravitational pull all its own...
An adventure as big as the universe
Reviews
"Reeve's humor is oh-so-British and utterly entertaining...and Wyatt's full-page pen-and-inks and spot illustrations enhance the sense of delight. The climax is an absolute hoot, and leaves the door wide open for any number of sequels."-"Publishers Weekly," starred review
"The glory of Empire meets Star Trek in this space fantasy-picaresque that Edgar Rice Burroughs would have loved. ...Art, the quintessential boy, narrates this rip-roaring adventure, allowing his very ladylike sister's diary to fill in the holes when they are separated, and the interplay between the two is priceless in itself. Jolly good fun, all around."-Kirkus Reviews," starred review
"This wildly imaginative sci-fi pirate adventure has tongue-in-cheek humor and social commentary on accepting those who are different, among other things. ...Reeve's cinematic prose describes his fantastic universe while also conveying a Victorian sensibility. Whimsical, detailed black-and-white illustrations enhance the text. Readers will eagerly suspend disbelief; they will be riveted by the exciting plot's twists and turns as our heroes face death-defying adventures and narrow escapes, all at a frenetic pace. As Art would declare, 'Huz.
About the Author
Philip Reeve worked in a bookshop and produced and directed several theater projects before embarking on a career as an illustrator and a writer. His first novel, Mortal Engines, was shortlisted for the Whitbread Children's Book Award and won the GOLD Nestle Smarties book prize. He lives in Devon, England, with his wife and their son.David Wyatt has illustrated books and covers for authors including Terry Pratchett, Philip Pullman, Diana Wynne-Jones, Alan Garner, and J. R. R. Tolkien. He lives in Devon, England.
Praise For Larklight: A Rousing Tale of Dauntless Pluck in the Farthest Reaches of Space…
"Reeve's humor is oh-so-British and utterly entertaining…and Wyatt's full-page pen-and-inks and spot illustrations enhance the sense of delight. The climax is an absolute hoot, and leaves the door wide open for any number of sequels."
--Publishers Weekly, starred review
Advertisement