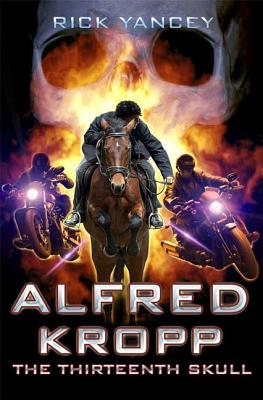 Alfred Kropp: The Thirteenth Skull (Hardcover)
The Thirteenth Skull
Bloomsbury Publishing PLC, 9781599901145, 297pp.
Publication Date: July 1, 2008
Description
First Alfred Kropp lost-and found-the legendary sword Excalibur. Then he defeated King Paimon, arguably the nastiest of demons ever to roam the earth. What could possibly be in store for him now? Plenty, it turns out. Not only is a dangerous new enemy tracking Alfred's every move, even the people who have sworn to protect him no longer seem trustworthy. Who, or what, is Sofia, and is there a connection between Sofia and the mysterious Thirteenth Skull?
As Alfred struggles to hold his enemies at bay and keep his friends in even closer sight, trust and betrayal begin to clash in terrifying ways, and the reluctant hero who has always narrowly avoided death may not be getting out of this adventure alive...
Just right for fans of Alex Rider and Stephen King, the third installment in this acclaimed series is a compulsive page-turner readers won't soon forget.
About the Author
RICK YANCEY is the author of two other Alfred Kropp adventures, plus several books for adults. He is also a produced playwright and former theater critic. He lives in Gainesville, Florida with his wife and three sons. www.rickyancey.com
Advertisement