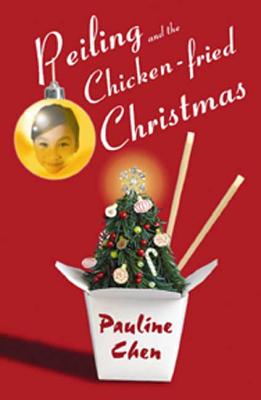 Peiling and the Chicken-Fried Christmas (Hardcover)
Bloomsbury USA Childrens, 9781599901220, 144pp.
Publication Date: October 1, 2007
* Individual store prices may vary.
Description
Christmas season is in full swing, and eleven-year-old Peiling Wang can't take another minute of it. She feels completely left out! Her family is from Taiwan, and even though they have been living in America since she was small, they have never once celebrated the biggest holiday of the year. But with encouragement from her hip, young uncle, Peiling musters up the courage to ask her parents the big question: Can we celebrate Christmas this year? With such high hopes (and maybe some unrealistic expectations!) it is especially disappointing when things don't turn out quite the way Peiling planned. But there is always a silver lining, and Peiling finds it.
About the Author
PAULINE CHEN was born in the year of the snake, and is mother to a dragon and a chicken. Previously a professor of Chinese language and literature at Oberlin College, she now writes fiction full time. She lives with her family in Ohio.
Praise For Peiling and the Chicken-Fried Christmas…
"Peiling and the Chicken-Fried Christmas is a gentle, fun and truthful tale that will connect with anyone who's felt uncomfortable about being different. Author Pauline Chen invites readers into the lives of a Chinese immigrant family to experience the joys of cultural tradition, while acknowledging the awkwardness that often arises as people from different backgrounds learn to live and celebrate together." —Bookpage
"A sweet story with a tasty twist!" —Discovery Girls
"Peiling is realistic and relatable as a headstrong pre-teen looking for ways to assert her individuality while trying desperately to fit in." —Horn Book
or
Not Currently Available for Direct Purchase