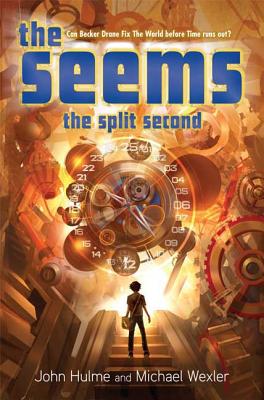 The Seems: The Split Second (Hardcover)
The Split Second
Bloomsbury USA Childrens, 9781599901305, 320pp.
Publication Date: September 30, 2008
* Individual store prices may vary.
or
Not Currently Available for Direct Purchase
Description
WARNING: Anything can happen in a Split Second
Becker Drane's still got the coolest job in The World, but it's getting harder and harder to live a normal life outside of The Seems. He's definitely feeling the strain of being a teenager (complete with mood swings and a newfound respect for sarcasm) and he can't stop thinking about Jennifer Kaley, the totally cool girl he met during his Mission in Sleep. Things don't get any easier when a bomb explodes in the Department of Time and Becker is called in to pick up the pieces after a more senior Fixer couldn't disarm the device. It's his toughest mission yet, and Becker finds himself going places in The Seems he never knew existed, and meeting people long thought dead. Yep, it's just another day in the life of Becker Drane. Let's hope he lives to Fix again . . . .
About the Author
John Hulme and Michael Wexler are the authors of "The Seems: The Glitch in Sleep." They accidentally stumbled upon the existence of The Seems after opening an unlocked Door in Wilmington, North Carolina, during the summer of 1995. From that moment on, they were obsessed with the curious realm they had discovered and sought to pen a book series based on this find. Though the project was held up in administrative Red Tape for nearly eleven years, the Powers That Be finally signed off on its release, resulting in the text you now hold. Hulme lives with his wife, Jennifer, and son, Jack, in a small New Jersey town with crookety sidewalks and tree-lined streets. Wexler's whereabouts remain unknown.
Advertisement