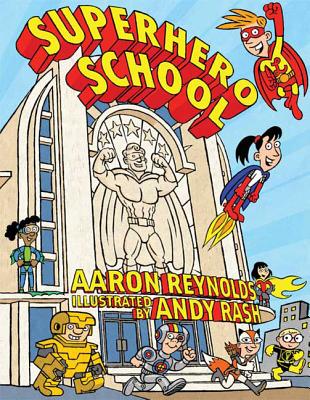 Superhero School (Hardcover)
Bloomsbury Publishing PLC, 9781599901664, 32pp.
Publication Date: July 7, 2009
Description
It's Math Curse meets The Incredibles
Leonard is no ordinary kid-he's enrolled in Superhero School, where leaping tall buildings in a single bound is child's play. If only long division, fractions, and multiplication came as naturally But when Mr. Tornado and the rest of the teachers get kidnapped by some ice zombies, Leonard and pals will need to use their math skills if they stand any chance of dividing (and conquering) the enemy.
About the Author
Aaron Reynolds is the author of Buffalo Wings and Chicks and Salsa as well as several other soon to be published picture books and a graphic novel series. He lives near Chicago, with his wife and two children.Andy Rash has created cartoons for numerous magazines and newspapers across the country, including The New York Times, The Wall Street Journal, and Entertainment Weekly. He has written and illustrated two books of his own, and also illustrated Fat Camp Commandos and its sequel-both written by Daniel Pinkwater. www.rashworks.com
Advertisement