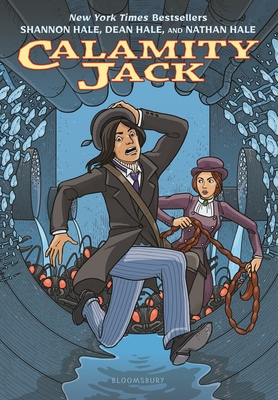 Calamity Jack (Paperback)
Bloomsbury Publishing PLC, 9781599903736, 144pp.
Publication Date: January 5, 2010
Description
Jack likes to think of himself as a criminal mastermind...with an unfortunate amount of bad luck. A schemer, plotter, planner, trickster, swindler...maybe even thief? One fine day Jack picks a target a little more giant than the usual, and one little bean turns into a great big building-destroying beanstalk.
With help from Rapunzel (and her trusty braids), a pixie from Jack's past, and a man with inventions from the future, they just might out-swindle the evil giants and put his beloved city back in the hands of good people ....while catapulting themselves and readers into another fantastical adventure.
About the Author
Shannon's mother says she was a storyteller from birth, jabbering endlessly in her carriage as the two strolled through the neighborhood; once she could form complete sentences, she made up stories, bribing her younger siblings to perform them in mini plays. When she was ten, she began writing books, mostly fantasy stories where she was the heroine, and she continued writing secretly for years while pursuing acting in stage and improv comedy. After detours studying in Mexico, the U. K., and Paraguay, Shannon earned a bachelor's degree in English from the University of Utah and a Masters in Creative Writing from the University of Montana. In the interim, she submitted short stories and novels to magazines and publishers, saving all her rejection letters which she has since laminated into one continuous 60-foot roll which she proudly unfurls to audiences as a testament to her dedication and determination.Since the publication of her first book, The Goose Girl, in 2003, Shannon has become a beloved author to young readers as well as booksellers and educators. Her third novel, Princess Academy, earned her a Newbery Honor and is a The New York Times, Book Sense, and Publishers Weekly bestseller. Shannon has also written two books for adults, Austenland and The Actor and the Housewife. Shannon lives in Salt Lake City, Utah, with her husband, Dean, their children, and their pet, a small plastic pig. www.shannonhale.com
Advertisement