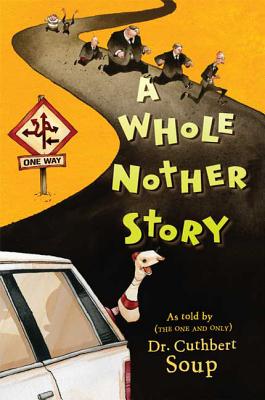 A Whole Nother Story (Hardcover)
Bloomsbury USA Childrens, 9781599904351, 272pp.
Publication Date: January 1, 2010
Other Editions of This Title:
Paperback (9/28/2010)
MP3 CD (10/4/2016)
MP3 CD (12/7/2010)
Compact Disc (12/7/2010)
Compact Disc (12/7/2010)
Prebound (9/28/2010)
* Individual store prices may vary.
Spring 2010 Kids' Next List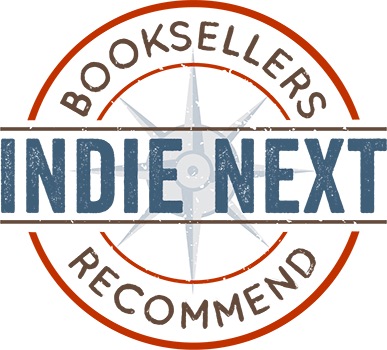 "A Whole Nother Story will keep you smiling, laughing, and totally on your toes from cover to cover. The Cheeseman family will take you in and drag you along on their unfortunate adventures, which include; sock puppets, chimps, time-travel machines, and hairless psych dogs. My unsolicited advice: Read it in one sitting, laugh and beg for the next book in the series"
— Becky Anderson, Anderson's Bookshop, Naperville, IL
View the List
Description
The three Cheeseman children, their father, and their psychic dog are all on the run. From whom? Well the CIA, naturally. But also corporate agents #5, #29, and # 207, plus two international superspies -- one of whom happens to be a chimpanzee. They all want Dr. Cheeseman and his late wife's greatest invention-a machine with unspeakable powers-OK, I'll say it. It's a time machine. But it's not working right yet, so put all ideas of time travel out of your head.
Instead, please enjoy this high stakes, high action, hijinx-filled chase. And the bizarre characters our Cheeseman friends will meet as they protect not just their parents' invention, but their mother's sacred memory. It's an adventure novel like no other.
Oh yeah, and did we mention the entertaining, plot-exposition filled, unsolicited advice you'll receive along the way? So you didn't ask for it? Yeah, that's why it's unsolicited.
Unsolicited Advice #1: Read this book.
About the Author
Dr. Cuthbert Soup was born in Vienna, Austria, at the height of the Great Sausage Famine. At twenty-three he dropped out of high school and moved to New York City, where he landed a gig playing elevator music. He was soon fired, however, as his trombone kept smacking other people in the elevator. He is currently the founder and president of the National Center for Unsolicited Advice, where he has served as an unofficial advisor to CEOs and heads of state, and has given countless inspirational lectures to unsuspecting crowds. In his spare time he enjoys cajoling, sneering, and practicing the trombone in crowded areas. Dr. Soup currently resides in a semi-secret location somewhere in the United States. A Whole Nother Story is his first book. www.awholenotherbook.com
Praise For A Whole Nother Story…
"A grand escapade centered around a close family of smart, helpful, likable characters who run into all sorts of oddball wanderers on the road and show plenty of inner stuff when push comes to shove. Which it does, in a climactic melee marked by violent crashes, numerous minor wounds and a probable segue into a sequel. Great fun." —Kirkus Reviews, starred review
"There's something of Mark Twain in Dr. Cuthbert Soup's middle-grade novel, A Whole Nother Story (Bloomsbury, Jan. 2010), a winking satire that grabs readers and pulls them along a swiftly narrated adventure. The action follows Mr. Cheeseman and his three unique children. On the lam in order to protect the time machine Mr. Cheeseman has created, they must elude an array of characters. The story line, however engaging, is not the selling point. What makes this one noteworthy is its joyful manipulation of language. Word play, circular arguments, unnecessary clarifications, tongue-in-cheek descriptions and aptly named characters will keep readers on their toes. To top it off, chapters of "unsolicited advice" provide enough satire to have readers laughing out loud. Booksellers and librarians will find this easy to put into the hands of middle-graders looking for funny stories with action and adventure. Young readers will enjoy Dr. Soup's voice, likening him to Lemony Snicket or Jonathan Stroud's Bartimaeus." —PW "Galley Talk"
"Offbeat humor and wordplay by narrator Dr. Cuthbert Soup propel this very kid-friendly novel about inventor Ethan Cheeseman and his "three smart, polite, and relatively odor-free children," who are in hiding. After one of Cheeseman's inventions attracts the wrong kind of attention, he and his children (who are ages eight, 12, and 14 and get to choose new aliases with each move) spend two years "on the run, scarcely keeping one step ahead of these corporate villains, foreign intelligence operatives, and members of government agencies so secretive that no one, not even those who work for them, knows their names." Throughout, Dr. Soup intersperses humorous advice for readers: his warning signs that one has selected a "bad doctor" include "he... has a tattoo on his left wrist that, when seen in a mirror, forms the name of an evil international weapons conglomerate." The storytelling, which merges deadpan narration with an absurdist sense of humor, is the real star of this fast-paced adventure." —Publishers Weekly
"Readers or listeners will enjoy the ride and will look forward to the Cheesmans' future adventures." —Booklist
"If the kids are waiting for the next Wimpy Kid book, hand them this one. It's outrageous, funny and contains practical unsolicited advice." —San Francisco Chronicle
"If you take yourself very seriously, perhaps this isn't the book for you. But if you're in the mood for a lot of silliness and reading about a really interesting and quirky family, then it's perfect. . . . This book is a rollicking good time, contains silly fun for kids and grown-ups alike, is interesting and quirky, is a good price." —Wired.com/Geek Dad
"A rare find. Its tone is light and amusing, and the jokes honestly never seem to end. …The type of jesting here is reminiscent of humorous authors like Lemony Snicket and Shel Silverstein. It's bound to leave you with some chuckles and more than a few smiles, and I would say that it's the perfect book for young boys." —Kidsread.com
"If Lemony Snicket and Dave Barry got married and had a baby, this book would be it. There are parts that are laugh-out-loud funny (I'm particularly fond of the little excerpts of advice from Dr. Cuthbert). It's great for the crowd that loved the Wayside School and Unfortunate Events series." —Critiquing the World
"Soup is good at at creating small touches that add humorous dimension to the story. This book is simply a lot of fun." —Book Aunt
"Not suggested for readers with an aversion to hairless psychic dogs, talking sock puppets, or puns." —Book Witches Blog
"How can one resist a book that sports a sock puppet named Steve on its cover? A Whole Nother Story is a slapstick, sci-fi adventure for readers who appreciate truly silly humor." —Shelf-Employed
or
Not Currently Available for Direct Purchase