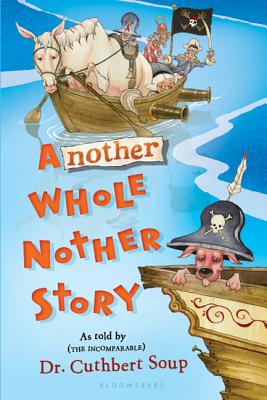 Another Whole Nother Story (A Whole Nother Story) (Hardcover)
Bloomsbury USA Childrens, 9781599904368, 304pp.
Publication Date: December 7, 2010
Other Editions of This Title:
Paperback (2/14/2012)
MP3 CD (10/4/2016)
Compact Disc (12/7/2010)
MP3 CD (2/14/2012)
Compact Disc (2/14/2012)
Pre-Recorded Audio Player (1/1/2011)
* Individual store prices may vary.
Description
The plan was simple. Ethan Cheeseman, along with his three smart, polite, and relatively odor-free children, would travel back in time to end an ancient family curse and save their mother. Now that the LVR (a super-secret time machine) is in working order, it should be easy peasy. Except they didn't account for one basic rule of science: Murphy's Law, where everything that possibly could go wrong, does. So the Cheeseman family finds themselves on another madcap adventure, this time through stormy seas and haunted castles. And though their narrator, Dr. Soup, has a ton of unsolicited advice to offer young readers, he doesn't have much to say to help the Cheesemans. Just this one thing: Good luck!
About the Author
Dr. Cuthbert Soup was born in Vienna, Austria, at the height of the Great Sausage Famine. At twenty-three he dropped out of high school and moved to New York City, where he landed a gig playing elevator music. He was soon fired, however, as his trombone kept smacking other people in the elevator. He is currently the founder and president of the National Center for Unsolicited Advice, where he has served as an unofficial advisor to CEOs and heads of state, and has given countless inspirational lectures to unsuspecting crowds. In his spare time he enjoys cajoling, sneering, and practicing the trombone in crowded areas. Dr. Soup currently resides in a semi-secret location somewhere in the United States. A Whole Nother Story is his first book. www.awholenotherbook.com