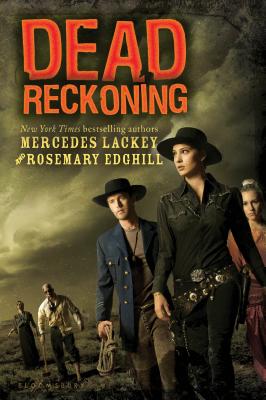 Dead Reckoning
Hardcover

* Individual store prices may vary.
Description
Jett is a girl disguised as a boy, living as a gambler in the old West as she searches for her long-lost brother. Honoria Gibbons is a smart, self-sufficient young woman who also happens to be a fabulous inventor. Both young women travel the prairie alone - until they are brought together by a zombie invasion! As Jett and Honoria investigate, they soon learn that these zombies aren't rising from the dead of their own accord ... but who would want an undead army? And why? This gunslinging, hair-raising, zombie western mashup is perfect for fans of Cowboys vs. Aliens and Pride & Prejudice & Zombies.
Bloomsbury USA Childrens, 9781599906843, 336pp.
Publication Date: June 5, 2012
About the Author
Rosemary Edghill is a prolific writer in several genres, under her own name and various pseudonyms. Her Bast books, witty mysteries featuring a Wiccan amateur detective, were collected in Bell, Book, and Murder. She has also written Regency Romances and fantasy novels, including several collaborations with Mercedes Lackey (Spirits White as Lightning and Mad Maudlin) and Andre Norton (Shadow of Albion and Leopard in Exile).
Edghill lives in upstate New York with several cats and several Cavalier King Charles Spaniels, which she shows in obedience competitions.
Mercedes Lackey
is the author of the bestselling Valdemar series, the Obsidian Trilogy (
The Outstretched Shadow
,
To Light a Candle
, and
When Darkness Falls
), the Enduring Flame trilogy (
The Phoenix Unchained
,
The Phoenix Engendered
, and
The Phoenix Transformed
), and
The Phoenix
Tales of the Five Hundred Kingdoms
. She has written many other books, including
Trio of Sorcery
,
Phoenix and Ashes
,
Sacred Ground
,
The Firebird
,
The Fairy Godmother
, and
Alta
. Lackey is the co-author, with Andre Norton, of the Halfblood Chronicles, including
Elvenborn
. Mercedes Lackey was born in Chicago and graduated from Purdue University. She has worked as an artist's model, a computer programmer, and for American Airlines, and has written lyrics and recorded more than fifty songs. She lives in Oklahoma.
or
Not Currently Available for Direct Purchase