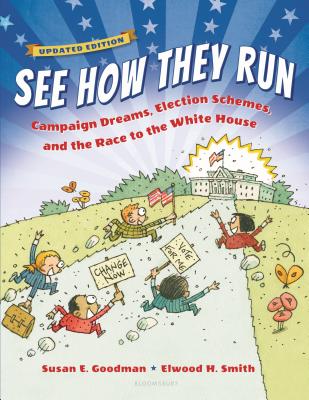 See How They Run: Campaign Dreams, Election Schemes, and the Race to the White House (Paperback)
Campaign Dreams, Election Schemes, and the Race to the White House
Bloomsbury U.S.A. Children's Books, 9781599908977, 96pp.
Publication Date: July 3, 2012
Description
Presidential elections are big news-in the media, in classrooms, in Iowa and New Hampshire But do you really know how the whole process works? For the home, for the classroom, for kids and adults, this is the one book every reader (and future voter) should have to understand our country's most important decision making process.
About the Author
SUSAN E. GOODMAN is the author of more than thirty nonfiction books for children, including How Do You Burp in Space?; See How They Run: Campaign Dreams, Election Schemes, and the Race to the White House;All in Just One Cookie, an ALA Notable Book; and On This Spot, a Washington Post Top Picture Book of the Year. She lives in Boston, Massachusetts. www.susangoodmanbooks.comELWOOD H. SMITH is an illustrator and animator whose books include The Truth About Poop, GeeWhiz, Raise the Roof, and others. His work can be seen inside the Eco-bathroom at the Bronx Zoo, as well as in packages of shrinky dinks. This is his third book with Susan Goodman. He lives in upstate New York.www.elwoodsmith.com
Advertisement