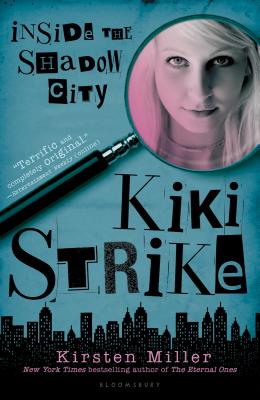 Inside the Shadow City (Paperback)
Bloomsbury U.S.A. Children's Books, 9781599909202, 387pp.
Publication Date: January 8, 2013
Description
There's a secret part of New York City that no one knows about. It's protected by a mysterious group of girls known as the Irregulars, led by the alluring Kiki Strike.
"Inside the Shadow City "introduces us to Ananka Fishbein, a regular girl whose life becomes anything but after venturing underground to join Kiki Strike and her friends, the Irregulars.
From the "New York Times "bestselling author of "The Eternal Ones "comes this brand-new package for her first two Kiki Strike novels in anticipation of the third-"The Darkness Dwellers," hitting shelves in Winter 2013.
About the Author
KIRSTEN MILLER lives in New York City where she spends her time drinking coffee, exploring the city, and writing. Kiki Strike was her first novel and was a Today Show Al Roker Book Club Pick. www.kikistrike.com
Advertisement