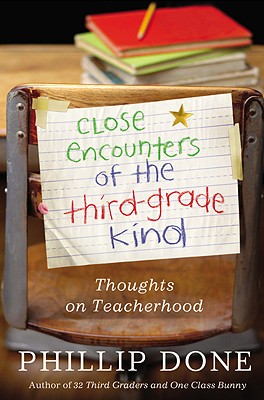 Close Encounters of the Third-Grade Kind
Thoughts on Teacherhood
Hardcover

* Individual store prices may vary.
Description
A twenty-year veteran of the classroom, elementary school teacher Phillip Done takes readers through a lively and hilarious year in the classroom. Starting with the relative calm before the storm of buying school supplies and posting class lists, he shares the distinct personalities of grades K-4, what he learned from two professional trick or treating 8-year-old boys, the art of learning cursive and letter-writing, how kindergartners try to trap leprechauns, and what every child should experience before he or she grows up.

These charming, sweet, and funny tales of Mr. Done's trials and triumphs as an award-winning schoolteacher will touch readers' hearts and remind them of the true joys of childhood. We all have that one special, favorite grade school teacher whom we fondly remember throughout our adult lives - and every teacher also has students whom they will never forget. This is the perfect book for teachers, parents, and anyone else who is looking for a lighthearted, nostalgic read.
Praise For Close Encounters of the Third-Grade Kind: Thoughts on Teacherhood…
"The great strength behind Mr. Done's adventures and his unique storytelling style is that he never just celebrates how great the teacher is--he celebrates how great the children are. Joyful, honest work that will fortify both the veteran and novice educator."—Esme Raji Codell, author of 'Educating Esme' and 'How to Get Your Child to Love Reading'

"There isn't a story Phillip Done tells that we cannot all relate to that validates our profession. You will laugh yourself silly and concomitantly be proud that you are a teacher. This is a must read book."—Harry K. Wong, author of 'The First Days of School'

"More important than knowing how the curriculum works or how the testing works, after 25 years in the elementary classroom Phillip Done knows how kids work. Not only will this enlighten beginning teachers, it will open more than a few parents' eyes as well."—Jim Trelease, author of "The Read-Aloud Handbook"

"Phillip Done gets it--he gets how kids think, he gets how kids learn, and he gets how to inspire them to do both. His comical, warm, and insightful memoir brings you right into the classroom, following his incredibly colorful class of characters through an entire school year, capturing the magic and wonder of being a kid."—Erin Gruwell, author of "The Freedom Writer's Diary" and "Teach with Your Heart"

"Done shares his unique, joyful view of childhood with gentle humor and penetrating insight. Going through the school year month by month, Done offers humorous vignettes, student profiles and phenomena unique to the third grade, peppered with memories of Done's own childhood, which only get better as the book goes on. Done's style is straightforward and fast-paced, expertly recreating his adventures....Alongside dry wit, Done also delivers heartbreak and wisdom relevant to anyone with memories of a childhood classroom."—Publishers Weekly
Center Street, 9781599951485, 336pp.
Publication Date: September 4, 2009
About the Author
Phil Done is a 20-year-plus veteran of the California school system and has received the prestigious Charles Schwab Distinguished Teacher Award, was nominated for the Disney Teacher of the Year Award, and has been honored as a Teacher of the Year in California.
or
Not Currently Available for Direct Purchase