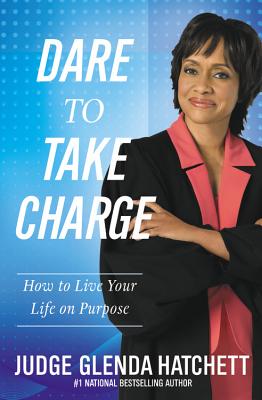 Dare to Take Charge
How to Live Your Life on Purpose
Paperback

* Individual store prices may vary.
Description
For nearly ten years, Judge Glenda Hatchett has delighted TV audiences with a brand of justice that turns the everyday into something eminently watchable.

Her message can be distilled into the following two words: Dare Yourself. Whatever obstacles or fears one faces, Judge Hatchett's prescription implores readers to write their own story in this life. With care and conviction, Judge Hatchett uses real life stories from the courtroom and her personal life to counsel readers. She shows them how to find their true purpose and discover their gifts, to be real about their reality and its potential outside of challenging circumstances, and to always be true to themselves.

Interactive as well as inspirational, DARE TO TAKE CHARGE challenges the reader to ask self-reflective questions that lead to moments of self-discovery and a defined pathway to healing. Daring her audience to study the positive with the same interest and intensity that they study the negative, Judge Hatchett uncovers the potential for grace and success in lives that are now punctuated with despair and unfaithfulness.
Praise For Dare to Take Charge: How to Live Your Life on Purpose…
"Judge Hatchett's book, DARE TO TAKE CHARGE, is a primer of common sense loaded with inspirational stories and cautionary tales aimed at folks interested in changing patterns in their lives. It is a personal guidebook from a very wise woman on how to take step one and step one hundred. It comes at exactly the right time in our tough economy."
—
Geraldine Laybourne, co-founder and former CEO/Chairman of Oxygen Media
"Glenda does a wonderful job of blending her own inspirational journey with the stories of those who have appeared in her courtroom. Clear, practical, and daring suggestions. Exactly what we need right now."
—
Robin R. Roberts, co-anchor, Good Morning America
"Glenda Hatchett has done it again! Energizing and potent, DARE TO TAKE CHARGE is a treasury of inspiring stories, insight and wisdom that helps us get unstuck and navigate the journey to emotional growth and joy. The Judge's ready guide is worth a hundred times the price."
—
Susan L. Taylor, editor-in-chief emeritus, Essence magazine; founder and CEO, National CARES Mentoring Movement
"An amazing book by an amazing woman, with amazing stories and experiences from her amazing life and career. Judge Hatchett shows you how to take charge of your life. I dare you to read this book. It will amaze."
—
Robert Allen, author of the New York Times bestsellers Creating Wealth, Multiple Streams of Income, and The One Minute Millionaire
Center Street, 9781599953298, 272pp.
Publication Date: March 7, 2012
About the Author
A graduate of Emory University School of Law, Judge Glenda Hatchett became Delta Airlines' highest-ranking African-American woman when she served in dual roles as a senior attorney and Manager of Public Relations. The position earned her a spot on Ebony magazine's "100 Best and Brightest Women in Corporate America." She left Delta to become Georgia's first African-American Chief Presiding Judge of a state court and the department head of one of the largest juvenile court systems in the country in Fulton, GA. Her TV show, Judge Hatchett, launched in 2000 and Judge Hatchett was nominated for Emmy awards in 2008 and 2009. She is also the author of the #1 Essence bestselling parenting book, Say What You Mean, Mean What You Say. She resides in Atlanta, GA with her two sons.