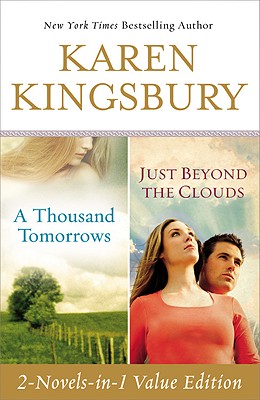 A Thousand Tomorrows/Just Beyond the Clouds Value Edition (Paperback)
Center Street, 9781599954028, 581pp.
Publication Date: January 6, 2011
Description
In A Thousand Tomorrows, Cody Gunner, a talented but angry cowboy, meets Ali Daniels, a lovely and mysterious barrel-racer. The two are national champions, top of their game, alone and intent on staying that way. Cody has rejected everything about his past, and only has room for his little brother, Carl Joseph, born with Down Syndrome. Ali embraces life, making the most of every moment because of a secret she keeps hidden from the public, connecting her with a sister who died before she had a chance to live. Before their paths intersect, competing is all they need, but what fears must they face if together they ignite a love that burns brighter than both of them?
In Just Beyond the Clouds, Cody is nursing a broken heart over the death of the love of his life, when he meets Elle Dalton, Carl Joseph's teacher. Cody can't bear the thought of losing his little brother, too, so when Elle begins championing Carl Joseph's independence, she finds herself at odds with Cody. But even while they battle it out, they can't deny the instinctive connection they share, and Cody faces a crisis of the heart. What if Elle is the one woman who can teach Cody that love is still possible?
In the brand-new omnibus edition, Karen Kingsbury's continuing story of devotion, tragedy, and renewal, comes to life, teaching that while love often causes the heart to break, it's also the only thing that can mend it again.
About the Author
USA Today and New York Times bestselling author Karen Kingsbury is America's #1 inspirational novelist, with more than 15 million copies of her award-winning books in print. She has written more than 40 novels, ten of which have hit #1 on national lists. Karen is also a public speaker, reaching more than 100,000 women annually through various national events. Karen and her husband, Don, live in the Pacific Northwest with their six children, three of whom are adopted from Haiti. You can visit Karen's website at www.karenkingsbury.com.
Praise For A Thousand Tomorrows/Just Beyond the Clouds Value Edition…
"[Kingsbury] delivers . . . genuine emotional punch."—Publisher's Weekly

"Tender-hearted readers beware! Karen has done it again! After you turn the last page of Just Beyond the Clouds and put away the tissues, you will find yourself thinking of the characters again and again. Every time you do, you will smile."—Robin Jones Gunn, bestselling author of the Sisterchicks novels and Finding Father Christmas

"Just Beyond the Clouds was amazing. It captured me in the first chapter and never let me go . . . . Karen writes about the sort of love we could all use a little more of."—Richie McDonald, lead singer of Lonestar

"A touching story . . . will bring the author many new fans."—Dorothy Garlock, author of Hope's Highway

"Karen Kingsbury is one of my favorite writers."—Pat Williams, senior vice president, Orlando Magic
Advertisement