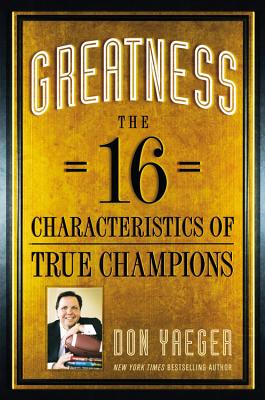 Greatness (Hardcover)
The 16 Characteristics of True Champions
Center Street, 9781599954288, 240pp.
Publication Date: October 24, 2011
Other Editions of This Title:
Digital Audiobook (9/29/2011)
Compact Disc (10/1/2011)
Pre-Recorded Audio Player (10/24/2011)
* Individual store prices may vary.
Description
GREATNESS is a motivational book whose target audience is found in business and self-help. It is a life book, aimed at inspiring others to achieve their personal and professional best. Opening with an in-depth discussion of the nature of Greatness-what it is, what it is not, and why it is worth pursing-each subsequent chapter of the book consists of a detailed story illustrating one aspect of Greatness with examples from the sports greats that Don has interviewed over the years. This will be followed by a discussion and other related examples. There are also practical tips and plans for assisting the reader in implementing new habits, routines, practices, and philosophies of Greatness into his or her daily life. As each characteristic is outlined, the reader is challenged to look for areas in his or her professional and personal lives that can be improved by embracing these lessons.

As Don often says during his speeches, "Though these characteristics are culled from some of the greatest winners in sports, not a single one requires you to be able to touch your toes! These iconic figures in sports have provided a classroom for us to learn about their pursuit of Greatness. You don't have to be good at sports - heck, you don't even have to like sports - to benefit from their lessons."

It is the strong belief of those who Don has talked to over the years that greatness is available to all of us. Not in the same way or on the same field, mind you. But we all have the capacity to achieve greatness if we'll give the same dedication to these characteristics as do the winners presented and interviewed in GREATNESS.
About the Author
Born and raised in Hawaii, Yaeger is currently living in Tallahassee, FL, Yaeger spends much of his time sharing the lessons he's learned throughout his career with audiences across the country. He is also an entrepreneur and recognized business leader. He owns a political consulting business and a public relations firm.