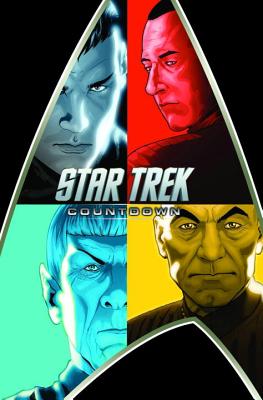 Countdown (Paperback)
IDW Publishing, 9781600104206, 98pp.
Publication Date: March 31, 2009
Description
The countdown to the motion picture event of 2009 begins here, in the exclusive graphic novel prequel to Star Trek, the upcoming blockbuster film from Paramount Pictures
JJ Abrams, Roberto Orci, and Alex Kurtzman present the origin of Nero, the mysterious Romulan who will ultimately threaten the survival of the entire universe. Don't miss this story that brings STAR TREK back to the big screen.
About the Author
A highly imaginative and engaging writer who's written stories for some of the biggest characters in comic book history, including Batman and Superman, Mike Johnson also has the distinction of having scripted more Star Trek comic book stories than any writer ever. Seriously. Johnson's first work with IDW was in 2009, when he wrote the miniseries Star Trek: Countdown, a well-received prequel to the 2009 J.J. Abrams film. Following Countdown, Johnson would go on to write many more Star Trek stories, including (but not limited to) Star Trek: Khan, Star Trek: Starfleet Academy, Star Trek: Nero, the crossover Star Trek/Green Lantern, and both of IDW's ongoing Star Trek series, the most recent being Boldly Go with artist Tony Shasteen. An almost life-long Trek fan who was watching the original series in reruns as a child and Star Trek: The Next Generation from day one, his favorite characters are Data and Spock.
Advertisement