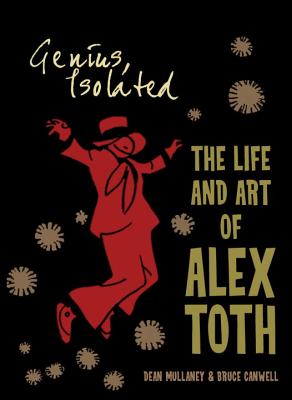 Genius, Isolated (Hardcover)
The Life and Art of Alex Toth
Library of American Comics, 9781600108280, 328pp.
Publication Date: May 10, 2011
* Individual store prices may vary.
Description
Created by the Eisner Award-winning team of Dean Mullaney and Bruce Canwell who produced the ground-breaking Scorchy Smith and the Art of Noel Sickles—Genius, Isolated is a lavishly illustrated book that includes the first biography of this giant figure. The book has been compiled with complete access to the family archives, and with the full cooperation of Toth''s children. To flesh out the complete story of his life and art, Mullaney and Canwell have spent more than two years conducting wide-ranging interviews with Toth''s peers, friends, and family members. This is the beginning of a comics biography everyone will be talking about for years to come.

In addition to art and photographs from the family, Toth fans and friends throughout the world have loaned original artwork reproduced in the entire series. Included are many examples of Toth''s art, from twenty-one complete stories to rare pages, as well as—incredibly—a previously unknown, unfinished, and unpublished penciled story from the 1950s! The tome covers his earliest stories at DC in the 1940s, his defining work at Standard, his incomparable Zorro comics in the 1950s, and a special section collects—for the first time—the Jon Fury pages that Toth produced while in the army, a section that alone is worth the price of admission.

Genius, Isolated details Toth''s life story and work through the early 1960s, when he began his sensational move into animated cartoons. The second book in the series, Genius, Illustrated, continues the story.
About the Author
Born in New York City in 1928, Alex Toth attended what is now the School of Visual Arts and broke into the comic book field as a teenager. During his sixty-year professional career, he became known as the "artists' artist"—he became very much like his great hero, Noel Sickles—the guy all the others wanted to draw like. In the 1960s he entered the animation field and became equally well-known and respected for his groundbreaking designs for Space Ghost and The Herculoids, among other series.
Praise For Genius, Isolated: The Life and Art of Alex Toth…
"What Mullaney and Canwell have done here is nothing short of wonderful. They've presented a well chosen selection of the first full decade of Toth's career, arguably his most creative period, in a beautifully designed volume that conveys the artist's evolution - an astonishingly brief transition that happened in barely five years - from talented beginner to absolute master." —Howard Chaykin, The Los Angeles Review of Books