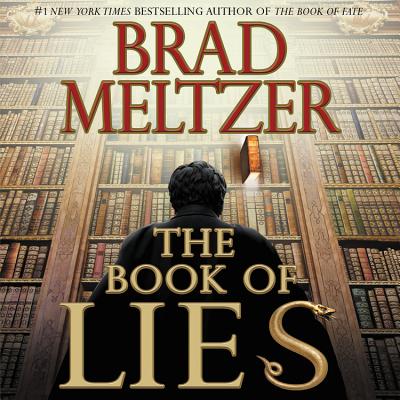 The Book of Lies (Compact Disc)
Hachette Audio, 9781600243806, 10pp.
Publication Date: September 2, 2008
* Individual store prices may vary.
or
Not Currently Available for Direct Purchase
Description
Cain kills Abel in Chapter Four of the Bible. It is the world's most famous murder. But the Bible is silent about one key detail: the weapon Cain used to kill his brother. That weapon is still lost to history.
In 1932, Mitchell Siegel was killed by three gunshots to his chest. While mourning, his son dreamed of a bulletproof man and created the world's greatest hero: Superman. And like Cain's murder weapon, the gun used in this unsolved murder has never been found.
Until now.
Today in Fort Lauderdale, Florida, Cal Harper comes face-to-face with his family's greatest secret: his long-lost father, who's been shot with a gun that traces back to Michell Siegel's 1932 murder. But before Cal can ask a single question, he and his father are attacked by a ruthless killer tattooed with the ancient markings of Cain. And so begins the chase for the world's first murder weapon.
What does Cain, history's greatest villain, have to do with Superman, the world's greatest hero? And what do two murders, committed thousands of years apart, have in common? This is the mystery at the heart of Brad Meltzer's riveting and utterly intriguing new thriller.
About the Author
Brad Meltzer is the #1 New York Times bestselling author of The Inner Circle, The Book of Fate, and seven other bestselling thrillers. In addition to his fiction, Brad is one of the only authors to ever have books on the bestseller list for nonfiction (History Decoded), advice (Heroes for My Son and Heroes for My Daughter), children's books (I Am Amelia Earhart and I Am Abraham Lincoln) and even graphic books (Justice League of America). He is also the host of Brad Meltzer's Decoded on the History Channel, and Brad Meltzer's Lost History on H2. He currently lives in Florida. You can find much more about him at BradMeltzer.com. You can also see what he's doing right now at Facebook.com/BradMeltzer and on Twitter @bradmeltzer.
Praise For The Book of Lies…
"Meltzer has earned the right to belly up to the bar with John Grisham, Scott Turow, and David Baldacci."
-People

"After listening to Scott Brick's performances of two books in a row, the listener can really appreciate his versatility....Brick handles this clever but complicated plot with kid gloves. He plays the brothers, whose personalities are opposites, equally well and gives Meltzer's story line a rich and exciting reading. His performance is one in a million." (Praise for The Millionaires)
-AudioFile Magazine

"Meet the next John Grisham."
---- Miami Herald

WINNER OF AN EARPHONES AWARD: "Brad Meltzer's latest entry to the NYT Bestsellers list sounds as good as it looks, thanks in large part to Scott Brick, who brings a sense of urgency to the characters.... Brick brings out the humanity of Meltzer's hero, who isn't a superman who laughs in the face of death, but a regular guy.... And no one does icy villains like Brick. Better allow some extra drive time--you won't want to turn this off." (Praise for THE BOOK OF FATE)
-AudioFile Magazine
Advertisement