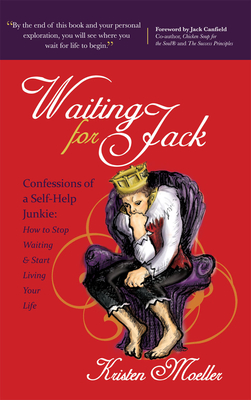 Waiting for Jack (Paperback)
Confessions of a Self-Help Junkie: How to Stop Waiting and Start Living Your Life
Morgan James Publishing, 9781600377259, 171pp.
Publication Date: April 2, 2010
* Individual store prices may vary.
Description
From the Foreword by Jack Canfield, Co-author, Chicken Soup for the Soul(R) and The Success Principles:

"By the end of this book and your personal exploration, you will see here you wait for life to begin. You will see that all the answers you need come from within. You will learn to stop hiding your magnificence and stop jacking around. You will become, as Kristen proclaims, "a fierce disruption of the ordinary "

Robyn Spizman, New York Times Bestselling Author and well known media personality says:

"Refreshingly vulnerable, witty and wise. Waiting for Jack feels like a conversation with your best friend over coffee. With an honest approach and take action message, Kristen Moeller motivates readers to make it happen. This book is a special gift "

What are you waiting for?

Do you find yourself waiting for the right moment? The ideal relationship? The perfect job?

Are you waiting for your "real" life to begin?

Do think that the gifts of life are right around the corner? That one day you will arrive and everything will be okay?

Do you endlessly search, yet never seem to find?

Through the sharing of authentic personal stories and profound life lessons, Kristen Moeller explores our pervasive human tendency to wait for life and to look outside ourselves for answers.

Too often we are "Waiting for Jack"--whatever or whoever "Jack" is. So we don't try; we give up. We sell out and we forget who we are. We are afraid to succeed, afraid to fail, and afraid to say we are afraid. But as Wayne Gretzky said, "You'll always miss one-hundred percent of the shots you don't take "

Waiting for Jack will inspire you to get on the path, move forward and take the shot. And. to remember that you don't have to wait for Jack

About the Author
Kristen Moeller, MS has been in the field of personal development since 1989. As a coach, author, speaker and radio show host her work comes from heart. She relays her compassionate message on a weekly radio show, "What Are You Waiting For?" where she converses with luminaries such as Jack Canfield, Bob Doyle from the movie 'The Secret' and bestselling author Marci Shimoff to name a few. Kristen's other achievements include founding a non-profit organization, providing 'pay it forward' scholarships to life-enhancing programs. She is an active force, who enjoys hiking, running, skiing, and horse-riding in her free time and whose energy has captivated thousands of people through her work.