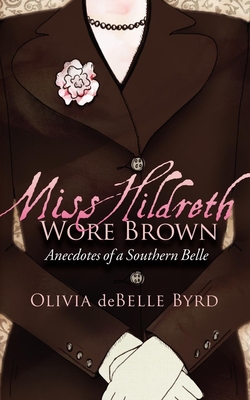 Miss Hildreth Wore Brown
Anecdotes of a Southern Belle
Paperback

* Individual store prices may vary.
Description
While Olivia deBelle Byrd was repeating one of her many Southern stories for the umpteenth time, her long-suffering husband looked at her with glazed over eyes and said, Why don t you write this stuff down? Thus was born Miss Hildreth Wore Brown Anecdotes of a Southern Belle. If the genesis for a book is to shut your wife up, I guess that's as good as any. On top of that, Olivia's mother had burdened her with one of those Southern middle names kids love to make fun. To see deBelle printed on the front of a book seemed vindication for all the childhood teasing. With storytelling written in the finest Southern tradition from the soap operas of Chandler Street in the quaint town of Gainesville, Georgia, to a country store on the Alabama state line, Oliviade Belle Byrd delves with wit and amusement into the world of the Deep South with all its unique idiosyncrasies and colloquialisms. The characters who dance across the pages range from Great-Aunt LottieMae, who is as old-fashioned and opinionated as the day is long, to Mrs. Brewton, who calls everyone dahling whether they are darling or not, to Isabella with her penchant for mint juleps and drama. Humorous anecdotes from a Christmas coffee, where one can converse with a lady who has Christmas trees with blinking lights dangling from her ears, to Sunday church, where a mink coat is mistaken for possum, will delight Southerners and baffle many a non-Southerner. There is the proverbial Southern beauty pageant, where even a six-month-old can win a tiara, to a funeral faux pas of the iron clad Southern rule one never wears white after Labor Day and, dear gussy, most certainly not to a funeral. Miss Hildreth Wore Brown Anecdotes of a Southern Belle is guaranteed to provide an afternoon of laugh-out-loud reading and hilarious enjoyment.
Praise For Miss Hildreth Wore Brown: Anecdotes of a Southern Belle…
"With Miss Hildreth Wore Brown, Olivia deBelle Byrd proves that she is the real thing—an authentic Southern Belle with stories galore. I can't wait to give this hilarious and heartwarming book to all my sweet friends."
—CASSANDRA KING, author of The Same Sweet Girls

"As a fifth generation Southerner, I thought I knew all there was to know about Southern culture.  However, Olivia deBelle Byrd has taught me a thing or two. Miss Hildreth Wore Brown covers everything from Sunday church, beauty pageants and Northern exposure with humorous insight. This is one that you'll want to savor with a mint julep!"
—MICHAEL MORRIS, author of A Place Called Wiregrass

"Olivia deBelle Byrd is a wonderful writer if you happen to enjoy wit, talent, charm, and good looks.  Anyone who has ever cracked a grin at the works of Nora Ephron or Fannie Flagg owes it to herself to read Miss Hildreth Wore Brown, which is the warmest, wisest, funniest book I've read in a month of Sundays. It's like lunch with your wittiest friends—full of heart, love, and juicy gossip!"
—ROBERT LELEUX, author of The Memoirs of a Beautiful Boy
Morgan James Publishing, 9781600377488, 176pp.
Publication Date: May 1, 2010
About the Author
Olivia deBelle Byrd was born and bred in the South. She is a graduate of Birmingham-Southern College and is a Kappa Delta. She resides in Panama City, Florida, with her husband Tommy and is the proud mother of Tommy Jr. and Elizabeth.