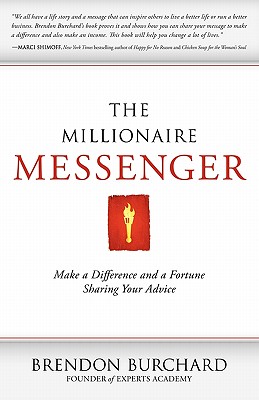 The Millionaire Messenger (Paperback)
Make a Difference and a Fortune Sharing Your Advice
Morgan James Publishing, 9781600379383, 160pp.
Publication Date: March 1, 2011
Other Editions of This Title:
Digital Audiobook (5/30/2011)
Paperback (9/6/2011)
CD-Audio (5/31/2011)
Paperback (9/1/2011)
* Individual store prices may vary.
Description
In The Millionaire Messenger, Brendon Burchard pulls back the curtains on the once-secretive "expert industry" and shows how to become an influential and highly paid advice expert through websites, books, speeches, seminars, coaching, consulting, and online programs.  Blessed to receive life's golden ticket - a second chance - after surviving a dramatic car accident, Burchard has dedicated his life to helping others find their voice, live more fully, and follow their dreams.  By following his 10-step program, average, ordinary people can learn to package their struggles, successes, research, or life's story into advice for others and become experts on any given topic.  In the industry of people who share their advice and knowledge with the world and get paid for it, Burchard is the "guru's guru."
If you've ever wondered how the gurus spread their message, serve others, and build a real business, then this is a must-read.
About the Author
Brendon Burchard, himself a multi-millionaire success story, is the founder of Experts Academy, the world's most comprehensive training program for advice experts. His books, newsletters, products, and appearances inspire over two million people a year. He is the author of Life's Golden Ticket and one of the top business and motivational trainers in the world. He lives in Portland, Oregon
Praise For The Millionaire Messenger: Make a Difference and a Fortune Sharing Your Advice…
"This is a must-read for any author, speaker, coach, seminar leader, consultant, or online information marketer. Brendon Burchard shows you how to get your message to the public in a bigger way (and get paid for it too)." --John Gray, New York Times Bestselling Author of "Men Are From Mars, Women Are From Venus"
"We all have a life story and a message that can inspire others to live a better life or run a better business. Brendon Burchard's book proves it and shows how you can share your message to make a difference and also make an income. This book will help you change a lot of lives." --Marci Shimoff, New York Times best-selling author of Happy for No Reason and Chicken Soup for the Woman's Soul

"The expert industry has been shrouded in myth and mystery for far too long. Now Brendon Burchard, one of our most innovative and powerful leaders, reveals exactly how we—authors, speakers, coaches, consultants, seminar leaders and online information marketers--make a difference and earn an income with our advice and expertise. This is an industry defined by how much value we add to others' lives, and this book delivers and shows exactly why Brendon is one of the best." --Jack Canfield, New York Times best-selling author of The Success Principles and originator of the Chicken Soup for the Soul(R) series

"I love making a difference in the lives of millions of people worldwide. It gives my life a deep sense of meaning and purpose. I wish I had read Brendon Burchard's new book, The Millionaire Messenger, twenty years ago, because it has many of the lessons that would have dramatically boosted my career, both in terms of impact and finances. Lessons I had to learn the hard way. No matter what your age, now is the time to make the biggest difference in the world. Brendon will show you how." --Daniel G. Amen, MD, New York Times best-selling author of Change Your Brain, Change Your Life and Magnificent Mind at Any Age

"You were born to make a difference, to contribute and to share your gifts with the world. Brendon Burchard shows you how to make a living (maybe a fortune!) by making a positive difference in people's lives." --Darren Hardy, Publisher of SUCCESS magazine and best-selling author of The Compound Effect

"If you've ever dreamed of building a career and business around your advice, expertise and knowledge, then you'll love this book." --avid Bach, #1 New York Times best-selling author of The Automatic Millionaire
Burchard, founder of the Experts Academy, truly believes that everyone has the potential to be a self-help "guru." Having experienced a turning point after a near-fatal car accident, Burchard emerged from his trauma with a new appreciation for life and a feeling that he had a calling, a meta-vocation of sorts aimed at people with an interest in the Self-Help marketplace. Burchard's particular calling was to spread his feeling of purpose and the attainment of unlimited success through hard work. His book namely motivates readers to find a true sense of focus and mastery over whatever topic is important to them. Burchard offers excellent networking advice while stressing the credo "'give and you shall receive'….If you want them to promote your website, promote theirs. Want an endorsement? Give one first." Exercises ("expert signposts") will nearly guarantee success for those who want it. People can and do get paid for their opinions all the time, and anyone will be able to tap into his or her gifts and knowledge under Burchard's tutelage. Directed at a niche group of already-inspired readers, this book is more likely to fly off of convention tables than bookstore shelves; one has to hear Burchard discuss his method, or read actively (and commit to the exercises!) in order to appreciate his approach. --- Cevin Bryerman, Publisher, Publishers Weekly
or
Not Currently Available for Direct Purchase